I know we're only t-minus two days until turkey day, but if you're a procrastinator who's having a small gathering, then this easy Brown Butter, Sage & Pomegranate Roast Chicken with Sweet Potatoes and Brussels Sprouts is your new best friend.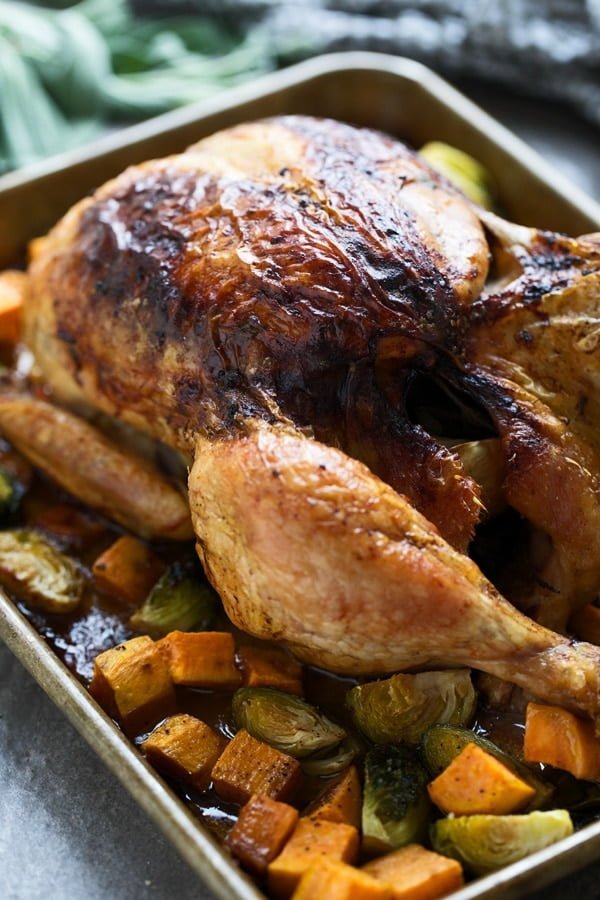 No, it's not a turkey, but it has the same wow factor as a fully roasted bird, takes a fraction of the time, and in my opinion, is much tastier. Roast chicken also happens to be the epitome of fall/winter comfort, and makes the perfect chilly night meal, so it's appropriate for dinner any time now through March.
Heck, it's even appropriate through late spring, just switch out the sweet potato and brussels sprouts for something more in season like asparagus, artichokes or even hearty morel mushrooms. Really, anything goes.
We have a whole roast chicken in our house at least once a month, and I've never understood why more people don't do the same. While they may seem kind of intimidating at first glance, they're honestly so easy to throw together. In fact, most of the time, it's my go-to lazy dinner when I want something that feels fancy and homey, but I feel like putting virtually no effort forward whatsoever.
Which happens a lot.
Of course, I love a simple roast chicken seasoned with just salt and a touch of pepper, but I think it's much more fun to come up with creative ways to serve it so we don't get bored after the third time we've had it in under a month. Some of my favorites have been this Poblano Roast Chicken and this one with Pistachio Arugula Pesto, which happen to be perfect for spring.
For this version, I wanted something super fitting for fall and winter, and to me, nothing screams fall and winter to me more than brown butter, pomegranates, Brussels sprouts and sweet potatoes.
I'm obsessed with all four ingredients on their own this time of year, but together, they're the ultimate unami combination and become the perfect addition to a blank canvas like roast chicken.
Brown Butter, Sage & Pomegranate Roast Chicken
People are very opinionated on the perfect way to roast chicken, and I don't think there's a"right" answer, but for me, the best method is to slather the chicken under and over the skin with softened butter, liberally season it with salt and a VERY conservative amount of pepper, then roast it at 425 degrees for about 45 minutes.
In this version, I changed things up just a touch. I used a combination of softened butter, pomegranate juice, freshly chopped sage and salt to stuff under the skin, and then brushed the entire outside of the chicken with brown butter.
It was kind of a risky move since brown butter has already been cooked at such a high temperature, and then has to cook again at another high temperature while the chicken roasts, but it turned out PERFECT. The chicken stays nice and crispy, gets a touch darker than it would without the brown butter and has that perfectly nutty flavor laced throughout, which I just adore.
When the chicken is about halfway done cooking, I scatter the Brussels sprouts and sweet potatoes around the bird, then toss them in the drippings, season them with salt and pepper and then pop the whole thing back in the oven to finish cooking.
When the chicken is about 10 minutes away from being done, I brush the entire skin with a little bit more pomegranate juice, and pour ¼ cup or so in to the pan with the veggies to make a sauce and semi-glaze on the skin.
For serving, I like to take both breasts off the bone completely, slice them and put them on a platter with the drumsticks and thighs, that way more than two people can have breast meat and dark meat.
The veggies get scattered around the carved chicken, and you can either pour the drippings on top and around the chicken and veggies, or strain it into a gravy boat or pitcher so everyone can serve themselves.
Ingredients
1

4 1/2 lb

whole chicken

3 1/2

tbsp

butter (2 tbsp softened, 1 1/2 tbsp for brown butter)

1 1/2

tbsp

chopped sage

1/4 cup

+ 2 tbsp + 1 tsp

pomegranate juice

1 1/2

cups

quartered brussels sprouts

1 1/2

cups

chopped sweet potato
Instructions
Preheat oven to 425 degrees. Make sure oven rack is on the middle level. Rinse the chicken on the inside and outside with cool water. Pat dry with paper towels.

Add 1 1/2 tablespoons butter to a small skillet. Heat over a medium-high heat. Once the butter begins to brown, swirl pan. Keep swirling pan until butter is a deep brown color and smells nutty. Set aside.

Mix 2 tablespoons softened butter with sage and pomegranate juice. Season with salt. Use fingers to loosen the skin from the flesh of the breast. Spread the sage butter under the skin.

Brush the entire chicken with brown butter. Season liberally with salt. Place on a small baking sheet or roasting pan. Roast for 30 minutes.

Remove from oven and scatter sweet potatoes and brussels sprouts around the chicken. Toss in any juice/fat that has accumulated in the bottom of the pan. Sprinkle with salt and pepper. Brush with 2 tablespoons of pomegranate juice and then pour the remaining juice around the chicken and vegetables. Place back in the oven and roast another 25-30 minutes or until the thickest part of the chicken reaches 165 degrees and the vegetables are soft.


Let chicken rest for 10-15 minutes before cutting. Remove whole breast, then thighs and drumsticks. Slice breast. Serve with roasted veggies and pan drippings.
(Visited 516 times, 1 visits today)