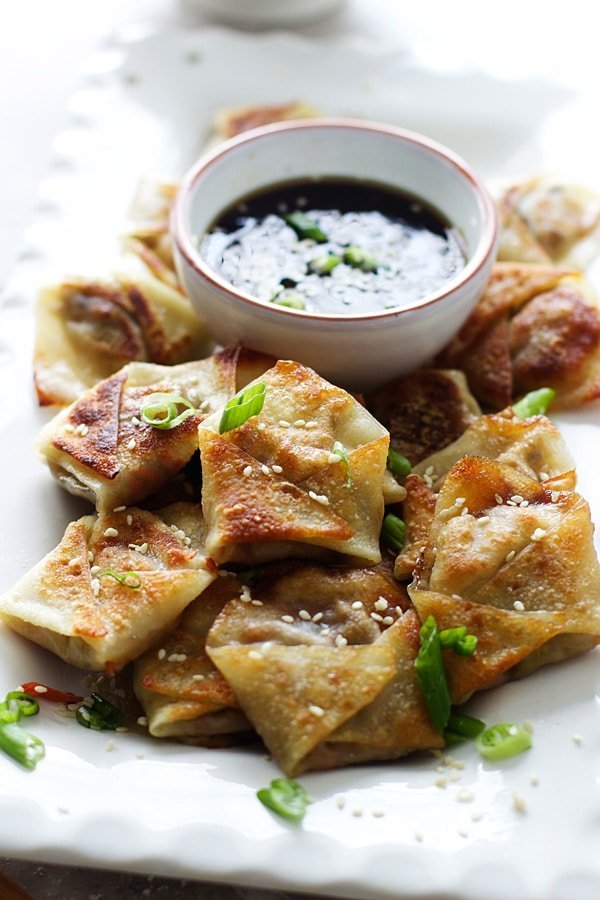 Greetings from Puerto Vallarta, Mexico! I had every intention of drafting up my posts for this week prior to leaving for our beach vacation on Saturday, but as it often does, time slipped away from me. Before I knew it, it was Friday morning and I still had a list a mile long to finish before our 8am departure the next day. Although, I'm not going to lie, it's not the least bit torturous "working" on vacation. As I type this very moment, I'm sitting under a giant palapa, gazing out to the ocean and watching the orange, now pink sun slowly sink down behind the mountaintops just across the bay. Oh, and I'm also sipping on an ice-cold Pacifico. It's quite glorious. If you guys want a glimpse into Puerto Vallarta, you can follow along on Instagram here.
I find it pretty ironic that I'm sitting here stuffing my face with copious amounts of chips, guac and everything Mexican, and this week I'm going the completely opposite direction and sharing two Asian-inspired recipes. Go figure. I was actually going to hold off and share these another week, but I plan on recreating pretty much every meal we've had thus far for the blog in subsequent weeks, so I thought you might get a little sick of repetitive Mexican recipes. Unless you're like me and could inhale Mexican at any given moment, in which case, I'm sorry.
So! I'm pretty much obsessed with these little pot stickers…or dumplings…or gyoza…or whatever you want to call them… As I don't even really know what to call these little bites in order to make the name "politically correct," so to speak, obviously I'm not entirely sure these are 100% authentic, but goshdarnit are they good. And the best part? They're insanely easy (and fast!) to make.
First up – the filling. I don't' really gravitate towards vegetarian dishes normally, but for some reason when it comes to Chinese or Thai cuisine I'm all about the veggies. The filling here is an even mixture of fresh shitake mushrooms, shredded carrots and napa cabbage. Each component is chopped up, and sautéed in a screaming hot skillet with a clove (or two) of garlic, a little bit of sesame oil, sirracha and soy sauce. Once the veggies are wilted, the filling is set aside to cool.
I had every intention of following a how-to video and shaping each dumping all perfect and cute, and I actually did try…several times… and they did NOT look pretty…at all. So, I did the next best thing and folded them as cute as my non-existent dumpling making skills would allow…which wasn't far.
Did I mention they're delicious?
Once all the little guys are made, I heat a large non-stick pan with a touch of olive oil, and brown the dumplings in batches until they're golden and crispy on both sides. To finish cooking them, a quarter cup or so of water is added in; they're covered and then steamed until the water has dissipated. And just like that – dumplings are ready to be devoured.
I serve them with an insanely quick dipping sauce made up of sweet hoisin sauce, sirracha, sesame oil and a touch of soy sauce. A sprinkling of sesame seeds and chopped green onion finish this easy-on-the-eyes appetizer.
Dumplings for dummies. Done.
Easy Asian Dumplings with Sesame Hoisin Dipping Sauce
Ingredients
35 wonton wrappers
2 cups shredded carrots, roughly chopped
2 cups sliced, shittake mushrooms
4 cups shredded napa cabbage
1 large garlic clove (two if you love garlic like me!)
1 tablespoon sesame oil
2 tablespoons soy sauce
2 teaspoons sirracha (or more, depending on your spice tolerance)
1 teaspoon hoisin
4 tablespoons olive oil
Hoisin Dipping Sauce
½ cup hoisin
2 teaspoons sesame oil
2 teaspoons sirracha
Garnish
½ teaspoon sesame seeds
1 green onion, sliced
Instructions
In a large non-stick skillet, heat 1 tablespoon sesame oil over a medium-high heat. Add carrots, mushrooms, cabbage and garlic. Saute 2-3 minutes until veggies start to wilt. Add soy sauce, sirracha and hoisin. Once veggies are completely cooked, set aside to cool.
For assembly: Place one heaping teaspoon of filling on the corner of wonton wrapper. Using water, wet the sides of the wrapper. Fold corner over to form a triangle. Seal edges, making sure there are no air bubbles. Fold corers over each other, use water to seal. Repeat for remaining filling.
Working in two batches, heat a large non-stick skillet to a medium-high heat. Add 1 tablespoon of olive oil. Add dumplings, brown on both sides until crispy and golden. Once brown on both sides, add ¼ cup of water. Cover and let set until water has evaporated, about 30 seconds to 1 minutes. Repeat with remaining batch.
For the sauce: Combine all ingredients.
(Visited 89,085 times, 35 visits today)