When it comes to summer and grilling (and the Fourth of July!) the only side you need aside from sweet corn, is this Feta Caesar Pasta Salad. Easy to throw together, skips the mayo-heavy dressing and is a total crowd pleaser. 
With summer comes hamburgers, hot dogs and copious amounts of rosé wine, obviously.
What I didn't realize, is in addition to those things, at least in my case, summer always comes with an infinite amount of pasta salads. Leave it to me to find a way to incorporate pasta into my life on the regular, even when I've left Spaghetti and Meatballs, Broccoli Cheddar Mac and Cheese, and Shrimp Alfredo behind with winter's frigid temperatures and snow.
It's instinct almost. Grilling sides = pasta salad. What can I say?
My go-to is almost always this PERFECT pasta salad adapted from an old Junior League cookbook, but I've made it approximately 5,268 times in the last few years, so I thought it was time to switch things up. I've been heavily into healthier Caesar-like dressings, and knew my new favorite dressing would transition perfectly into pasta form.
Healthy Caesar Salad Dressing
My friend Jamie brought me a kale salad with a similar dressing to this after I had my last baby, and I've been completely hooked on it since. It's actually an adaptation of this How Sweet It Is recipe, except I adjusted things a bit to mimic a more caesar-like taste and skipped the step of blending it in a food processor.
Like many semi-homemade Caesar salad dressings, this one starts with plenty of lemon juice, parmesan cheese and dijon mustard. Instead of using mayonnaise as the body, Greek yogurt is swapped out for a similar texture, but tangier taste, that I just adore. I know not everyone is a fan, but I firmly believe that anchovy paste is a must, it gives it this unmistakeable Caesar flavor profile that I promise you'll miss if you don't use it. And trust me, when you use only a scant amount, it doesn't scream FISH in your face. Because I know that's what you're instinctually thinking when I tell you to put anchovy paste in your pasta salad.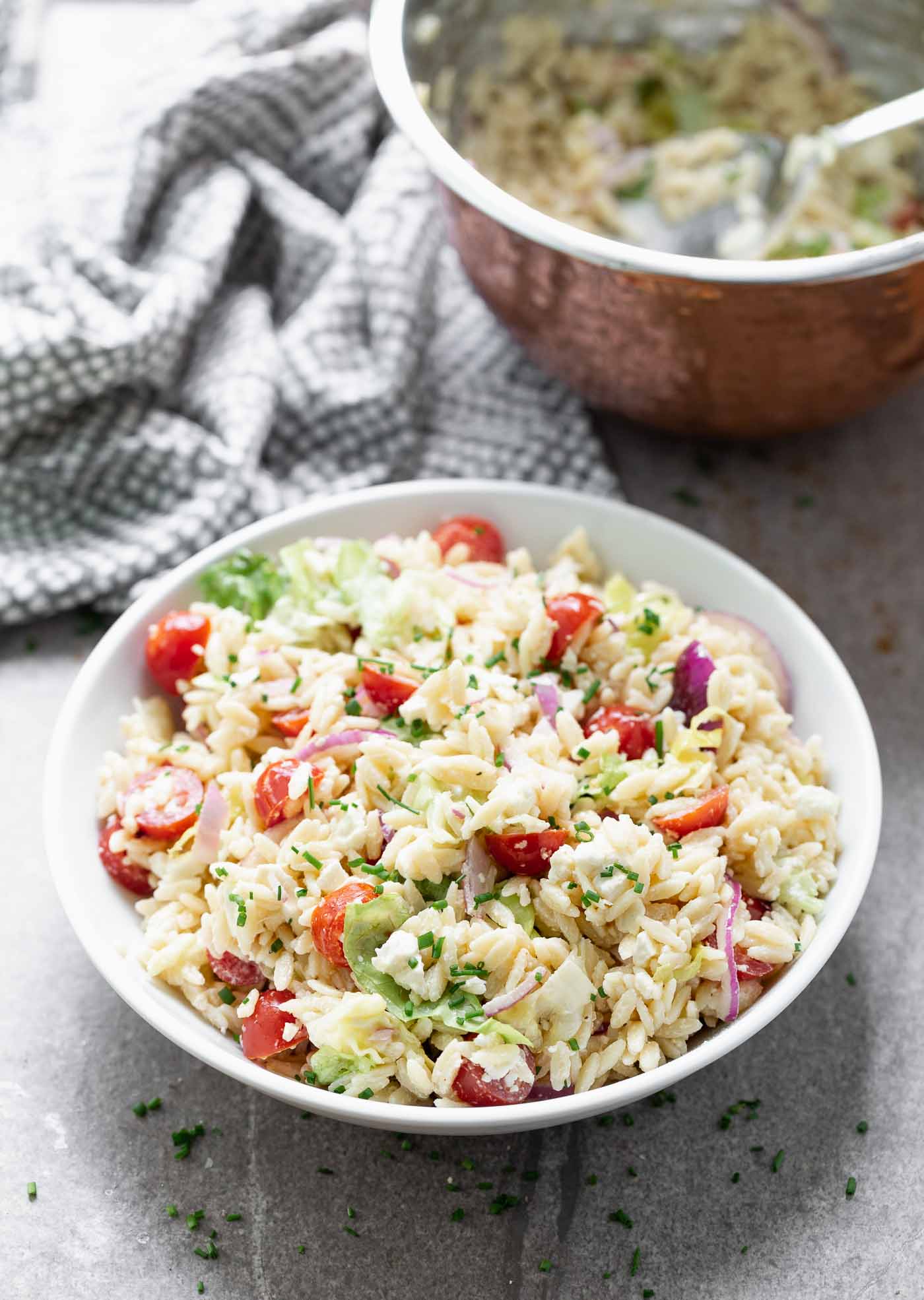 While a classic Caesar salad typically only includes lettuce, parmesan cheese and croutons, my idea of the perfect PASTA salad includes lots of, for lack of a better word, "stuff," so I threw in some halved grape tomatoes, a generous amount of feta cheese (DON'T skip this!), and red onion. Firm avocado, corn, or bell betters would also be great additions.
Even though we switched out the lettuce for orzo, I still love the idea of mirroring the original by tossing in torn pieces of butter or romaine lettuce for texture (and color!). Butter lettuce wilts easier than romaine, so keep that in mind if you're making it ahead or letting it sit out for a while.
The final touch is a sprinkling of chopped chives, and this is ready to be served with your choice of burgers, brats or hot dogs.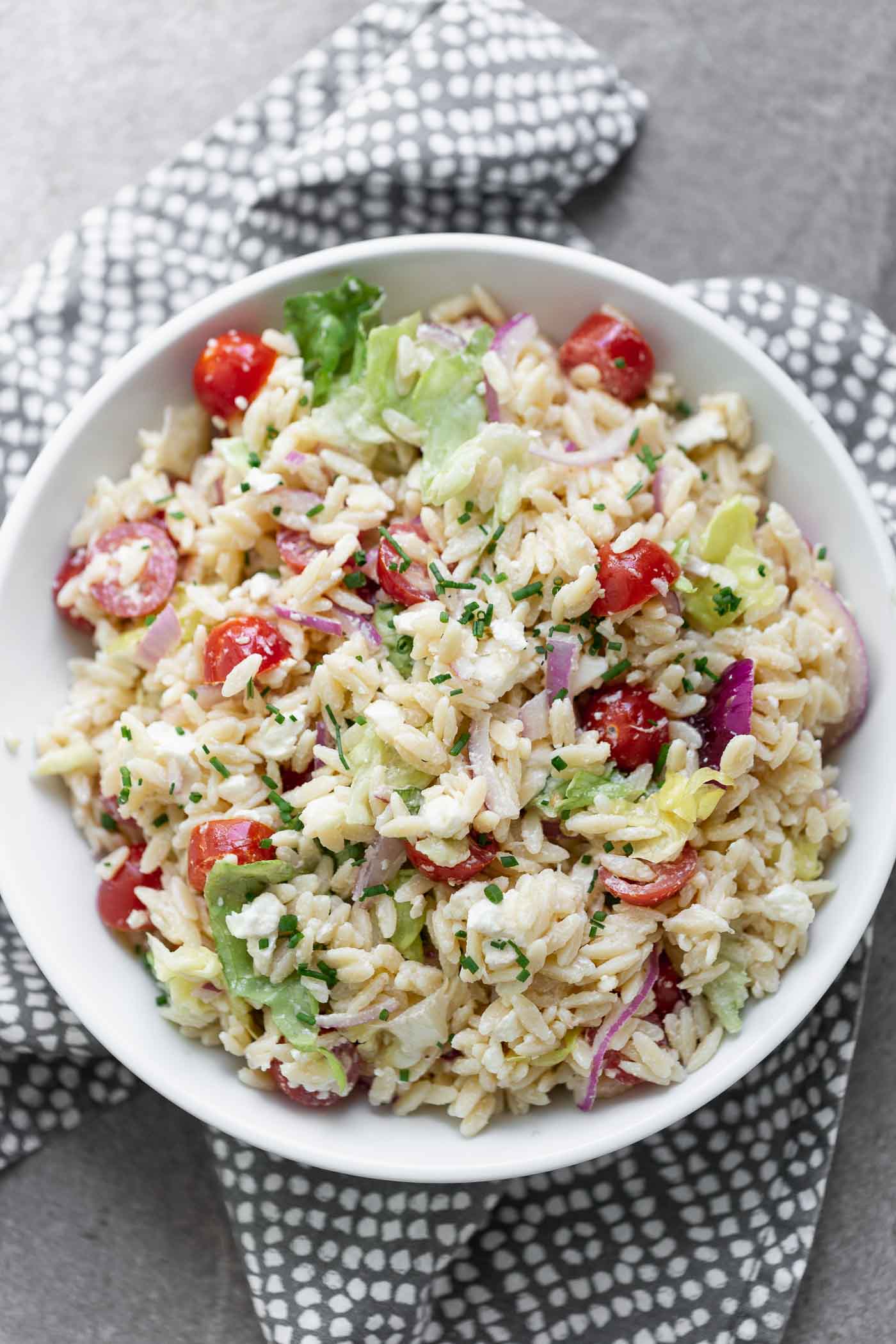 Feta Caesar Pasta Salad
Ingredients
1 1/4

cups

dried orzo

1/4

cup

lemon juice

1

tbsp

dijon mustard

1/4

cup

Greek yogurt

1

large

garlic clove, grated

3

tbsp

olive oil

1/2

tsp

kosher salt

1

tsp

anchovy paste

1/2

cup

grated parmesan cheese

4

oz

crumbled feta

1

pint

cherry tomatoes, halved

1/4

cup

chopped chive

1/2

cup

diced red onion

2

cups

roughly chopped butter lettuce
Instructions
Bring a large pot of water to a rolling boil. Season with salt, it should taste as salty as the sea. Cook orzo until ardente. Drain and rinse under cold water.

Add lemon juice, red wine vinegar, olive oil, salt, anchovy paste, and parmesan cheese together in a small bowl. Season dressing to taste with salt and pepper.

Toss orzo with dressing. Add feta, cherry tomatoes, chive, red onion and lettuce. Toss again until dressing has evenly coated the ingredients. Season pasta to taste with salt and pepper.
(Visited 597 times, 1 visits today)