In the spring and summer my refrigerator is overflowing with veggies and fresh herbs. Plump cherry tomatoes, summer squash, sweet corn, funky looking heirloom tomatoes, bright green chives, hearty asparagus, woodsy rosemary – pretty much anything you can find at the farmer's market (or in my backyard) is in the crisper at any given point in time. Oftentimes there isn't even enough room to hold the abundance of veggies I bring home with me and the overflow is shuffled on over to the fruits section, stuffed alongside the eggs or completely hiding the bottles of beer I ever-so-carefully lined up – much to my husband's dismay.
The one vegetable that doesn't get nearly enough love in my fridge, but is perhaps my favorite veggie of all time, is a fresh artichoke. Currently, I have no less than seven artichoke recipes in my food journal just waiting for the chance to be made, but every time I pass by a bucketful of them at the market, I stop, glance, and then wistfully walk on by when a big tub of avocados on sale for ninety-nine cents catches my eye.
I think maybe it's the idea of cooking with fresh artichokes that I'm more into than actually cooking with them. They are a bit of pain, aren't they? The stems need to be trimmed, the purple choke needs to be removed, and goshdarnit, those prickly ends are like little knives, just waiting to slice tiny cuts all over your hands.
BUT with that said, after the cuts, after the trimming, and after the cooking, it's all worth it, because the end result, even if served completely plain, is like a treasured jewel. The leaves become pliable and so soft you can scrape the flesh right off; the heart, which was once tough and not exactly appetizing, becomes tender and briny. It's kind of like eating lobster or crab, yes, it's a lot of work, but after you're done eating, it's almost like you've accomplished something – there aren't many foods you can say that about.
On Saturday, after perusing through the latest grocery store ads, I noticed an artichoke sale…this time I wouldn't pass it up.
But what happens when you go to said grocery store and they're out of artichokes? Well, you go to another. But what happens when you go to another grocery store and they're out? Yup, you go to another. Oh, and that store only has one artichoke? Seriously?!
You'd think after three failed grocery store trips, I'd just give it up, but I was bound and determined, those artichokes would be mine, even if I had to drive to every single grocery store within a five mile radius.
Lucky for me, forth time was the charm – thank goodness…
Being my inaugural artichoke of spring and all, I wanted to keep things relatively simple, and of course, utilize the tool we wait all winter long to use – the grill.
The artichokes are first cleaned up, halved and steamed in a bath of salted lemon water, they're then thrown onto a screaming hot grill until perfectly charred and smoke-kissed.
While the grill is doing it's thing, I throw together a super simple rosemary lemon vinaigrette with just three ingredients – rosemary, lemon and olive oil.
Once the artichokes are fresh off the grill, I quickly spoon the vinaigrette over the tops – the residual heat from each of the artichokes wilts the chopped rosemary and infuses hints of lemon and rosemary into the layers of each leave.

The final touch is a sprinkling of garlic bread crumbs and these little jewels are ready to be devoured – caveman-style.
Caveman-style meaning each leave is torn off with your fingers, and then scraped off with your teeth until you get to the heart where you don't even bother to use a fork and knife….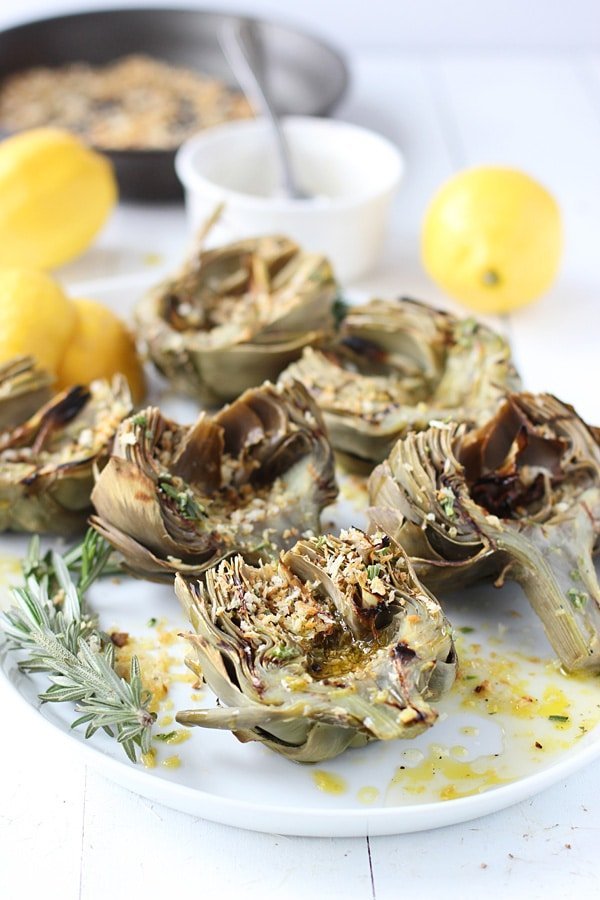 Grilled Artichokes with Rosemary Lemon Vinaigrette and Garlic Bread Crumbs
Author:
Nicole ~ Cooking for Keeps
Ingredients
3 large artichokes
1 lemon cut in half+ 3 tablespoons lemon juice
3 tablespoons + 2 teaspoons olive oil
1 teaspoon rosemary
4 garlic cloves
½ panko bread crumbs
Salt and pepper for seasoning
Instructions
Fill a large stockpot with about an inch and half of water. Turn grill on high.
Cut the top third off of each artichoke.
Remove fibrous outer, bottom leaves.
Using kitchen shears, snip off the prickly tops of any leaves
Cut artichokes in half, using a pairing knife cut around the purple choke and scoop all out, be sure to not remove the heart.
After choke is removed from each artichoke, rub with lemon half to prevent browning.
Squeeze remaining juice from lemon into stockpot filled with water. Toss in a liberal pinch of salt to season the water, add artichokes, cut side up in pot.
Bring to a boil and reduce to a simmer. Cook until tender, about 10 minutes.
In the meantime, make the breadcrumbs and vinaigrette.
Whisk 3 tablespoons lemon juice and rosemary in a small bowl. Slowly whisk in olive oil. Season with salt and plenty of freshly cracked black pepper.
To make breadcrumbs, pour olive oil and garlic into a small sauté pan. Turn the heat on medium and cook garlic until softened, about 1-2 minutes, do not brown. Add in panko and turn the heat up to medium-high. Toast breadcrumbs until golden brown, stirring frequently to prevent burning.
When the artichokes are tender, remove from water and dry off. Throw on a hot grill, cut side down. Cook until slightly charred with grill marks, about 5-10 minutes. Transfer to platter.
Spoon vinaigrette over hot artichokes. Sprinkle with breadcrumbs. Serve immediately.