Welcome to Greek week!!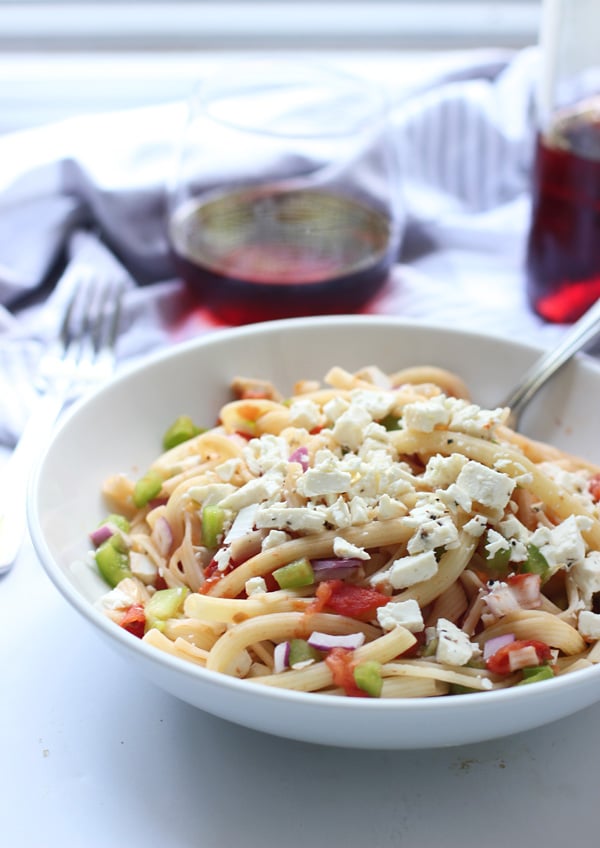 This week I'm going to be sharing some pictures from our trip to Greece, talking all about the food, the things that were "must do's," and recreating some of my favorite meals from our time there.
Today's recipe, Santorini pasta comes from one of my very favorite days we spent in Santorini. While we didn't plan many activities in advance, the one excursion myself and my friend Mandi thought was absolutely nonnegotiable was a daytime catamaran charter to see the island from the sea. Since Santorini is perched high up in the cliffs the only way to see the beauty of the island looking up instead of down is from the sea. After months of research, heavy coaxing of the boys and YOLO talk, we finally found a reasonable (relatively speaking) charter company that would not only take us wherever our little hearts desired, but provide lunch, liquor and a complete guide of the sites that you'd never see had you stayed on dry land.
Our day started off with a 10am departure from Ammoudi bay (another post on that later) where we set sail on the Aegean Sea. We first cruised by Thirasia which is just opposite of Oia; it's teeny tiny town that can only be accessed by boat, and only has one single road where you're forced to either walk or take a donkey up to the town that's littered with tiny taverns and shops aimed mainly at tourists. Unfortunately, we didn't make it over to this particular town, but loved getting to actually see it from the sea.
Our next stop was to the volcanic hot springs nestled just below Santorini's active volcano said to be due for an eruption anytime in the next decade –I put that fun little tidbit back to the furthest part of my mind. As we approached the hot spring we were a little taken aback when our captain asked us all if we were "good" swimmers – we would be swimming to the hot springs as there's no way for a boat to get in to drop you off. We all chuckled to ourselves at the question and Kevin confidently said. "I was on swim team as a kid," like he had previously trained for the Olympics or something. Boys. Apparently we all overshot our swimming capabilities because what we thought was going to be a rather leisurely swim turned into a battle of salt water in the eyes, waves slapping us in the face and ended with us completely out breath and exhausted by the time we reached the warm waters of the hot spring. It was all worth it in the end though, because the area which is typically swarmed with tourists was completely deserted, leaving the entire spring for us to swim in. After a quick soak in the warm water and an actual leisurely swim, we headed back to the boat for yet another battle of the ocean v. us – we won.
After we were completely exhausted from our "swim" we pulled over into a gorgeous cove tucked next to the volcano and soaked up the sun while our crew prepared lunch for us. Previous reviewers on trip advisor had said that the lunch was one of the best meals they had during their entire stay on Santorini so I was of course anxiously awaiting it. The reviews were right, and while it wasn't our most adventurous or gourmet of the meals we had, the simple preparation, fresh ingredients, wine and turquoise backdrop undoubtedly made for one of the most memorable meals on the entire trip.
The crew made us marinated grilled chicken, homemade tzatziki sauce, whipped feta, dolmades and my favorite dish – santorini pasta with grilled shrimp. I tried to sneakily watch as the crew cooked the pasta, and from what I could see the entire dish consisted of just chopped tomatoes, green peppers, red onion, white wine and lots of crumbled feta cheese. So simple, but so so delicious.
The rest of the day was spent cruising around, drinking wine and just relaxing until we pulled back into Ammoudi bay where the next round of people were waiting to take a sunset tour. Like most of the trip, the day went entirely too fast – I'm just thankful we will always have the memories.
Stay tuned for another Greece installment later this week!
Greek Pasta with Tomatoes, Wine and Feta + Pictures from Greece
This Greek pasta with tomatoes, wine and feta, is simple, yet so flavorful!
Ingredients
1 pound pasta (rotini, bucitini, anything will do)
1 tablespoon olive oil
1½ pounds ripe tomatoes, chopped (about 4 cups)
½ teaspoon salt
1 garlic clove, minced
½ cup dry rose or white wine
1 green pepper, diced
½ red onion, diced
5 ounces feta cheese, crumbled
Instructions
Bring a large pot of water to a rolling bowl. Season liberally with salt. Add pasta. Cook until aldente.
Put a large sauté pan over a medium-high heat. Add olive oil, tomatoes, garlic and salt. Cook until tomatoes begin to break down, about five minutes. Add wine and simmer until alcohol has cooked about, about 2 minutes. Add the green pepper and onion, cook for 1-2 minutes. Add pasta into the pan, along with feta cheese. Toss to coat.
Season with salt and pepper to taste.