What's your favorite part of a meal?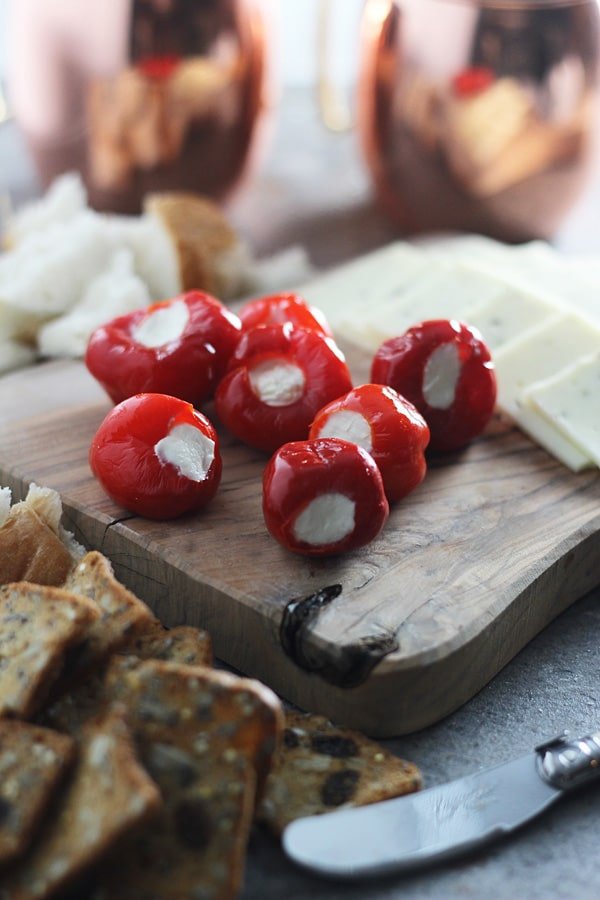 The moment the waiter sets down your perfectly seared medium-rare steak?
Or the instant you can see your dirty (but not too dirty) martini with blue cheese stuffed olives gliding on over to you?
Perhaps, it's your first bite of flourless chocolate cake?
OR maybe it's the feeling of complete nirvana you get when the meal is complete.
For me, the ultimate element of the meal isn't any of those things, although all of them are only slightly less satisfying. My favorite part is the precursor to the meal, the amuse-bouche.
You know that itsy bitty bite of food fancy restaurants serve to you before the appetizer, soup, salad and meal arrives. It's usually brought by your waiter on some sort of fancy serving platter, and he'll some something like, "Courtesy of the Chef." Which in turn makes you feel like you should sit up straight and act like a lady (or gentleman).
When I was planning my wedding (eh hem OUR wedding, sorry dear), the passed hors d'oeuvres were key. Just like an amuse-bouche at a restaurant, I wanted the hors d'oeuvres to set the mood for the night, I wanted them to get my guests excited for the meal to come, and of course I wanted them to fill up guests' bellies so they wouldn't be two sheets to the wind before speeches were over and then feel obliged to sing along to Elvis Presley's, 'Can't Help Falling in Love' during our first dance – although that would have been something to remember.
Why is this my favorite part of the meal you may be wondering? Well, because it's a wonderful indication of what's to come, oftentimes it can be the most scrumptious bite of the whole meal and they're SO tiny and adorable.
Getting all cheesy below…..
Narrowing the options down to three choices was painfully hard, and I stressed about it for weeks. (I've talked about my propensity to overanalyze…) In the end, we went with a crispy glazed pork belly (for the foodies), mini ahi tuna tacos (for the seafood lovers), and a totally decadent herbed goat cheese stuffed peppadew pepper (for the vegetarians), although most of them, in reality, were for me.
I've been vowing to recreate all of the food from the wedding, since the wedding, but so far the only item I've gotten to is the stuffed peppadew. Sadly it's only due to the fact that the little guys are ridiculously easy to put together and I almost always have some sort of soft cheese on hand.
At our wedding the chef used an herbed goat cheese, but when I make them, I'll use anything from boursin, to cream cheese, to brie, to feta – my choice for today.
The texture of feta isn't really optimal for a creamy, smooth filling, so I combined it with a little bit of cream cheese and whipped it all together in the mini food processor until it was light as air and stuffed them into the peppers using a plastic baggie with the corner cut off.


These are perfectly fine as an appetizer or snack on their own, but what I like to do is to put together a big antipasto platter with the stuffed peppers front and center. I use up any prosciutto, pepperoni or ham I have in fridge, slice up some cheese, tear off a little bit of crusty bread, pull out leftover crackers, maybe even whip up some sort of easy dip, pull out a bottle of wine and call it a meal.
A darn good meal, if I do say so myself.
Peppadew Peppers Stuffed with Whipped Feta Cheese
Author:
Nicole ~ Cooking for Keeps
Ingredients
15 peppadew peppers
1 cup crumbled feta
4 ounces light cream cheese
Salt and freshly cracked pepper to taste
Instructions
In the bottom of a mini food processor or blender combine feta and cream cheese. Process or blend until smooth, light and creamy. Season to taste with freshly cracked pepper and salt if necessary.
Transfer filling to a ziplock bag. Snip the corner off of the bag and pipe filling into peppers.
If you like today's recipe you might also like these others!

Peppadew Pepper, Goat Cheese and Bacon Grilled Cheese

Pomegranate Arancini with Goat Cheese Fonduta



Goat Cheese & Poblano Dip

Strawberry and Goat Cheese Crostini