Slow Cooker Poblano and Honey Lime Chicken Tacos are the EASIEST way to get dinner on the table during the week. Chicken thighs are slow-cooked in a simple lime, garlic and honey sauce, shredded, and stuffed into corn tortillas. Top with crumbled cotija cheese, a little bit of chopped cilantro, and extra poblano peppers. 
The slow cooker can be my best friend, so be sure to check out these Slow Cooker Bourbon and Brown Sugar Pulled Pork Sandwiches (with corn and Brussels sprout slaw!), these Blackberry and Jalapeño Chicken Sandwiches, and this Bolognese Pappardelle.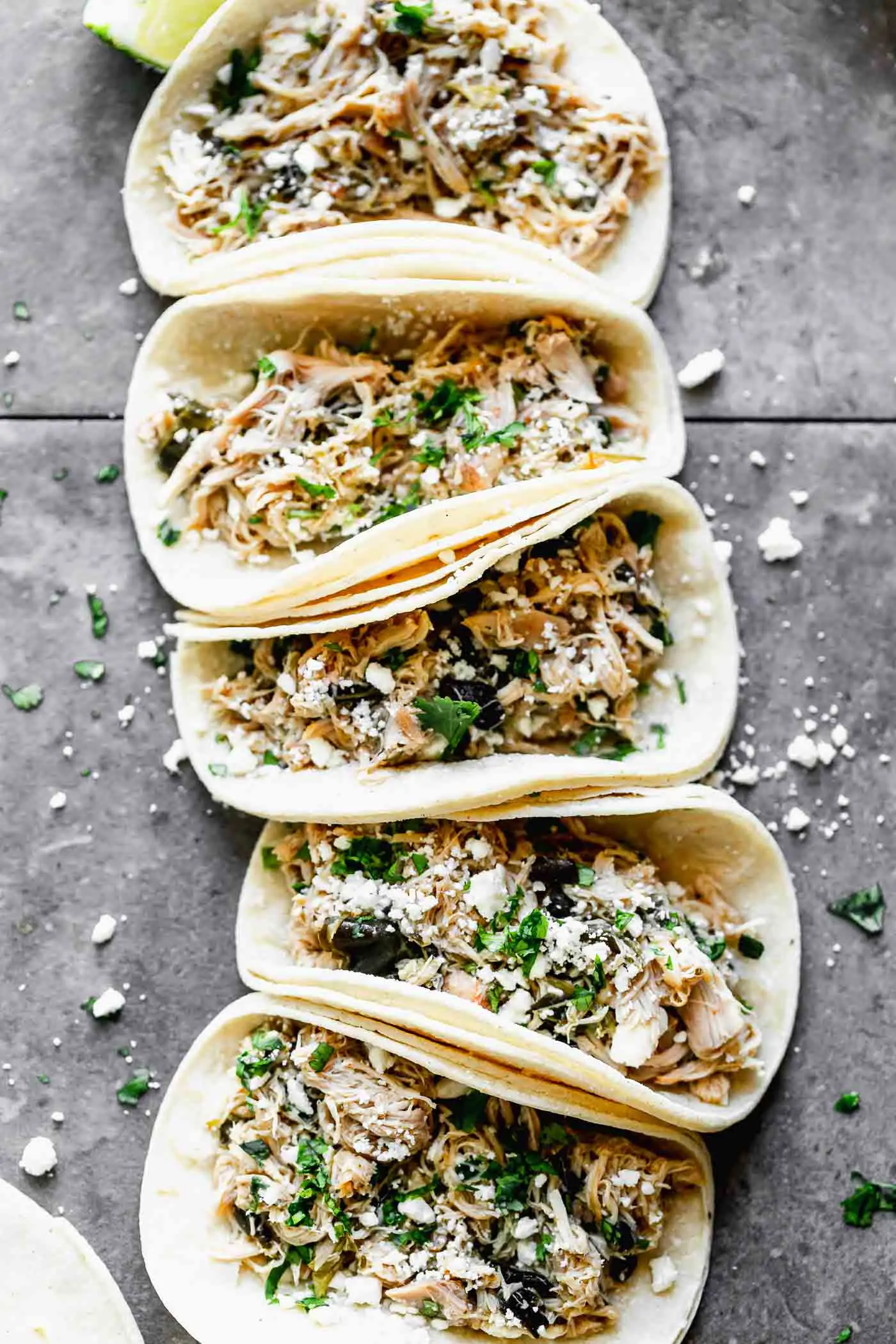 Slow Cooker Poblano and Honey Lime Chicken Tacos
This post is from January 2015, I've updated the photos as well as some other tidbits, which is why the narrative is talking about January and Christmas. 🙂 
Right around this time of year, is of course, when I start getting excited about holiday parties, snow and Christmas, but it also happens to be the time I start looking forward to our annual trip to Puerto Vallarta we take at the beginning of January. It's a tradition Kevin and I started the second year we were dating, and one I plan on continuing well into our retirement years. There's something about getting away right after the holiday season is finished, and the cold weather and endless snow has started to lose its sparkly luster that's irresistible and completely justifies the exorbitant flight rates.
This year, I'm growing a human who is due to make his or her appearance in t-minus 10 days, so a Mexican vacation full of sunshine, margaritas, and Mexican beer isn't exactly the most practical way to start off my early parenting weeks. So, like any responsible adult and soon-to-be parents, we are forgoing the sunshine for a quiet January at home. Hibernating and snuggling with our newborn is a scenario that will be a hundred times better than all of the margaritas, authentic Mexican food, and ocean views the world can offer us.
Bring Mexico Home
Although, just because we aren't physically making the trip down south this year, it doesn't mean we can't bring a little bit of the Mexican ambience to us instead. There will be Mexican beers, cheese dip, enchiladas, and slow cooker poblano and honey lime chicken tacos. They aren't exactly the authentic street-style tacos I gorge on as I listen to the waves lap up against the shore, but they're sweet, spicy, and so delicious, it doesn't even matter.
I'm not sure why I don't use my slow-cooker more often, the ease is something that's indisputable and the tenderness it gives to meats is unmatched by any other cooking method. Here, I used bone-in, skinless chicken thighs, and covered them in sliced poblano peppers.
How to make Slow Cooker Poblano and Honey Lime Chicken Tacos
Add chicken thighs to the bottom of your slow cooker. Season LIBERALLY with salt. I used about two teaspoons. 
Sprinkle sliced poblanos on top.
Mix lime juice, honey, sriracha, and garlic together. Pour on top of chicken. 
Cover and cook on high for four hours or low for 6-8 hours. 
Shred chicken. Add more spice if you wish. 

After I shred the meat, I like to add a little bit of extra sriracha for optimal heat. You should too if that's your thing. 
From there, the tacos come together pretty effortlessly. Flour or corn tortillas are charred, stuffed with the shredded chicken and then topped with plenty of homemade roasted poblano peppers, a good amount of chopped cilantro and a heavy hand of crumbled cotija cheese.
A squeeze of fresh lime juice for acid is an essential final step to complete the taco – don't skip it!
Substitutions and Tips and Tricks for Recipe Success
I highly recommend using chicken thighs, but if you HAVE to chicken breasts will suffice. 
If you can't find cotija cheese, feta will work great. 
Use agave instead of honey.
Be sure to taste for seasoning. I didn't need any salt at the end, but you might. 
Microwave corn tortillas for 20 seconds to keep them from breaking. Also, I like to double up the corn tortillas for extra sturdiness. 
Feel free to use flour tortillas instead of corn. (See below for an easy homemade recipe!)
What to serve with Poblano Chicken Tacos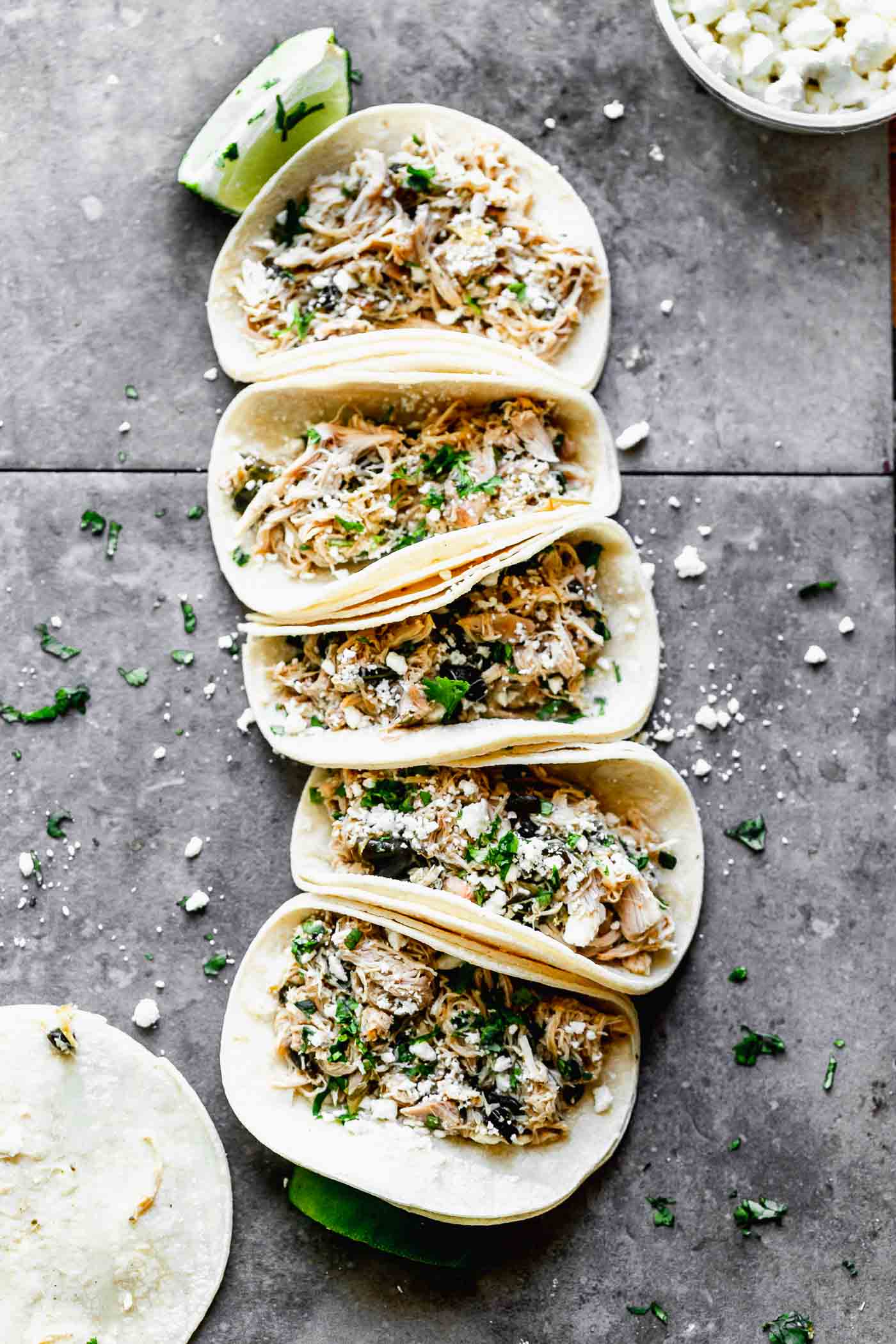 Slow-Cooker Poblano and Honey Lime Chicken Tacos
Author:
Nicole ~ Cooking for Keeps
Ingredients
3 pounds bone-in, skinless chicken thighs
3 poblano peppers, divided
½ cup freshly squeezed lime juice
2 tablespoons honey
3 teaspoons sriracha, divided
3 large garlic cloves, grated
¼ teaspoons kosher salt
8-10 taco-sized corn or flour tortillas
¼ cup roughly chopped cilantro
½ cup cotija cheese
2 limes
Instructions
Place chicken in the bottom of a slow-cooker. Season liberally with salt. Slice one poblano pepper, sprinkle over chicken.
In a small bowl, whisk together lime juice, honey, 2 teaspoons sriracha, garlic and salt. Pour over chicken. Cover and cook in the slow-cooker on high for 3½-4 hours or low for 6-7 hours, meat should be falling off the bone and easy to shred.
While the meat cooks, roast remaining two peppers over a gas stove or under the broiler until charred on all sides. Place in a bowl and cover with plastic. Let sit for 10-15 minutes. Peel off skin, remove stem and seeds. Slice into strips.
Once the meat is tender, remove chicken from pot. Shred with two forks. Spoon any fat that has come to the top off of the cooking liquid. Return the shredded chicken back to the cooking liquid. Add another teaspoon of sriracha if it's not spicy enough and season with salt and pepper.
Heat tortillas up in either the microwave wrapped in paper towels, or over a gas grill. Fill with shredded chicken, top with roasted poblano pepper, cilantro and cheese. Finish off with a squeeze of fresh lime juice. (Don't skip the lime juice!)