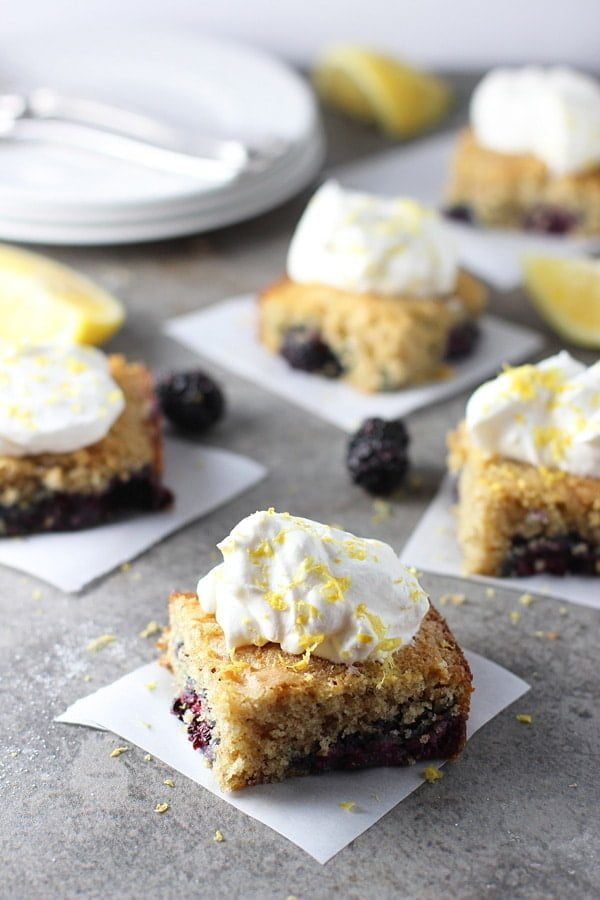 Many years back, long before I was aware food blogs existed or had thoughts of starting my own, I was on an endless misguided internet hunt for the perfect pear tart, and after I'd exhausted all my usual spots – Epicurious, Food and Wine, Martha Stewart – I happened to come across a food blog that had just what I was looking for. After I printed off my recipe, I kept clicking on dish after dish – I couldn't leave. I then proceeded to spend the better part of the day perusing through this wonderful site, full of recipes right up my alley and spoken in a voice that left me wanting to read more.


The blog was different than anything else I had encountered, it was more than just a website with pictures and recipes – there was a dialogue, and a community of sorts.
The tart – along with many other recipes I've tried since – was a smashing success.
The blog was Smitten Kitchen and became my new obsession. I was so mesmerized by the concept of a food blog; you mean there are people out there (besides professional chefs) that talk about food and cooking with other people that also love food and cooking? Who knew? Besides my Mom and a handful of her close friends, I didn't know anyone that had a passion for cooking like I did.


Ever since I was a little girl, I had dreamed of going to business school and then to culinary school, after which, I'd open my wildly popular restaurant where I'd be owner and head chef – life would be good.
As you get older reality sets in, you start thinking about the practicality of your dreams. Did I want to be a chef? Yes. Did I really want to work in the restaurant industry? No. Did I want to work the hours that go into being a professional chef? No. Did I want my passion to become a job that I could possibly end up despising? No. The cons outweighed the pros, and this pragmatic girl had made her final decision – there would be business school, but no culinary school. Cooking would be a hobby and a passion, but not a job.


After Smitten Kitchen, I found The Pioneer Woman, a while later – A Cozy Kitchen. I kept seeing more and more food blogs pop up until I finally, said, you know what? I want to do this too. I want a place I can store all my recipes. A place I can experiment with food. And a place where I can share my passion. A few months and countless hours of research later, I had a name that reflected my food outlook, a camera I had no idea how to use, a website domain and my only asset – the ability to cook.
I haven't looked back since.


So I guess you could say that, thanks to Deb of Smitten Kitchen, I'm here with you today. I've made countless friends, had wonderful opportunities come about, and this is still just the beginning. I'm nowhere near where I'd like to be, but I'm doing what I love – and that's what counts.
I honestly hadn't planned for this post to be about where my food blogging journey began, but here we are. I initially started this post to talk about the second recipe I ever tried from Smitten Kitchen that has become a staple in my dessert repertoire (which is not very vast to begin with).
So let's do it.

This "everyday" cake as she describes is just that, but so much more. Yes, it's "everyday" in the sense that it can be whipped up in no time, but what comes out of the oven is anything but ordinary.
Sweet, light and perfect anytime of year – this is the kind of cake I dream about.
It's moist from the creamed butter, has a fine crumb and airy feel, from the buttermilk, and spring-like feel with the addition of lemon.
In the original recipe, the flour called for is AP, but I've been into bulking up what I've been eating, so I subbed out half of the AP flour for equal parts of whole-wheat and almond flour, which I think actually make the cake even better than it's original form.


A final touch that's not necessary, but recommended, a large dollop of lemon scented whipped cream, which is just a fancy way for me to say whipped cream with lemon zest sprinkled throughout.
This is what the perfect dessert looks like to me – nothing too over the top or complicated, just a simple berry cake, hot out of the oven, with whipped cream.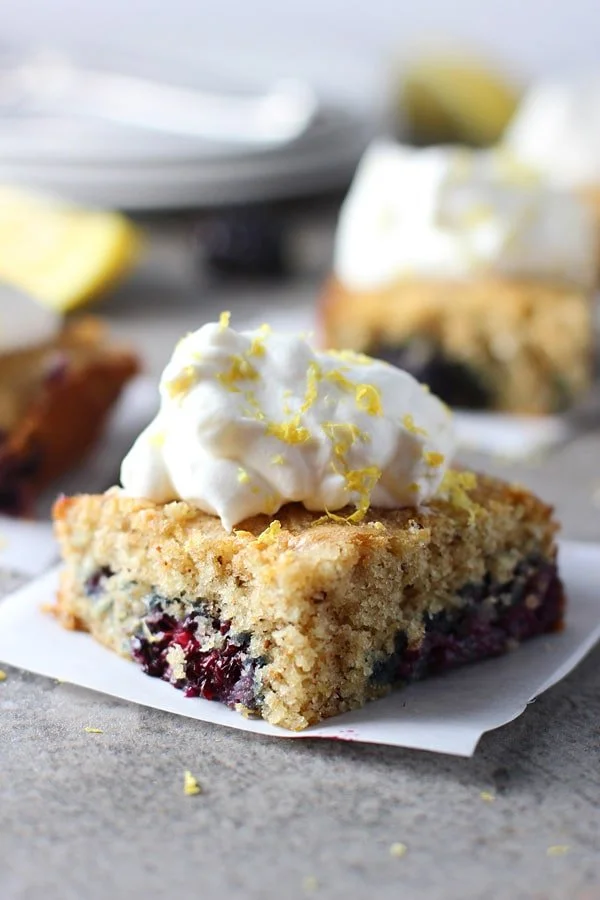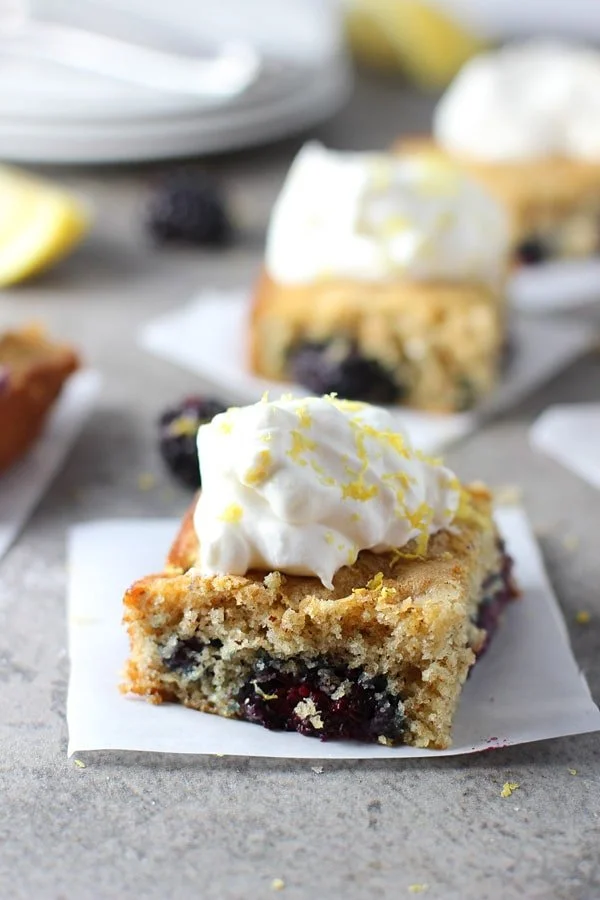 Blackberry Buttermilk Cake with Lemon Scented Whipped Cream
Author:
Nicole ~ Cooking for Keeps
Ingredients
½ cup all purpose flour
¼ cup almond flour
¼ cup whole-wheat flour
½ teaspoon baking soda
½ teaspoon baking powder
¼ teaspoon salt
½ stick butter, softened
⅔ cup + 2 tablespoons sugar
1 large egg
½ teaspoon vanilla
1 teaspoon lemon zest
1cup buttermilk
1 cup blackberries or raspberries
Lemon Scented Whipped Cream
1 cup heavy cream
3 tablespoons powdered sugar
½ teaspoon vanilla
1 ½ teaspoons lemon zest
Instructions
Preheat oven to 400 degrees. Butter a square baking pan.
In a medium bowl, whisk flours, baking powder, baking soda and salt. Set aside
In a stand mixer, beat sugar and butter until light and fluffy, about 2-3 minutes. Add egg, lemon zest and vanilla, beat until combined.
Add the flour mixture in thirds, alternating with two additions of the buttermilk. So you want to start and end with flour. Mix just until combined.
Transfer batter to baking pan.
Scatter blackberries over batter.
Sprinkle with 2 tablespoons sugar.
Bake 15-20 minutes until golden brown, and a wooden toothpick comes out with a few crumbs attached.
Let cool 10 minutes before serving.
While the cake is baking make the whipped cream.
Place cream in the bottom of a stand mixer, fitted with the whisk attachment.
Whisk on high until medium peaks form. Add vanilla, sugar and lemon zest. Refrigerate until needed.
Serve cream with warm cake
*Source: Recipe adapted from
Smitten Kitchen
via
Gourmet, June 2009
(Visited 1,471 times, 1 visits today)