This Italian Stromboli is such an easy delicious way to feed a crowd, and it only has five ingredients! It's packed with spicy pepperoni, capicola, gooey mozzarella cheese, store-bought pizza seasoning, and served with a jarred marinara if dipping is your thing.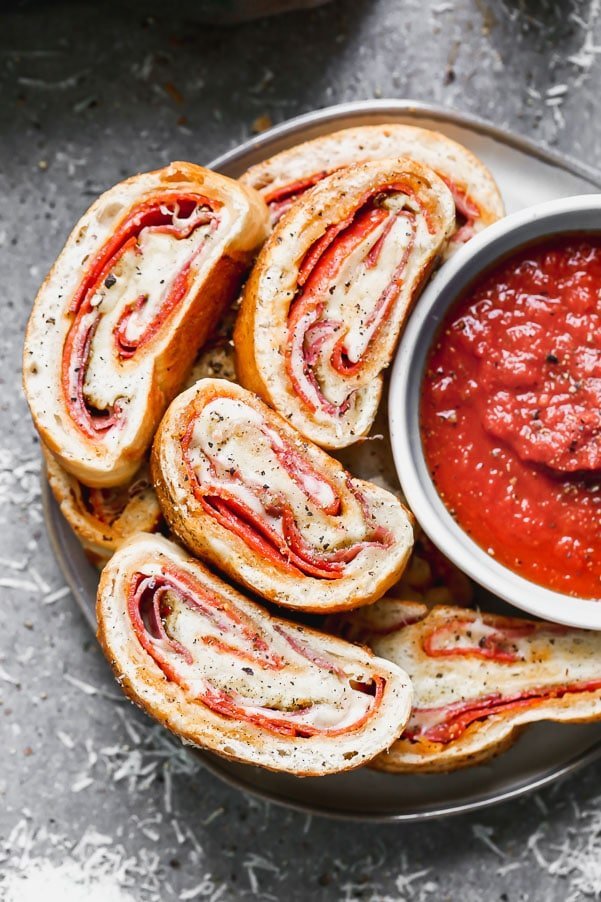 Italian Stromboli
There are few things in the food world that rival spicy pepperoni, salty capicola, and gooey mozzarella cheese all wrapped up in soft, but super crispy bread. Our version of an Italian Stromboli is simple, has only five ingredients, and is so freaking good.
I first fell in love with Italian Stromboli thanks to my mother-in-law who makes a version nearly identical to this one. Basically, I stole the recipe from her. She makes it almost every time we go to visit them, and each time the hot Stromboli comes out of the oven, I have to physically restrain myself from inhaling more than my fair share.
It's time I shared it here.
Plus, it's the perfect candidate for 5-ingredient Friday, since there are, as you guessed it, only five ingredients. Well, seven if you want to make the top shiny with egg wash or feel the need to dunk each piece in marinara, which I find unnecessary.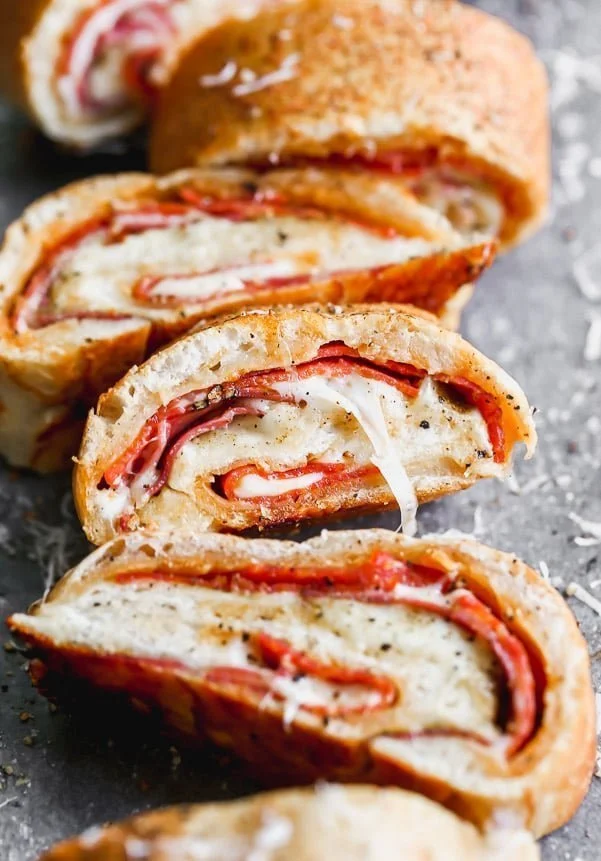 The beauty of Italian Stromboli is you can put virtually whatever you want in it. While this version is Italian, in the past I've made countless other versions, Cheeseburger Stromboli , one of my favorites, doesn't have a hint of Italian in the ingredients list, and that's ok. I also have plans for a Philly cheesesteak Stromboli, but that's something we can delve into another time.
I've listed the ingredients for our version of Italian Stromboli below, but take these with a grain of salt. If you want to add prosciutto or mortadella, go for it. If you want a more pungent cheese, use tangy provolone instead of mozzarella. You're the chef here, and trust me, there's no way on earth you can screw this Stromboli up.
Stromboli Ingredients
Frozen bread dough. Ok, so I think frozen bread dough is what makes my mother-in-law's Italian Stromboli so good. I think a lot of people out there use pizza dough, which is fine, but this frozen dough is what makes the Stromboli soft, and almost gooey in the center, but super crispy on the outside.
You can usually find it in the frozen section with all of the puff pastry and pie crusts, and while I love that all the work is done for you. You do have to remember to defrost it in the fridge or at room temperature several hours ahead of time. Luckily, all you have to do is pull it out of the bag, set it on sheet pan covered in non-stick spray and let it do its thing. No babysitting required.
Pepperoni. It's really important you use pepperoni from the deli counter and not the small traditional pizza pepperoni you find pre-packaged. Not only is the deli counter pepperoni more flavorful, but it makes the prettiest layers when you cut into the Stromboli.
Capicola. So this isn't something my mother-in-law uses, but I just adore the salty, mild peppery flavor the capicola adds to the Italian Stromboli. Again, the Stromboli ingredients are up for interpretation, so if you don't like capicola, feel free to leave it out.
Mozzarella cheese. I obviously want that gooey, melty cheese factor in Italian Stromboli, and while you can technically use any cheese, mozzarella has the best cheese pull, and I like that it's a more mild cheese so it doesn't compete with the Italian Stromboli meats.
Pizza seasoning. This was one ingredient I wouldn't have guessed is in the Italian Stromboli, but it makes a difference in the final flavor. I went with a generic pizza seasoning, and I love the herby undertone it adds to the Stromboli. It's a combination of crushed garlic, onion, red bell pepper, red pepper, and salt. I kind of want to put it on all my pizza recipes from now on…
Optional Ingredients
Egg. If you want a glistening top, combine a little bit of water with an egg and brush it on top of the Italian calzone. It's an unnecessary step, but it does make the final produce a little prettier.
Marinara sauce. While I don't think Italian Stromboli needs a dipping sauce, some may want it. Just use your favorite store-bought marinara and call it a day.
How to make Italian Stromboli
Defrost the dough. So we're using frozen dough. This means the dough has to defrost, and don't even try to defrost it in the microwave faster. It doesn't work. Trust me. Luckily, all you have to do is take the dough out of the bag, place it on a greased baking sheet, cover it with plastic wrap and let it defrost on its own. No babysitting necessary.
I like to put it in the fridge the night before, let it defrost overnight, and then pull it out in the morning to sit at room temperature for a few hours.
Roll the dough out. Once the dough has defrosted and risen a bit, use a floured rolling pin to roll it into a 7×14 rectangle. If you want more layers, roll it out to a 10×14 rectangle.
Layer it up! Start by layering your pepperoni. Sprinkle with cheese. Layer capicola on top. Cover with remaining cheese. Sprinkle with pizza seasoning, and a little bit of salt and pepper.
How to fold Stromboli. I skip all fancy Stromboli folding, and just roll up jelly-roll style. I tuck the ends of the Stromboli over and make sure to pinch all of the edges shut. Use a knife to cut five or six slits in the Stromboli, this helps to let step escape.
If you're using the egg wash, mix egg and water together in a small bowl. Brush the top with egg wash and sprinkle with pizza seasoning.
Bake. Pop the prepared Stromboli back on the greased baking sheet and cook until golden brown, about 20 minutes.
Serve!

Can I prepare Italian Stromboli in advance?
Yes! You can prepare the Italian Stromboli up to baking. Place on the sheet pan and cover with plastic wrap. Store in the fridge until you're ready to bake.
Unfortunately I wouldn't recommend making the Italian Stromboli from start to finish ahead of time, it's best when served straight out of the oven. However, it is delicious heated up in the microwave the next day.
Substitutions and Tips and Tricks for Recipe Success
If you don't want to wait for the bread dough to defrost or decided you wanted to make Italian Stromboli a few hours before dinner, you can use prepared pizza dough.
As aforementioned use whatever ingredients you want! Salami, mortadella, provolone, prosciutto are all great Stromboli ingredients.
If you can't find pizza seasoning, a combination of dried oregano, garlic powder, salt, and crushed red pepper should do that trick.
Our Favorite Pizza Recipes
This Italian Stromboli is such an easy delicious way to feed a crowd, and it only has five ingredients! It's packed with spicy pepperoni, capicola, gooey mozzarella cheese,  store-bought pizza seasoning, and served with a jarred marinara if dipping is your thing. 
Ingredients
1

lb

frozen bread dough or 1 pound of prepared pizza dough

I buy mine in a three pound pack of three loaves of bread.

1/4

lb

sliced pepperoni from the deli counter

1/4

lb

sliced capicola from the deli counter

1 1/2

cups

freshly shredded mozzarella cheese

1 1/2

tsp

pizza seasoning

1

egg+ 1 tbsp water mixed together (optional)

marinara sauce for dipping (optional)
Instructions
Place dough on a large greased baking sheet. Cover with platic wrap. Let the dough defrost in the fridge for 6-8 hours or overnight. Remove from the fridge and let the dough sit for another hour or two before assembling. You can also use prepared pizza dough if you don't plan ahead, no worries!

Preheat the oven to 400 degrees. Lightly dust a large working surface as well as a rolling pin. Remove the dough from the baking sheet and roll out to a rectangle 8x13 inches long.

Layer the pepperoni on top of the dough. Sprinkle with 1/3 of the cheese. Layer the capicola on top followed by the remaining cheese. Sprinkle with 1 teaspoon of the pizza seasoning. Season with a little bit of salt and pepper.

Tightly roll up the dough, jelly-roll style. Tucks the ends over and pinch eveyrthing closed. (You can also brush the edges with egg wash to help them seal.

Re-spray the baking sheet with non-stick cooking spray. Transfer the stromboli to the pan. Brush with egg wash if using. Sprinkle with remaining pizza seasoning. Place in the oven and bake until golden brown and crisp, about 20 minutes. Wait 1-2 minutes before cutting into slices and serving.
Nutrition Information
Serving:
1
slice
,
Calories:
309
kcal
(15%)
,
Carbohydrates:
28
g
(9%)
,
Protein:
15
g
(30%)
,
Fat:
15
g
(23%)
,
Saturated Fat:
5
g
(31%)
,
Cholesterol:
41
mg
(14%)
,
Sodium:
945
mg
(41%)
,
Potassium:
62
mg
(2%)
,
Fiber:
1
g
(4%)
,
Sugar:
1
g
(1%)
,
Vitamin A:
107
IU
(2%)
,
Calcium:
173
mg
(17%)
,
Iron:
1
mg
(6%)