Creamy Chicken Tortilla Soup is spicy, cheesy, creamy, and so delicious! It's packed with dried chiles, canned green chiles and uses corn tortillas instead of cream or cheese for a super creamy texture without adding a ton of fat and calories. Top with homemade tortilla chips, shredded cheese and plenty of sour cream.
We've updated this reader and family favorite recipe from 2018 with shiny new photos – please enjoy!
Creamy Chicken Tortilla Soup
I'm one of those people who loves soup unconditionally. I adore all varieties, and I'll even slurp it down on the hottest of summer days. So, when winter rolls around, you'll find soup in my meal plans at least a few times a week, sometimes more.
I always start winter out with the basics: Chicken noodle, classic chili, or baked potato and then inch my way up to something a little bit more exciting like Butternut Squash Cheddar Soup with Grilled Cheese Croutons or Coconut Curry Wonton Soup for some variety.
Today's Creamy Chicken Tortilla Soup falls somewhere in between basic and elevated simply because the preparation itself is admittedly, very easy, but the flavor that comes from it, isn't your average bowl of chicken broth steeped with vegetables.
Instead of relying on simply chili powder and other dried spices to create the base flavor of our Creamy Chicken Tortilla Soup, we use or favorite dried Chile de arbol peppers (more on those later). The chili powder, cumin, and other spices are just meant to enhance the flavor of the chiles.
Also, instead of adding cream or cream cheese to the soup to make it creamy, instead we simmer it with corn tortillas until they soften and then puree everything together for an irresistibly creamy broth.
Top off with a handful of tortilla chips, shredded cheese and plenty of sour cream.
Ingredients in Creamy Chicken Tortilla Soup
Onion, Garlic, and Olive. The base of almost all of my soups, and an essential flavor starter.
Dried Chile de Arbol Peppers. These dried peppers have a pretty intense spice to them, so a little goes a long way. I use two here, which produces a very spicy broth (which we love!). If you're sensitive to spice, then one should do the trick. They're typically available at most supermarkets. Remember you can always add more, but you can't take the-ice away.
I think people are often intimidated when it comes to dried chiles, but honestly, they're so easy to work with, especially when you blend them in a soup. All I do is de-stem them, break each one open to scoop out the seeds and then add them to the soup.
Corn Tortillas. Most chicken tortilla soups are on the brothy side, which I love, but when it's really cold out, all I want it something creamy, so this version uses a trick from this Cheesy Turkey Tortilla Soup that has you puree the corn tortillas directly in to the soup. What this does is gives off the elusion of cream without having to actually add it in.
Diced canned green chilies. I love the flavor of canned green chilies. It's an ingredient I almost always throw into tex mex-inspired dishes.
Chicken stock. Low sodium chicken broth or chicken stock is what you want to use so you can control the amount of salt that goes into our Creamy Chicken Tortilla Soup.
Spices. Ground cumin, ground coriander, chili powder, and salt.
Canned tomatoes. Any canned tomatoes will do. Whatever you've got on hand! Stewed tomatoes with chiles, Italian tomatoes, plain diced tomatoes – it all works.
Chicken. Shredded, pre-cooked chicken is what I used. You can also buy a rotisserie chicken, use leftover chicken (maybe from this roast chicken), or let a few chicken tenders simmer in the soup, then shred.
Corn and Black Beans. We love a hearty soup, so I make sure to pack it with chicken AND veggies.
How to Make Creamy Chicken Tortilla Soup
Sauté onion and garlic. I use olive oil, but you could also use canola oil or butter. Sweat veggies until they're slightly softened.
Dump and stir. Add chicken stock, canned geen chiles, dried chiles, cumin, plenty of salt, oregano, a can of tomatoes, and some smoked paprika. Bring the mixture to a boil and reduce to a simmer for about 10 minutes. After 10 minutes, add the corn tortillas in. Simmer another five minutes.
Blend the soup. I use an immersion blender, but you can also transfer it to a blender. I like for my soup to retain a little bit of texture so I stop blending just shy of completely smooth, but you can take it as far as you like.
Add in the rest of the ingredients. Throw in shredded chicken, frozen corn, and a can of black beans. Simmer another five to ten minutes.
Season with salt and pepper. Once the soup is done, season to taste with salt and pepper.
What to serve with Creamy Chicken Tortilla Soup
shredded cheddar or pepper jack cheese
chopped cilantro
crispy tortilla strips
sour cream
sliced avocado
Can you make tortilla soup in advance?
Yes! The entire dish can be made a few days in advance. Keep garnishes on the side.
Substitutions and Tips and Tricks for Recipe Success
If you're worried about spice, make sure to start out with just one pepper. You can always add more, but you can't take it away.
To make crispy tortilla strips: Cut extra corn tortillas into strips. Lay on a baking sheet and spray generously with olive oil spray. Toss to coat. Sprinkle with salt, pepper, garlic powder, and cumin. Bake at 325 degrees until golden brown and toasted. Cool. (They will crisp up as they cool.)
If you don't want to buy a whole rotisserie chicken, you can add one pound of chicken tenders into the soup while it simmer. Before blending the soup, remove the chicken and shred. Add back to the soup after you blend it.
Swap out full-fat sour cream and cheese, for light or low-fat.
Some of our other favorite tex-mex dishes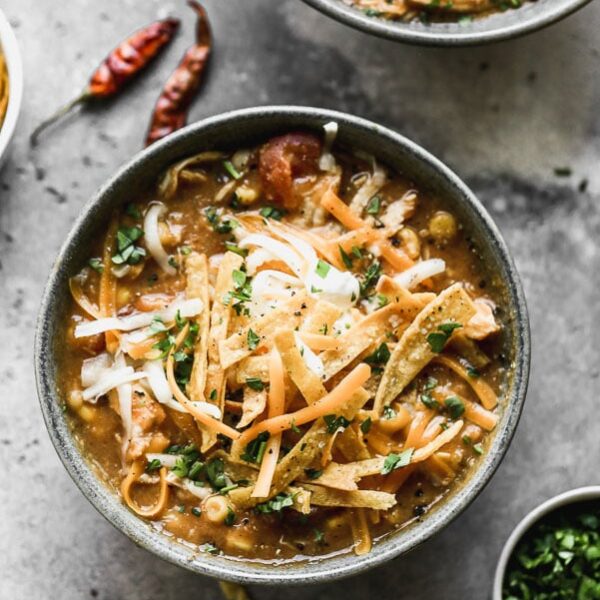 Creamy Chicken Tortilla Soup
This creamy chicken tortilla soup is packed full of dried chiles, canned green chiles and uses corn tortillas instead of cream or cheese for a super creamy texture without adding a ton of fat and calories.
Ingredients
8

corn tortillas, divided

1

tbsp

olive oil

3/4

cup

diced onion

4

large

garlic cloves, minced

3/4

tsp

salt, divided

1

tsp

cumin

1/2

tsp

ground coriander

2

tsp

chili powder

32

ounces

low-sodium chicken stock

4

ounces

canned diced green chiles

2

arbol chile peppers (1 for a more mild soup, 2 for spicy!), stemmed and seeded

2

tsp

apple cider vinegar

1

14.5

stewed, diced tomatoes

2

cups

shredded chicken

1 1/2

cups

frozen corn

14

ounces

canned black beans, rinsed and drained

sour cream, shredded cheddar cheese and cilantro for serving
Instructions
Preheat oven to 350 degrees. Cut 4 corn tortillas into strips. Spray with non-stick cooking spray and spread on a large, rimmed baking sheet. Bake for 10-15 minutes until golden brown and crisp. Toss halfway through to prevent burning. Set aside.

While tortillas bake, heat a large stock pot to a medium heat. Add olive oil. Once oil is hot, add onion. Saute for 2-3 minutes until slightly softened and fragrant. Add garlic and 1/4 teaspoon salt. Saute until garlic is fragrant and onion is completely softened, another 1-2 minutes. 

Add cumin, coriander and chili powder. Stir and then add chicken stock, canned chiles, dried chiles, vinegar, canned tomatoes and remaining salt. Bring to a boil, then reduce to a simmer. Simmer for 10 minutes. 

Tear remaining corn tortillas and add to soup. Simmer another 5 minutes. Use an immersion blender to blend the vegetables and tortillas into the broth. I like to leave a little bit of texture, but if you like it smooth, puree completely.

Add chicken, corn, and black beans. Stir and simmer another 5-10 minutes. Season to taste with salt and pepper. Serve with shredded cheese, chopped cilantro, sour cream and crispy tortillas chips. 
Nutrition Information
Serving:
1
serving
,
Calories:
353
kcal
(18%)
,
Carbohydrates:
48
g
(16%)
,
Protein:
25
g
(50%)
,
Fat:
9
g
(14%)
,
Saturated Fat:
2
g
(13%)
,
Cholesterol:
35
mg
(12%)
,
Sodium:
476
mg
(21%)
,
Potassium:
743
mg
(21%)
,
Fiber:
10
g
(42%)
,
Sugar:
1
g
(1%)
,
Vitamin A:
189
IU
(4%)
,
Vitamin C:
11
mg
(13%)
,
Calcium:
82
mg
(8%)
,
Iron:
4
mg
(22%)