Ultra crispy and smothered in a soy-based sauce studded with rich brown sugar, sweet mirin wine, and brimming with heat from Sambal Oelek, these Beef Lettuce Wraps are my favorite way to do lettuce without the salad. With easy-to-find ingredients, and minimal prep and cook time, they're also the perfect way to get dinner on the table with very minimal effort.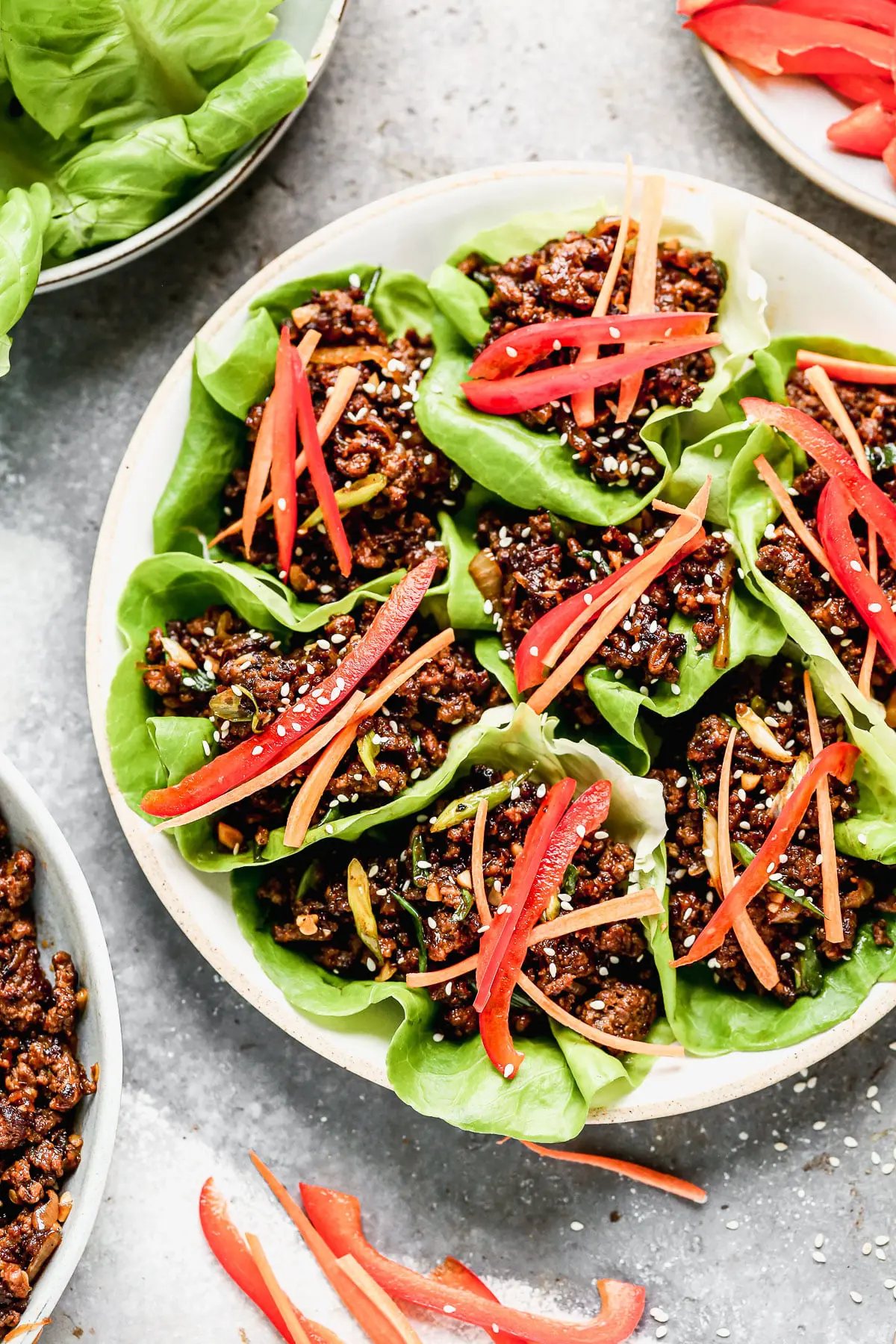 Bulgogi Beef Lettuce Wraps
It's rare to find a lettuce wrap I'm more fully invested in than our Easy Peanut Chicken version, but today's Bulgogi Beef Lettuce Wraps are sure giving them a run for their money. Luckily, I don't have to choose because aside from the crispy butter lettuce the filling is nestled in, they are polar opposites and the choice of when to eat which one resides on your current craving status.
Presently, I can think of nothing better than crispy ground beef practically swimming in a sweet, spicy, and irresistibly spicy Asian-infused sauce. The method of cooking is very similar to our Crispy Honey Beef, but the flavor profile is based off a classic – Beef Bulgogi.
Instead of a light, peanut-infused sauce, our beef lettuce wraps are smothered in a soy-based sauce studded with rich brown sugar, sweet mirin wine, and brimming with heat from Sambal Oelek. Before the sauce even comes into play, the flavor begins by cooking ground beef with onion and garlic in a screaming hot wok or skillet until it's ultra crispy.
Nestle into buttery lettuce leaves, stud with your favorite toppings, and dive in. Napkins required.

What is bulgogi?
A popular Korean barbecue dish, the bulgogi meaning translates to "fire meat." It typically consists of thinly sliced ribeye or sirloin marinated in a soy-based sauce that's later cooked over a high heat on a grill or stovetop. According to my research, it's something you can find in practically every single Korean restaurant, grocery, or even convenience store that sells food. I can see why. It's easy to prepare, quick, and so darn delicious.
Because I'm nowhere near an expert on bulgogi or Korean food in general, our version of bulgogi beef lettuce wraps is loosely based on the authentic recipe. Every ingredient we use is readily available and maybe even something already lurking with the contents of your fridge or pantry.
For the one or two items that may be more difficult to find, we've listed easy-to-find substitutes so you can whip up beef lettuce wraps any time, any day.
Ingredients in our Bulgogi Beef Lettuce Wraps
Sesame oil. Toasted sesame oil is something I always have on hands for various Asian dishes, and while it's a prominent flavor in some recipes we have on the site (these sesame noodles come to mind), here it only adds a subtle nutty undertone to our sauce.
Beef. As we mentioned before, classic bulgogi uses thinly sliced ribeye or sirloin, but I wanted to mimic the texture of traditional chicken lettuce wraps, so we went with a lean ground beef. Of course, if you're making burgers, meatball or meatballs, you don't typically want to use a super lean cut of meat, but here, the sauce keeps the beef moist so we're able to keep the fat and calories down.
Onion. We use half of a large onion, and at first, it may see like the onion is going to overpower the meat, but rest assured, it cooks down significantly.
Pear. A classic bolgogi recipe uses shredded Asian pear, but since that's not widely available, we keeps things simple with whatever pear your grocery store has on hand.
Garlic. We rely heavily on garlic to flavor our beef lettuce wraps, so we use four large cloves of garlic, and if we're being honest, I sometimes throw in a few extra.
Green onion. Use as much or as little as you'd like. I tend to lean towards more is more, so we ended up using about four large scallions.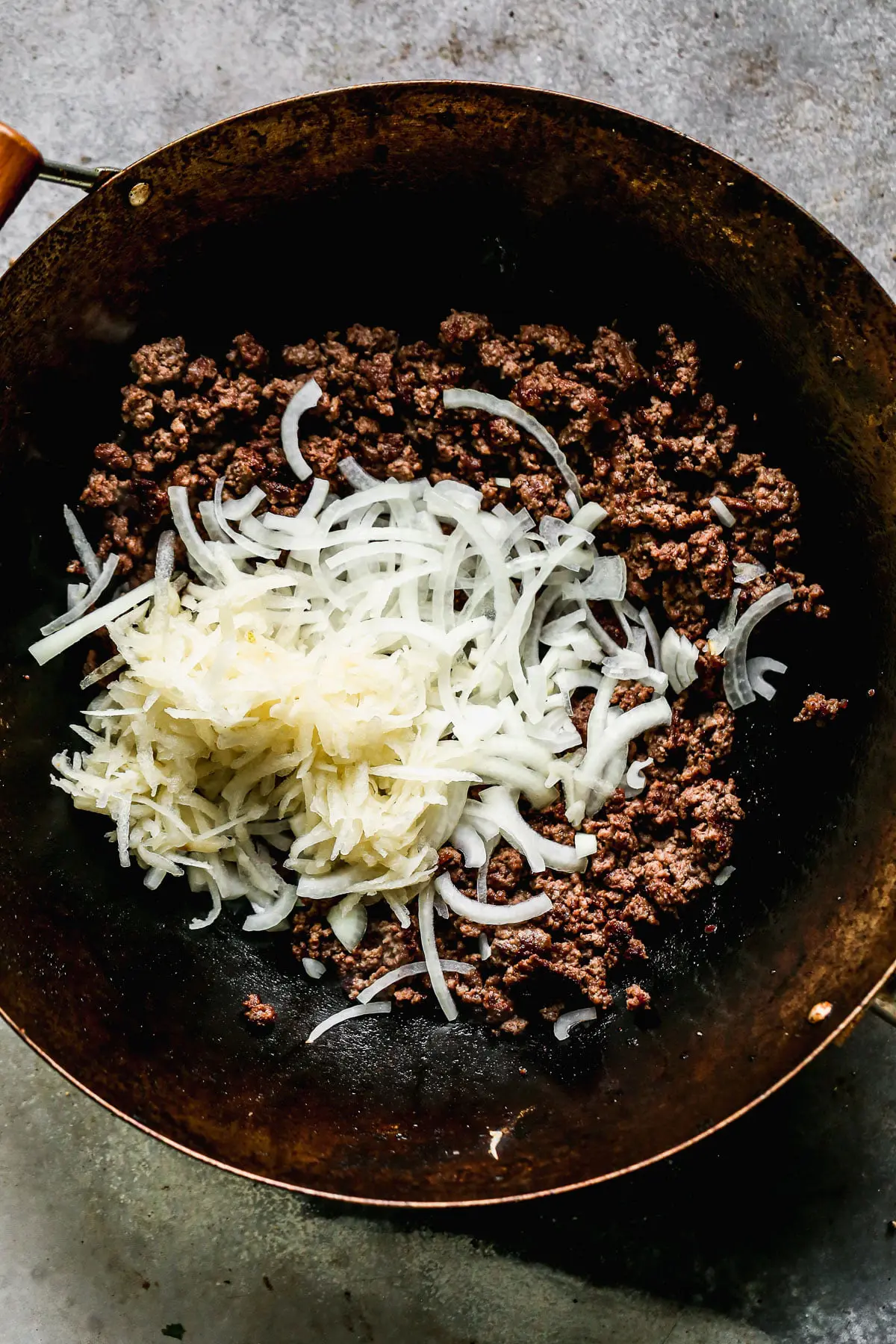 The sauce
Soy sauce. In most of our Asian dishes that call for soy sauce we go with rich tamari instead, but I wanted to try and keep the sodium levels down just a touch for these beef lettuce wraps, so we go with a low-sodium soy sauce. You'll need a 1/4 cup.
Mirin. Mirin is a rice wine often used in Asian cooking. It's very similar to sake but sweeter and has a lower alcohol content. If you can't find mirin at your local grocery, you can swap it out for sherry. I've also found a sweet Riesling wine to be comparable in a pinch.
Brown sugar. We use dark brown sugar to add richness to the sauce. It has a deeper flavor than light brown sugar and relies heavily on molasses so it actually has notes of savoriness as well. If all you have on hand is light brown sugar that works too. Just don't skimp out on the amount required in the recipe because it not only balances out the saltiness of the soy sauce, but it helps to thicken the sauce.
Chili paste. Normally you'd want to use Gochujang, a Korean red chili paste, and while I do oftentimes have it on hand, this time I didn't. Sambal Oelek is what I used so anything of that nature will work great.
Black Pepper. Black pepper adds a different, almost woodsy kind of spice that's different than the chili paste and I love the combination of the two. Make sure you use freshly cracked black peppercorns.
The toppings
Honestly, the beef lettuce wraps stand on their own, but if you're looking to add a little freshness and texture to them, here's what we recommend:
thinly sliced bell peppers (any color)
shredded carrots
thinly sliced cucumber
scallions
sesame seeds
extra chili paste
fried garlic
Let's make Bolgogi Lettuce Wraps
Prep your ingredients and toppings. Because the cooking process is pretty quick, I like to slice all my toppings and aromatics before I get started. If you want to be more streamlined, you can also wait to slice the onion, garlic and toppings while the beef cooks.
Cook the beef. Because lean ground beef has very little fat, I like to cook it in a little bit of oil. If the beef had no fat, I'd use a neutral oil that can withstand high heat, but since a little fat will be rendered we can use flavor-forward sesame oil instead.
Also, if you have a wok, I highly recommend using it. If you don't, I highly recommend getting one! It makes the beef in these lettuce wraps SO crispy, and it's how we cook 99% of our Asian stir-fry dishes. A good wok retains heat really well, cooks evenly and rarely burns even at a really high temperature. They're pretty affordable too. If you don't have one, you can use either a cast-iron skillet or a good quality non-stick pan.
Make the sauce. I like to add all the ingredients for the sauce in a mason jar with a lid. Shaking the sauce helps to combine all the ingredients a little bit better than a whisk and a bowl.
Add the onions. Once the beef is super crispy and broken up, add the onion and pear. Continue to cook the beef, stirring frequently until the onion is completely softened. Add in the garlic, cook for 1-2 minutes.
Add the sauce. Pour the sauce over the crispy beef. Stir to combine. Continue to cook until the beef is coated and the sauce has thickened.
Assemble. Nestle the bolgogi filling into the lettuce wraps. Top with peppers and carrots. Sprinkle with sesame seeds.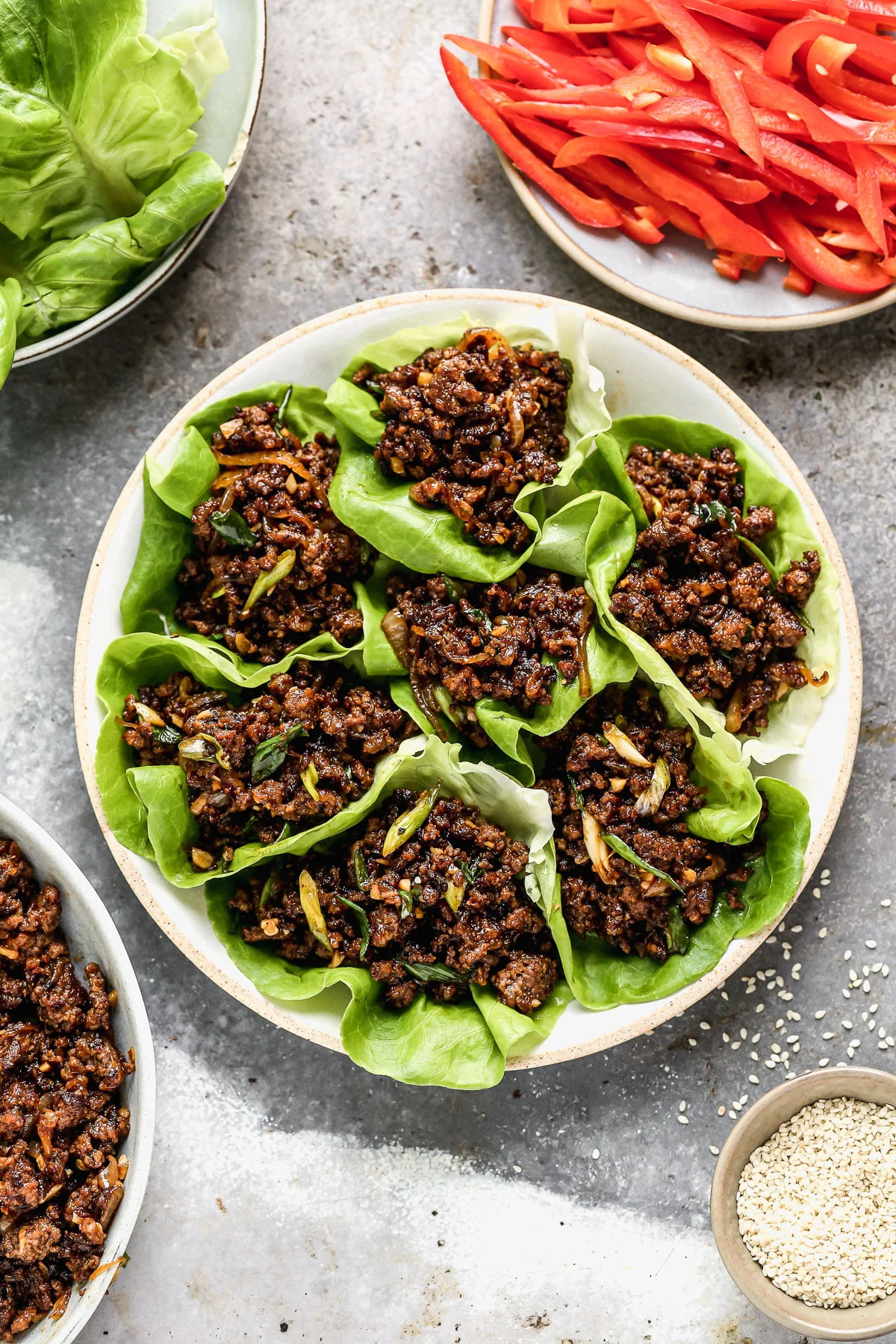 Type of Lettuce for Lettuce Wraps
We prefer to use butter lettuce, but it's super delicate so you have to be careful when pulling if off its roots and filling them. Here are some other great options:
Large romaine lettuce leaves
Iceberg lettuce (not our favorite for flavor, but it has a wonderful crispiness to it)
Cabbage leaves
Can I make Bolgogi Beef Lettuce Wraps in Advance?
While I prefer them straight from the wok, you can absolutely make the filling in advance. The beef might not retain all its crispiness, but will keep some of it. The flavorful will still be spot on.
I'll make the filling earlier in the day, keep it in the wok, and then just quickly reheat over a high heat. If you need to loosen up the sauce a little bit, you can add a little bit of low-sodium chicken stock or even water if you don't have chicken stock on hand.
What to serve with Beef Lettuce Wraps
Rice. Is there ever a time fried rice isn't a great side option for an Asian dish? We have several versions on the site, all with different attributes. Our Easy Fried Rice with Egg is a classic. This Broccoli Fried Rice gives you your fill of veggies. And Quinoa Fried Rice is a good source of healthy grains. You could even serve with simple steamed brown or white rice.
Noodles. We have two great options for quick and easy Asian Noodles – both with just five ingredients – Easy Peanut Noodles are mild with plenty of peanut flavor and Chili Garlic Noodles have a great heat to them.
Appetizers. Some call our Air Fryer Brussels Sprouts a side, some call them an appetizer, I call them candy. They're that good. There is nothing I like to snack on more than these Blistered Shishito Peppers.
Substitutions and Tips and Tricks for Recipe Success
Make sure your wok or pan is adequately heated before adding the oil and beef. They key to achieving a crispy end result is to work quickly at a VERY high heat.
Don't add the garlic until just before adding the sauce, otherwise is could burn.
If you like extra heat, add another teaspoon or two of chili paste.
If you don't like pieces of garlic in each bite, try grating the garlic instead.
Use tamari or low-sodium soy sauce.
If you can't find mirin, you can use dry sherry or a little bit the chicken stock with a tablespoon of rice vinegar. Sake with a little bit of sugar also works.
Tools Used in Today's Post
A wok. Any Steel Wok will work great. They last forever, are easy to clean and even easier to use.
If you don't want to store a large wok, we love these non-toxic non-stick pans. They're the best.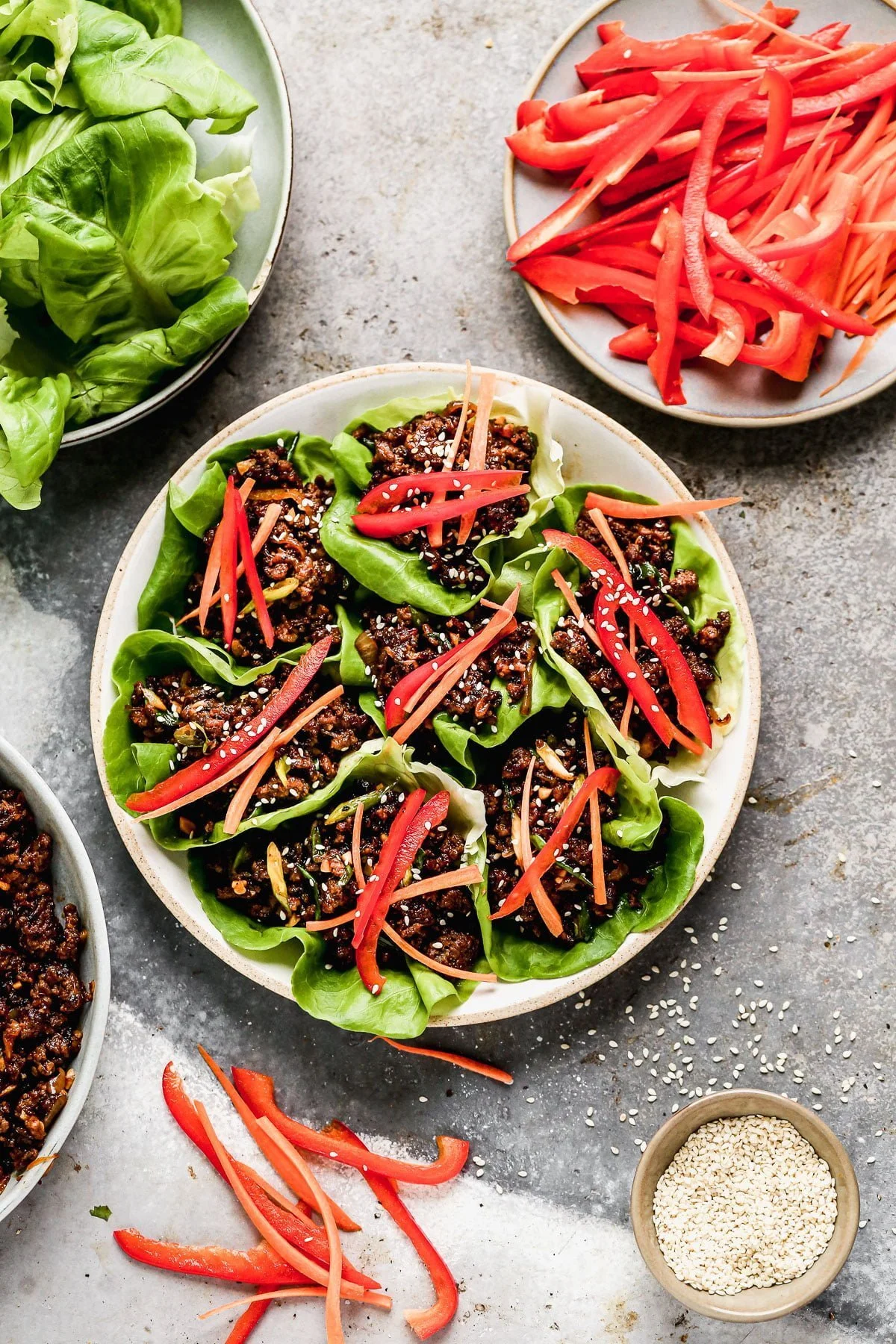 Bulgogi Beef Lettuce Wraps
Ultra crispy and smothered in a soy-based sauce studded with rich brown sugar, sweet mirin wine, and brimming with heat from Sambal Oelek, these Beef Lettuce Wraps are my new favorite way to do lettuce. With easy-to-find ingredients, and minimal prep and cook time, they're also the perfect way to get dinner on the table without  much effort. 
Ingredients
1

tbsp

sesame oil

1

lb

ground sirloin

1/2

tsp

salt

1/2

medium

onion, sliced

1

pear, grated

4

large

garlic cloves, minced

1/4

cup

soy sauce

3

tbsp

dark brown sugar (light is fine too)

3

tbsp

mirin

2

tbsp

sesame oil

1/4

tsp

black pepper

1

tbsp

gochujang or sambal oelek

4

green onions, sliced

1

large

head butter lettuce

1/2

cup

julienned carrots

1/2

cup

julienne red peppers

1

tbsp

sesame seeds
Instructions
Heat a large wok or non-stick skillet over a heat heat. Add 1 tablespoon sesame oil. Swirl to coat the pan. Add ground beef. Sprinkle with 1/2 teaspoon salt. Working quickly, use a wooden spoon to break up the beef into small pieces. Continue to brown the beef until it starts to turn very crispy on the outside. This should take about 6-8 minutes. Be sure to keep breaking up the beef with the wooden spooon.

While the beef cooks, slice the veggies if you haven't already. Add the soy sauce, brown sugar, mirin, remaining sesame oil, black pepper, and sambal oelek to a jar with a lid. (You can also use a small bowl and whisk, just make sure to whisk until all the brown sugar has dissolved.) Shake the jar until the brown sugar has dissolved and all ingedients are combined.

Once the beef is cooked through, and most of it is crispy, add the onion and pear. Cook for another 4-5 minutes until onion has completely softened. Add garlic. Cook for 1-2 minutes until softened.

Sprinkle the beef with sauce and sprinkle with green onion. Continue to cook, stirring frequently until the beef is coated and the sauce has thickened, another 3-4 minutes.

Spoon into lettuce. Top with peppers and carrots. Sprinkle with sesame seeds.
Nutrition Information
Serving:
1
lettuce wrap
,
Calories:
181
kcal
(9%)
,
Carbohydrates:
10
g
(3%)
,
Protein:
9
g
(18%)
,
Fat:
11
g
(17%)
,
Saturated Fat:
3
g
(19%)
,
Trans Fat:
1
g
,
Cholesterol:
31
mg
(10%)
,
Sodium:
515
mg
(22%)
,
Potassium:
213
mg
(6%)
,
Fiber:
1
g
(4%)
,
Sugar:
7
g
(8%)
,
Vitamin A:
1124
IU
(22%)
,
Vitamin C:
2
mg
(2%)
,
Calcium:
27
mg
(3%)
,
Iron:
1
mg
(6%)