These Kourabiedes (Greek Butter Cookies) are a Greek classic. They're buttery, crumbly, sweet, but not too sweet, and the perfect holiday treat!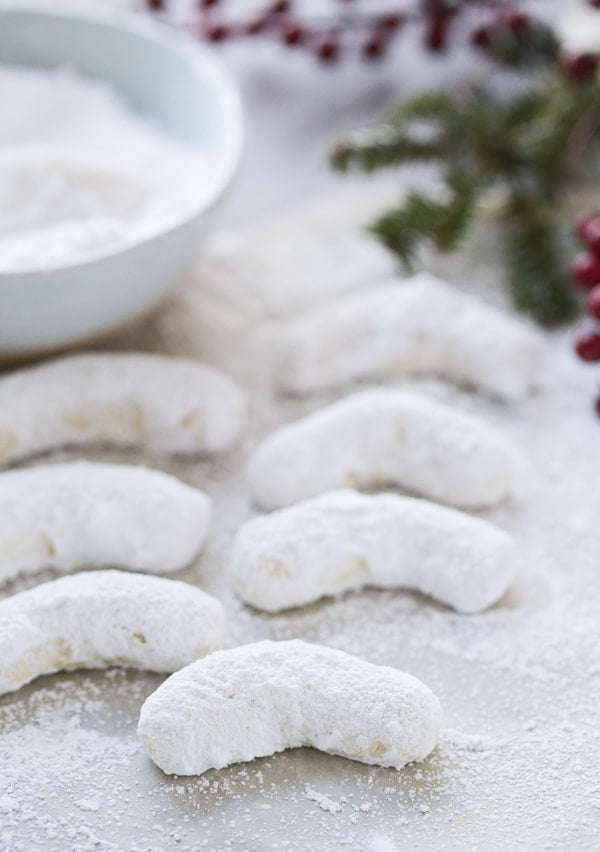 Everyone has that "thing" they do around the holidays, right? Whether it's making fudge, toffee, cookies, or candies to give to friends and family, generally everyone has something special they do around this time of year for loved ones. As a food blogger, and daughter of an avid cook, you won't be surprised to find out that our family tradition is to give out an assortment of homemade cookies to our family and friends every year.
Keep in mind that when I say "family", really I mean my Mom and I make all of the cookies, and Kevin and my brother try do their best to keep from inhaling the majority of them before hand them out. It doesn't always go that way, given that we usually end up having to make a second round because someone has had too many hands in the cookie jar before we can get them out.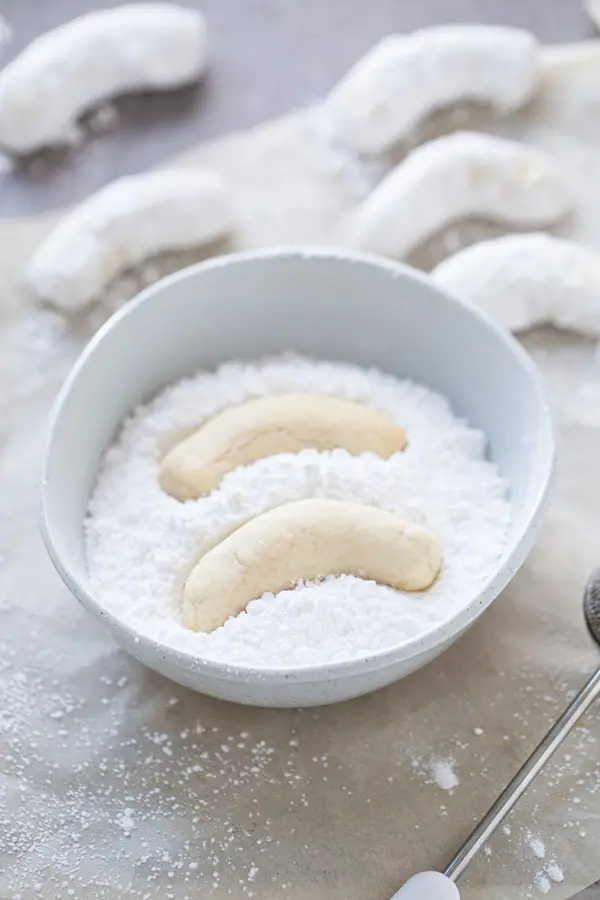 When I first stated making holiday cookies, we only made two different kinds and today's Kourabiedes happen to be one of them. While they aren't overly fancy, it's a beloved recipe we've been making for years and it wouldn't be the holidays without them.
Similar to a Mexican wedding cookie or even a shortbread, these are made with lots of butter, plenty of almond extract, and just enough powdered sugar for a hint of sweetness. I love them for their velvety buttery taste and tendency to crumble and melt away when you take a bite. So good!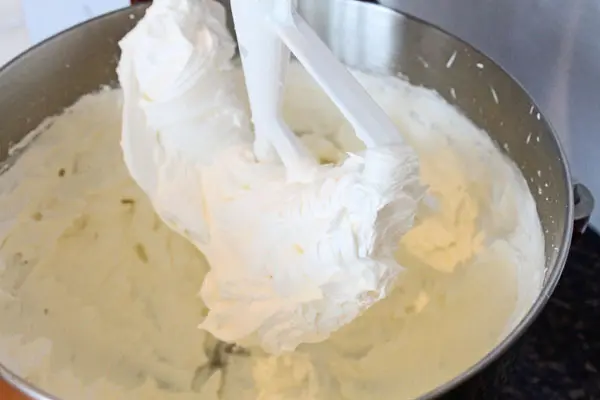 Obviously, like any other cookie recipe, it's important to start with room temperature butter. And I know I know this is going to sound crazy, but you need to cream the butter for 20 minutes. Creaming the butter for a lengthy period off time helps to produce a cookie that's tender instead of unpleasantly dense.
You'll know it's ready when it turns from pale yellow to pretty much white. See fluffy, white butter below.
Once the butter creams, the powdered sugar, baking soda together, flour and salt is sifted together and then slowly added to the butter while the mixer is on low.
Make sure to mix as little as possible at this point, just until the flour is incorporated.
The dough should form very easily and shouldn't crumble at all. Take a few tablespoons of dough and then form into crescent shapes, line them up on a baking sheet and pop them into the oven.
They only take about 15 minutes to bake, once they turn a very VERY pale golden brown on the edges, they're done.
Once they come out of the oven, wait a few minutes until you can handle them, then coat them in powdered sugar. Serve them within 24 hours.
Now, since we give them out throughout the holidays, we actually let them cool completely and store them in an airtight container in the fridge.  When I'm ready to give them away, I pop them in a 300 degree oven until they're warm again, then coat them in powdered sugar and let them cool completely before packaging them up or serving.
Kourabiedes (Greek Butter Cookies)
These Kourabiedes (Greek Butter Cookies) are a Greek classic. They're buttery, crumbly, sweet, but not too sweet, and the perfect holiday treat!
Ingredients
1

lb

unsalted butter, room temperature

1

large

egg

1

Tbsp

Almond extract

1/2

Cup

powdered sugar, plus another cup for coating

1/8

tsp

baking soda

5

cups

all-purpose flour

1/4

tsp

salt
Instructions
Preheat oven to 350 degrees. Beat butter in the bottom of a stand mixer on a medium-high speed for 20 minutes. Add egg and almond extract, mix until combined.

Sift ½ cup powdered sugar, baking soda, flour and salt together in a large bowl. With the speed on low, add mixture a little bit at a time until completely incorporated. If the dough is too sticky, add a little bit more of flour.


To Form: Roll about 2 tablespoons of dough into crescents and place on a baking sheet lined with parchment paper or silt pad. There is no need to place cookies very far apart, as they do not spread much. Bake for 15-20 minutes until very pale brown and cooked through.


If serving cookies right away. Let them cool slightly and toss in powdered sugar. Serve within 24 hours. If you want to bake them and then serve later, store in an airtight container in the fridge (or we store them outside when it's cold). When ready to serve, pop in a warm oven until warm, then roll in powdered sugar.

*These can be frozen for up to 3 months in an airtight container.

(Visited 229,874 times, 7 visits today)