This Creamy Carrot and Tomato Soup is SO easy and so delicious. It has only FIVE ingredients – canned tomatoes, carrots, butter, onion, and chicken broth – and comes together in 30 minutes. Simmer everything together, blend it up, and serve!
For more easy soups, check out our Easy Wonton Soup (made with frozen dumplings and only a handful of other ingredients), our favorite Creamy Homestyle Chicken Noodle Soup (comes together so quickly and is just like Mom used to make, without all the processed ingredients), and this Italian Minestrone Soup with Chicken Meatballs (a little more work than the previous two, but worth it. )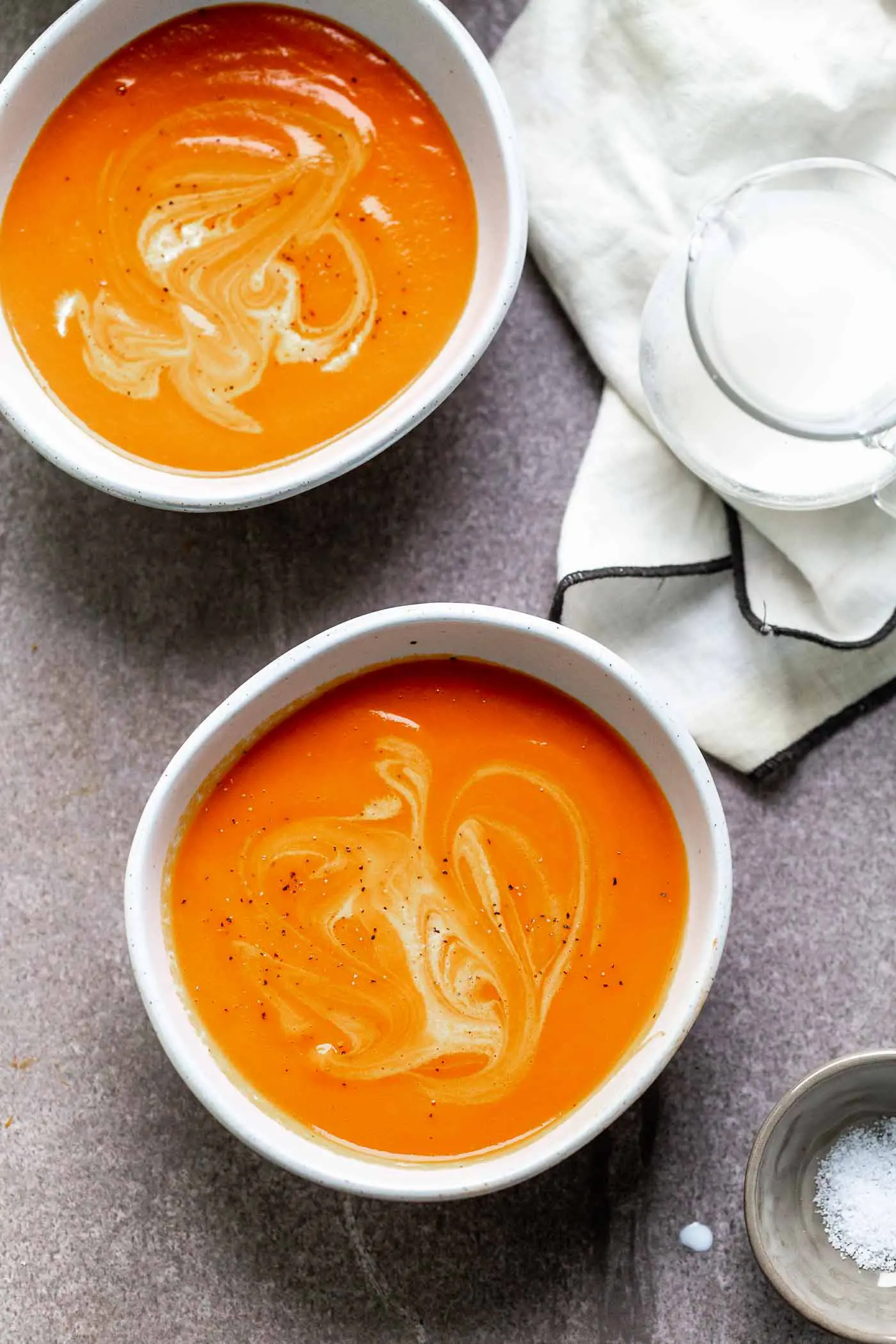 Creamy Carrot and Tomato Soup
There are fewer thing I love more when it's cold outside than a piping hot bowl of Creamy Tomato Soup and a grilled cheese.
I'm talking Campbell's tomato soup from a can and a flimsy piece of wheat bread bread slathered with mayo, a single slice of processed American cheese, and a whole lotta butter on the outside for the crispiest golden brown crust. Hate on me if you want, but it's my jam.
I love the way the soup is so thin you could probably drink it out of a straw. I love the subtle, sweet tomato flavor. And I love the way the kid-like grilled cheese melts after each dunk in the hot soup.
I DON'T love that it's processed and has about a day's worth of salt in a whole can, which is easily one serving for me. And I don't love that it's not homemade. As a person who doesn't find the convenience of processed foods to outweigh the benefits of something made from scratch, I set a goal to find an alternative to replicate the taste and texture while also keeping it relatively quick and easy.
Enter: Creamy Carrot and Tomato Soup
Ingredients in Creamy Tomato and Carrot Soup
I was determined to keep the ingredient list at five, but as I went through the recipe developing process pre-cooking, I didn't think I could leave heavy cream out. After all, I wanted a luxurious soup, and without cream?? I didn't think it was possible.
But after the onion and carrots were sautéed in butter. After the tomatoes and broth simmered with the veggies. And after the whole soup was pureed in the blender until it was silky-smooth, I went to to do a taste test, and absolutely no cream was needed. However, you are free to add a splash if you'd like.
You'll need:
Butter. Salted butter would actually work nicely but unsalted is great too.
Onion. I love adding loads of onion to our carrot and tomato soup and once they get pulverized in the soup, you'll never know they are there.
Carrots. Carrots are the KEY to replicating that classic tomato soup taste. Don't skip them!
Tomatoes. Since we are using so few ingredients it's really important to use high-quality ones. Use San Marzano tomatoes or something of that caliber. They're the best for a reason, and with minimal ingredients, you really want to get the best. Trust me. Even with the upgraded tomatoes, you're still looking at about $15 to purchase everything. And that includes buying a whole pound of butter. (I get mine at Trader Joe's for or Alidi for about three bucks.)
So not only is this incredibly inexpensive to throw together, it's QUICK. Easily a weeknight dinner. Of course, don't forget to pair it with a good old-fashioned grilled cheese sandwich — American cheese optional.
How to make 5-Ingredient Creamy Carrot and Tomato Soup
Melt the butter over a medium heat in a large pot or dutch oven
Add onion and carrots. Sweat the veggies until slightly softened, about 4-5 minutes.
Pour in chicken stock and canned tomatoes. Bring to a boil and reduce to a simmer. Simmer for 20-25 minutes until the tomatoes have broken down and all the veggies are soft.
CAREFULLY transfer the soup to a high-power blender. Puree until smooth.
Season with salt and pepper.
Substitutions and Tips and Tricks for recipe success
Because there are so little ingredients, substitutions really won't work here.
Seasoning is key here! Every step needs to be seasoned. First salt and pepper the onion and carrots. Next, season the soup while it cooks. Lastly, season to taste in the end after everything is pureed.
Be very careful when transferring the soup to the blender. Use a large ladle to help.
If you don't have a high-powder blender, a regular blender should work fine. Also if you have a hand blender, that would work great as well.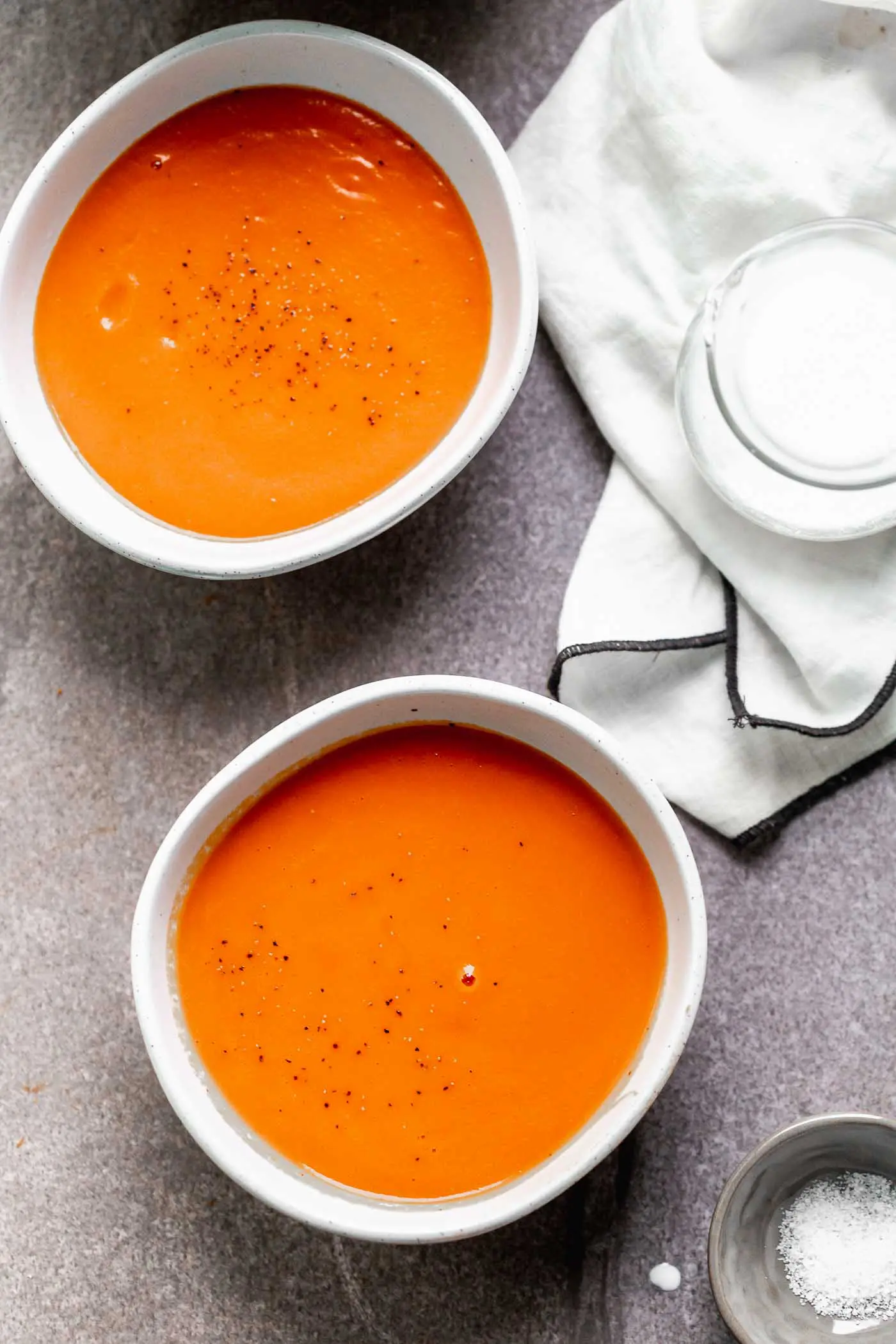 5-Ingredient Creamy Tomato Soup Recipe
Gosh, this 5-Ingredient Creamy Tomato Soup Recipe is so so delicious and so simple! Plus, it only takes 30 minutes to throw together.
Ingredients
2

tbsp

unsalted butter

1

cup

diced onion

1

cup

chopped carrot

2

tsp

kosher salt, divided

1

28-oz

can san Marzano tomatoes

3

cups

unsalted chicken broth
Instructions
Add butter to a large stockpot. Turn the heat on medium. Once the butter melts, add the onion, carrot and 1/2 teaspoon salt. Sweat the veggies until slightly softened, about 4-5 minutes.

Add tomatoes, chicken broth and remaining salt. Bring to a boil and reduce to a simmer. Simmer for 25 minutes or until the carrots are super soft and the tomatoes have broken down.

Carefully transfer to a blender to puree. Puree until smooth. Transfer back to the pot and season to taste with salt and pepper.
Nutrition Information
Serving:
1
cup
,
Calories:
58
kcal
(3%)
,
Carbohydrates:
5
g
(2%)
,
Protein:
1
g
(2%)
,
Fat:
4
g
(6%)
,
Saturated Fat:
2
g
(13%)
,
Cholesterol:
10
mg
(3%)
,
Sodium:
1256
mg
(55%)
,
Potassium:
141
mg
(4%)
,
Fiber:
1
g
(4%)
,
Sugar:
2
g
(2%)
,
Vitamin A:
3682
IU
(74%)
,
Vitamin C:
3
mg
(4%)
,
Calcium:
18
mg
(2%)
,
Iron:
1
mg
(6%)