Ants Climbing a Tree also known as Ma Yi Shang Shu is a classic Sichuan Chinese dish made with super crispy ground pork, plenty of soft cabbage and carrots, and noodles all intertwined in an intensely savory, salty, and spicy sauce. Easy to make and so much better than takeout!
Ants Climbing a Tree
Let's paint a picture of our epically delicious Asian noodle dish you must be currently lusting after. Imagine silky, perfectly cooked egg noodles intertwined between ultra crispy ground pork, salty cabbage, sweet carrots, and bright green onions. Then imagine all of those ingredients soaked in a tangy, salty, intensely SPICY, and seriously umami-packed sauce.
Even further, imagine the best Asian noodle dish, the best Szechuan dish, and the best part of a lettuce wrap, the filling, all meshed together into one homogenous dish. That's Ants Climbing a Tree.
But let's address the elephant in the room first, shall we? Ants Climbing on a Tree, is admittedly, not the most appetizing name for a recipe on the planet, I know. Unfortunately I am not the one who named this classic Cantonese-style dish, so I'm not going to mess with how it was intended to be. The idea behind the name is that the little specks of crispy pork are regarded as the "ants" and the skinny noodles and cabbage are the "leaves" of the tree.
I don't really get it, but regardless of the name, this Asian noodle dish is SO delicious and quite different than your typical lo mein or drunken noodle dish, despite how the pictures may portray it.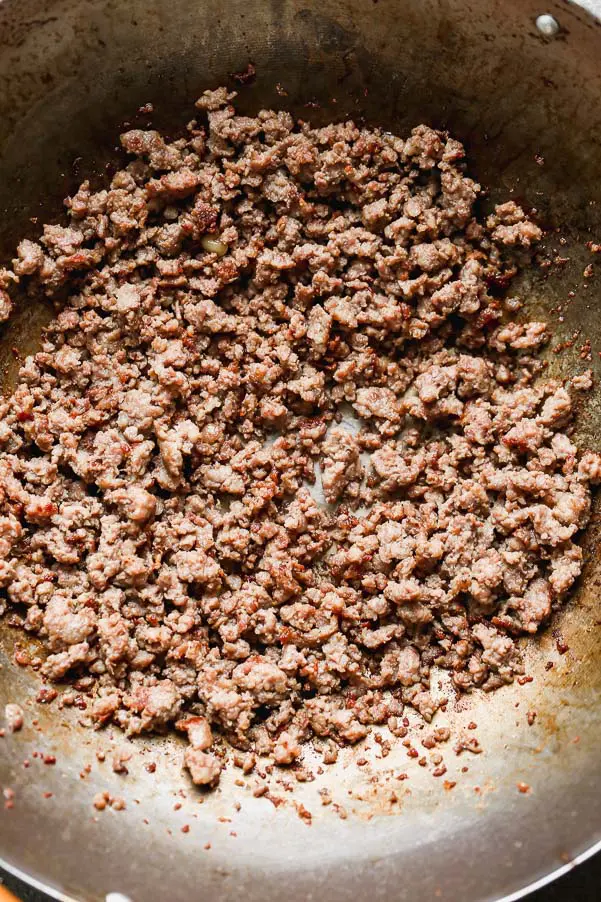 Doubanjiang Paste
Due to a fermented chili bean paste, Doubanjiang, the sauce that goes along with the crispy pork, noodles, and veggies is intensely spicy, salty and incredibly savory in a way that most traditional Chinese or Thai dishes are not.
Doubanjiang paste is a chili bean paste that's been fermented (which gives it it's irresistible tanginess), and combined with chili oil, garlic, and a few other spices to give it its signature umami taste. It's very common in most types of Sichuan cooking, and is typically very spicy, but I've also read there are non-spicy versions as well if you want to give that a try.
A little bit goes a long way and you can always more depending on your tolerance for spice and love of all things tangy. It would also be great tossed with chicken, drizzled on eggs, or even served with stir-fried veggies.
Ingredients in Ants Climbing a Tree
Ground Pork. You could use a variety of ground meat, but traditionally ground pork is used, and that's actually what I prefer. If you wanted to lighten the dish up a little bit, you could also use ground chicken.
Onion and garlic.
Cabbage mix. Instead of buying a simple bag of shredded cabbage, I like to buy a bag of coleslaw mix which has shredded cabbage, carrots, and purple cabbage. You could of course just shred your own cabbage and buy shredded carrots as well.
Skinny egg noodles. Traditionally bean vermicelli noodles, but I already had these egg noodles on hand, and wanted to use those. Really, any super thin rice, egg or bean noodle will work great. I wouldn't use a wide noodle as the whole idea behind the dish is for all of those skinny noodles to trap the pork and veggies.
Doubanjiang paste. The most essential ingredient in our ants climbing on a tree recipe. These days you can find it in a lot of supermarkets, but I had no such luck with mine, so I turned to good ol' Amazon. This is the kind I used
. There are several other brands you can go with that are more affordable as well!
Tamari. Tamari is a more savory, less salty version of soy sauce. It's now my go-to soy sauce, but regular soy sauce will work just fine.
Brown sugar. Brown sugar isn't traditional in most Ants Climbing a Tree recipes, but I like to have a little bit of balance between spicy and savory. Just a little bit will do.
Rice vinegar. Another essential ingredient, this adds even more tanginess to the sauce.
Green onions. I always love to throw in a few handfuls of fresh green onion at the end of Asian dishes both for crunch and a mild onion flavor. Plus, it's so darn pretty.
How to make Ants Climbing a tree
Cook the pork. Heat a large wok or skillet to a high heat. Add two teaspoons of sesame oil and pork. Cook pork until crispy and brown. Season with salt and pepper. Use a wooden spoon or spatula to break the meat up. The key is to get the pork SUPER crispy!
Add the veggies. Add the garlic, onion, and cabbage mix. Stir-fry until, stirring frequently until cabbage is cooked through.
Cook the noodles. While the pork and veggies cook, cook the noodles according the package directions. Bean noodles will need to be soaked in cold water, or if you're using egg noodles as we did, they will have to cook in boiling water.
Make the sauce. This is as easy as adding the Doubanjiang paste, soy sauce, rice vinegar, brown sugar, and chicken stock together.
Toss everything together. Add the noodles to the pork and veggies. Toss everything together. Add in the sauce and continue to toss until everything is hot and most of the liquid has been observed.
Finish it off. Sprinkle in green onions and season to taste with salt and pepper.
Can you substitute anything else for Doubanjiang paste?
I am not an expert on this, but I have read that Gochujiang or Sambal Oelek can be a sufficient substitute. Further the same website also recommend that a combination of plain black bean paste and red chili flakes or oyster sauce and red chili flakes could also work.
Can Ants Climbing a Tree be made ahead of time?
Yes! I will say, it's much better straight out of the wok, but it is ALMOST as good the next day. Even cold!
Substitutions and Tips and Tricks for Recipe Success
The key to stir fry is to work quickly at a high temperate. Keep everything moving by using a spatula or tongs. You never want anything to sit on the bottom of the pan for too long or it will burn.
Adjust ingredients to suit your taste! If you really like spice, add more bean paste, if you like more soy sauce, add more.
This would also be great with an array of asian veggies – snow peas, red peppers, baby corn, or bok choy would all work great.
What to serve with Ants Climbing on a Tree
These Easy Asian Dumplings are the perfect way to start your meal! They're packed with veggies and garlic and served with an easy soy dipping sauce.
If you really want to go for it, make this Fried Rice with Egg for a complete meal to serve a crowd! This easy version is packed with veggies and plenty of scrambled egg.
If you want to serve a salad with this noodle dish, this Chinese Chicken Salad would be the perfect healthy compliment.
Pretty things/tools used in today's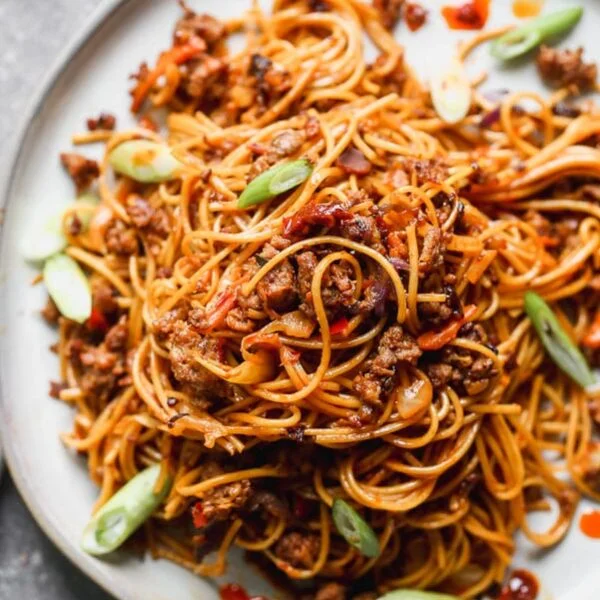 Ants Climbing a Tree also known as Ma Yi Shang Shu is a classic Sichuan Chinese dish made with super crispy ground pork, plenty of soft cabbage and carrots, and noodles all intertwined in an intensely savory, salty, and spicy sauce. Easy to make and so much better than takeout! 
Ingredients
1/2

lb

rice, bean or egg vermicelli 

2

tsp

sesame oil

1

lb

ground pork

5

cups

shredded cabbage or coleslaw mix (you can either use plain shredded cabbage or a mix of cabbage, carrots, and purple cabbage)

4

large

garlic cloved, minced

1

tsp

minced fresh ginger

2

tbsp

Doubanjiang bean paste

1

tbsp

tamari or soy sauce

2

tsp

rice vinegar

1

tsp

brown sugar

1/2

cup

chicken stock

3

green onions, sliced
Instructions
Cook noodles according to package instructions. Rinse, you don't need the extra starch.

Heat a large wok or saute pan to a high heat. Drizzle in sesame oil and swirl the pan to coat. Add pork. Use a spatula to bread the pork up into little pieces. Cook until brown and crispy, it should take about 5 minutes.

While the pork is cooking, add bean paste, tamari, rice vinegar, brown sugar, and chicken stock to a small bowl. Whisk to combine.

Add garlic and ginger, cook one minute. Add in cabbage mix. Season with a little bit of salt and pepper. Turn the heat down to medium and continue to stir fry until cabbage is soft, another 3-5 minutes.

Add noodles and toss together. Pour in the sauce and continue to toss everything together until the noodles are coated. Add in green onions, toss. Season to taste with salt and pepper.
Nutrition Information
Serving:
1
serving
,
Calories:
571
kcal
(29%)
,
Carbohydrates:
59
g
(20%)
,
Protein:
22
g
(44%)
,
Fat:
27
g
(42%)
,
Saturated Fat:
9
g
(56%)
,
Cholesterol:
83
mg
(28%)
,
Sodium:
572
mg
(25%)
,
Potassium:
515
mg
(15%)
,
Fiber:
3
g
(13%)
,
Sugar:
6
g
(7%)
,
Vitamin A:
86
IU
(2%)
,
Vitamin C:
33
mg
(40%)
,
Calcium:
65
mg
(7%)
,
Iron:
3
mg
(17%)