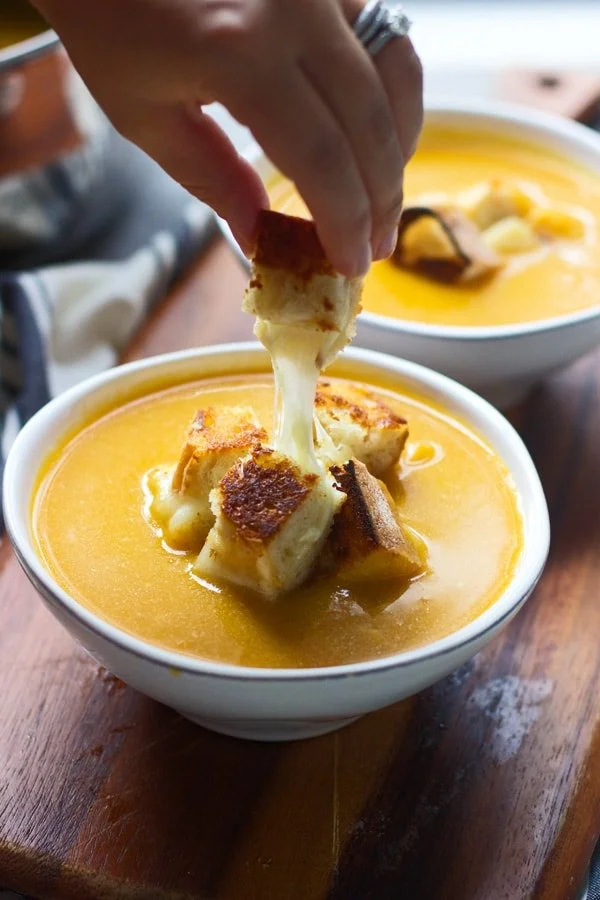 Come fall, we have a tradition in our house, soups once a week – even if we're hit with one of those bizarre 80-degree Kansas heat waves. Although, Kevin and I sort of have different ideas on what constitutes the perfect soup. While I adore all variations of soup, I happen to especially love pureed soups with layers of flavor you can elegantly slurp up; he, on the other hand, prefers hearty soups with meat that require chewing – pureed soups literally baffle him.
Because Kevin doesn't particularly care for (and that's putting it kindly) pureed soups at all and I would gladly inhale any variety (expect for cold), eight times out of ten, I settle on a brothy sausage and veggie stew, a hearty chili or some sort of variation on a chicken noodle soup – which is fine, because, again, I don't discriminate.
Imagine my complete and utter surprise when, as I was perusing Pinterest, and Kevin happened to be sitting next to me, a pureed tomato soup with grilled cheese croutons caught his eye. He casually mentioned that if I were to put grilled cheese croutons in my beloved pureed soups that he might just might, be able to get on board – challenge accepted.
So of course, the next thing I did was delve into my recipe journal to find one of my soup ideas buried wayyy in the back, brainstorm the perfect kind of grilled cheese crouton to go with it and then write out my grocery list.
I knew I wanted to do some sort of variation on a butternut squash soup since that's the first thing I gravitate towards when the days start to get a little cooler, but I wanted to ensure that this was going to be a giant success, so I also loaded it with ingredients he was bound to love – beer and cheese. How can anyone resist those two items??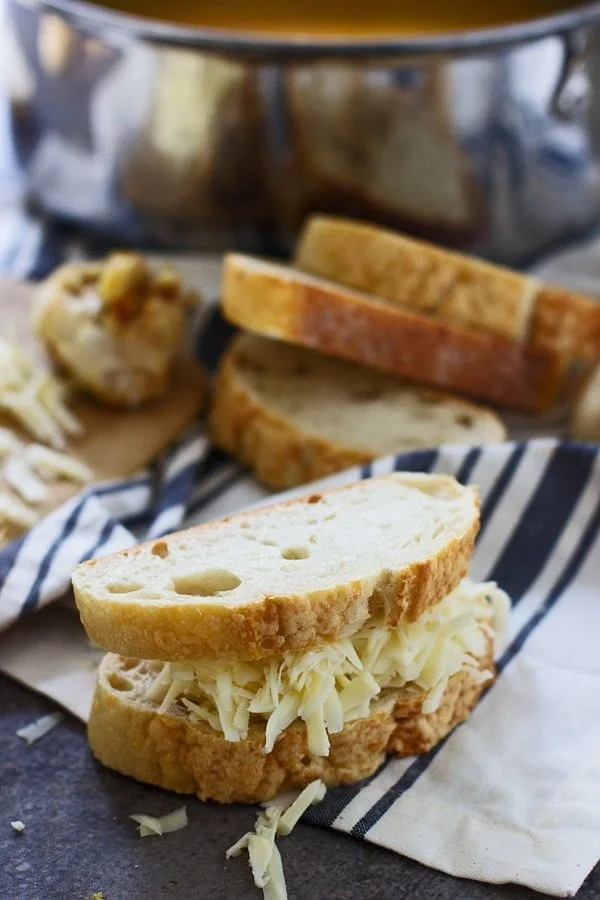 Before the said beer and cheese is added, the soup begins with butter, onion and garlic – the starting point in almost all soups and stews. They're both sautéed and then the diced butternut squash is thrown in, cooked for a bit and then covered in a seasonal ale (I used pumpkin), sweet apple cider from a local mill and plenty of chicken stock. The mixture is simmered until the squash is softened, and then it's either transferred to a blender or pulverized with a hand blender until it's pureed. At the last minute, a handful of extra-sharp white cheddar cheese is thrown in, it's seasoned with salt and pepper and ready to be served.
Now, if you're like me an love the simplicity of a pureed soup, you could stop here, but, in trying to convert my husband and follow through with my promise, I took it a step further and threw together a gooey grilled cheese made with the extra-sharp white cheddar cheese we threw into the soup and a copious amount of roasted garlic I roasted earlier.
I have now come to the conclusion that it's essential to throw grilled cheese croutons onto every single pureed soup I make from here until eternity….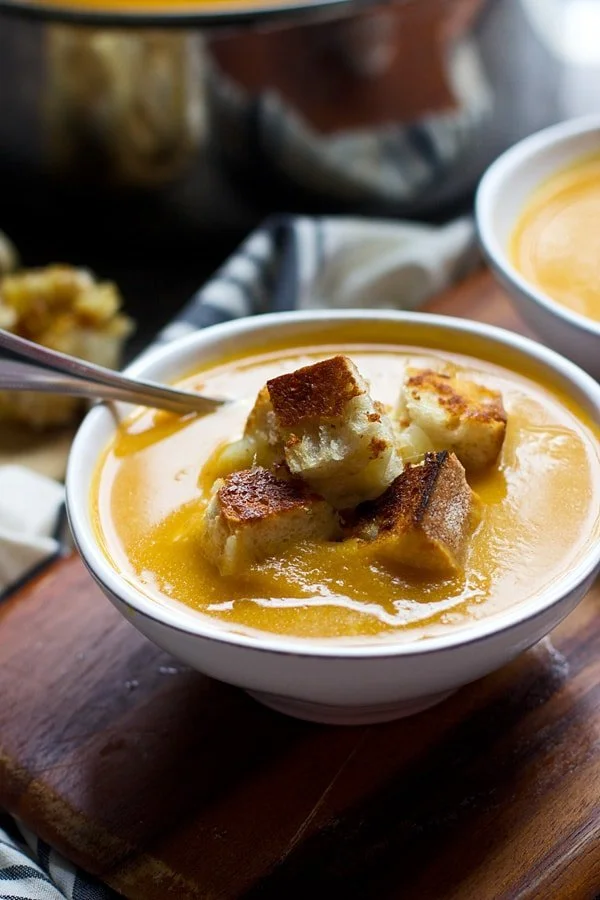 Butternut Squash, Apple Cider and Cheddar Soup with Roasted Garlic Cheddar Grilled Cheese Croutons
Author:
Nicole ~ Cooking for Keeps
Ingredients
2 heads garlic
1 teaspoon olive oil
3 tablespoons softened butter, divided
5 cups diced butternut squash
1 cup diced onion
2 garlic cloves, minced
2 teaspoons salt
1 12-ounce bottle of pumpkin or apple ale
1 cup apple cider
2 cups chicken stock
2 cups extra-sharp white cheddar cheese, divided
4 slices ciabatta bread
Instructions
Preheat oven to 350 degrees. Cut the very top off both garlic heads. Drizzle with olive oil and sprinkle with salt and pepper. Wrap in a piece of foil and roast for 40 minutes or until soft. Once cool, squeeze all of the roasted garlic out of the heads. Set aside.
Heat a large pot to a medium heat. Add 1 tablespoon butter, squash, onion, garlic and salt. Saute until slightly softened, about 7-8 minutes. Add beer, cider and chicken stock. Simmer until squash is softened, about 10-12 more minutes. Transfer to a blender and puree until smooth (you can also use an immersion blender). Return the soup to the pot and add 1 cup shredded cheese. Stir until melted, keep warm while you make croutons.
Spread some of the roasted garlic on each piece of bread. Evenly divide the cheese between two slices of bread. Cover with top piece of bread, roasted garlic-side down. Spread with butter.
Heat a medium non-stick pan to a medium heat. Add grilled cheese, buttered-side down. Spread more butter on other side. Cook until golden brown and cheese is melted, about 1-2 minutes per side. Cut into squares and serve with soup.