Cacio e Pepe Ravioli is a classic, updated. Aldente pillows of pasta dough are stuffed with a pecorino and black pepper ricotta filling and tossed in a buttery cheese sauce. Heaven!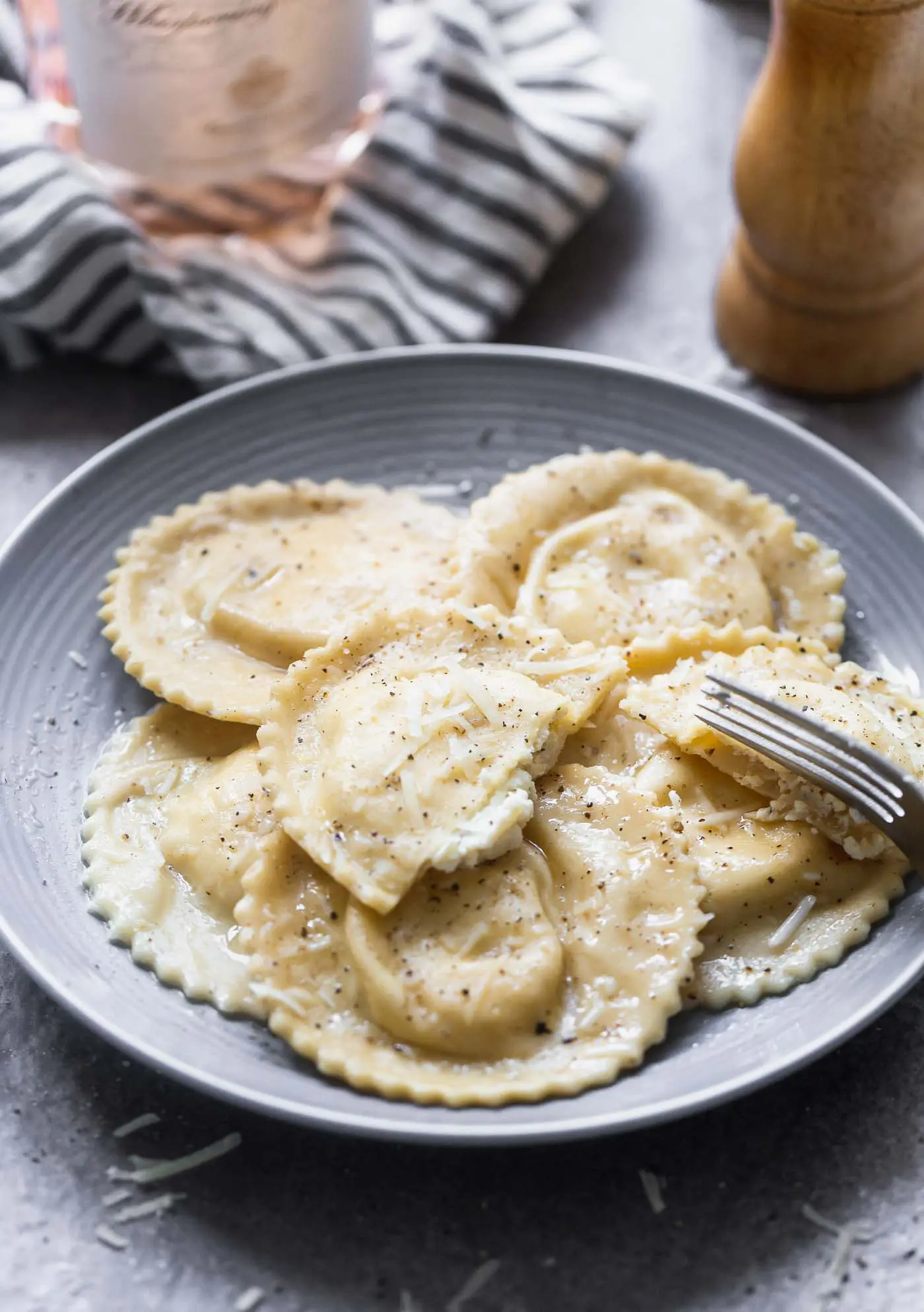 Cacio e Pepe Ravioli
Seeing as I'm a food blogger, I'm repeatedly asked what my favorite food to cook is. Oftentimes, I don't have an answer, because I like to cook, well, everything. However, in the last few years I've realized the food I truly look forward to cooking, and what I find myself gravitating towards more than any other, is homemade pasta.
Since I was young it's been my favorite thing to eat at restaurants, and while I've always found pride in creating pasta from scratch at home, it's only recently that it's where I find myself most at peace in the kitchen.
The fact that pasta comes together with just eggs, flour, a touch of water, and salt blows my mind every.single.time. Plus, there's really nothing like the texture of homemade pasta. I even have an uncanny ability to detect the fresh stuff whenever I'm out, so making it at home lets me hone in on my "gift" even more.
While ravioli and other stuffed pastas are no doubt the most time consuming pastas to produce, they're my favorite to make. And to eat. I'm pretty particular about my dough, it has to be soft, but it also has to have a little bit of texture and slight aldente bite to it – a must in all pasta actually.
I could go either way when it comes to filling. Sometimes I'm craving something a little more hearty and meat-driven like this Bolognese Ravioli, but other times I want something a little bit lighter and cheese-heavy like today's Cacio e Pepe Ravioli.
What is Cacio e Pepe??
Normally a simple pasta, Cacio e Pepe is an Italian classic typically made with spaghetti or another long-stranded pasta. After cooking, it's tossed with a copious amount of pecorino cheese, butter, and tons of freshly cracked black pepper. It's one of my favorite I've-got-nothing-in-the-fridge dinners, but I love that it's elegant enough to serve to guests or on a Friday night.
Leave it to me to make the simplest pasta, complicated. Enter: Cacio e Pepe Ravioli.
Cacio e Pepe Ravioli
Each element of cacio e Pepe ravioli – the pasta and the sauce – has the components of cacio e pepe. The filling is a mix of whole-milk ricotta, lots of pecorino cheese, some parmesan and tons of black pepper. An egg is used to bind the mixture together and of course, there's also plenty of salt to season everything. Once the pillows of pasta are formed, they're cooked in a bath of salted, boiling water.
Also, I go back and forth between using this hand-cranked pasta machine
and this Kitchen Aid pasta attachment
, both work wonderfully, but the attachment is a little less work.
While that's happening, the sauce quickly comes together with plenty of butter and freshly cracked pepper. A little bit of pasta water is added in, along with the cooked ravioli and everything is tossed with more freshly grated pecorino and parmesan cheese.
Heaven on this earth.
Can I make this in advance?
Yes! You can make the ravioli and then freeze them before cooking. Spread them out on a baking sheet lined with parchment paper, make sure they aren't touching. Place in the freezer until frozen solid, about one hour. Transfer to a freezer ziplock bag.
When you're ready to cook, pull out the ravioli and cook as instructed. They may need 1-2 minutes longer since they are frozen. Prepare as instructed.
Substitutions and Tips and Tricks for Recipe Success

Ricotta and black pepper stuffed ravioli smothered in an easy butter and black pepper butter sauce. A classic - updated!
Ingredients
3

cups

all-purpose flour

1 3/4

tsp

salt, divided

6

large

eggs, divided

4

tbsp

water

15

oz

whole milk ricotta

1 1/2

tsp

freshly cracked black pepper

3/4

cup

grated pecorino cheese

1/4

cup

grated parmesan cheese

4

tbsp

unsalted butter
Equipment
stock pot

Skillet

Ravioli press
Instructions
Add flour and 1 teaspoon salt to a food processor. Pulse a few times. Whisk 4 eggs and water together in a measuring cup. Turn the mixer on and slowly drizzle in the egg and water mixture. Leave the processor on until a ball of dough forms. Continue to let the processor run for 1-2 minutes.

Take the dough out and knead for 4-5 minutes. Form into a ball and wrap in plastic wrap. Let rest for 1 hour.

While the dough rests. Mix ricotta, 1 egg, 1/2 cup pecorino, parmesan, 3/4 tsp salt, and 3/4 tsp pepper together in a medium bowl. Set aside. 

Divide the dough in to 8 portions. Take one portion and re-wrap the others while you work. Set the pasta machine to the widest setting. Use a rolling pin to roll the dough into a rectangle. Feed the pasta through the machine on the widest setting. Fold into thirds and repeat. Send through on the widest setting one more time. With each passing after that go one setting smaller than the last until you get to the smallest setting.

Mix 1 egg with 1 tablespoon of water in a small bowl.

Use your ravioli cutter (I use about a 2-inch round ravioli cutter) to make an outline of each of your ravioli so you know where to put the filling. Do this on half of the pasta sheet. You will fold the dough over itself to incase the ravioli. Spoon a heaping tablespoon of filling where you can see the indentation of the ravioli. Use a pastry brush to wet the edges of the ravioli around the filling. Fold the dough over itself to incase the ravioli. Seal tight and make sure there are no air bubbles. Cut each ravioli. (I like to flour my cutter to make sure they don't stick.) Repeat with remaining dough and filling. Alternatively, you can use a ravioli maker like this one or just cut it with a knife. It will taste the same!

Bring a large pot of water to a rolling boil. Season with salt. It should taste like sea water. Cook the ravioli until they float to the top and the pasta is cooked, about 3-4 minutes.

While the pasta cooks. Add the butter to a large skillet. Turn the heat on medium. Once the butter melts, add black pepper. Add 1/4 cup of pasta water. Simmer for 1 minute. Once the pasta is cooked, use a slotted spoon to transfer to butter and pepper. Add remaining cheese and toss. If needed, add more pasta water. Season to taste with salt and pepper. Garnish with parmesan cheese.
Nutrition Information
Serving:
1
serving
,
Calories:
655
kcal
(33%)
,
Carbohydrates:
75
g
(25%)
,
Protein:
24
g
(48%)
,
Fat:
28
g
(43%)
,
Saturated Fat:
17
g
(106%)
,
Cholesterol:
90
mg
(30%)
,
Sodium:
1206
mg
(52%)
,
Potassium:
212
mg
(6%)
,
Fiber:
3
g
(13%)
,
Sugar:
1
g
(1%)
,
Vitamin A:
882
IU
(18%)
,
Calcium:
307
mg
(31%)
,
Iron:
5
mg
(28%)