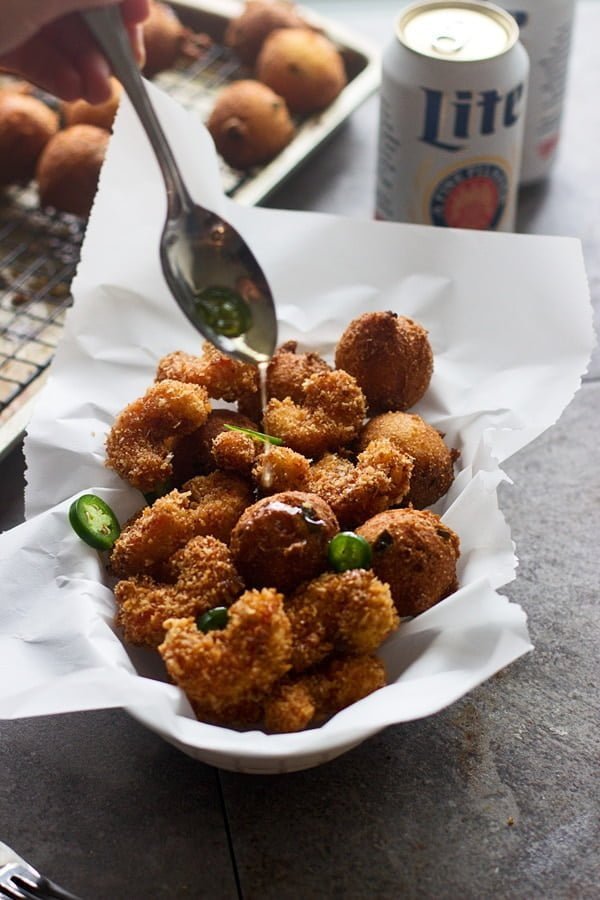 Fridays call for indulgences, which means I get to eat deep-fried food, something I only occasionally allow myself to consume when dining out and rarely cook at home.
Although let's be clear, french fries don't count.
The home deep-fryer has honestly always kind of disgusted me; vats of old oil sit in a pot which probably hasn't been cleaned in months, the same oil being used over and over and over, eventually making your food emulate the taste of greasy burnt bread crumbs. Ugh. But dating my husband meant inheriting his monstrosity of a kitchen appliance; he loved to deep fry, and in the beginning, I willingly obliged. His trusty "fry daddy" even made the trek from his bachelor pad-style apartment to the house we now call home, although I've condemned it to a desolate life in the basement laundry room never to be used again.
Note to self. Throw away while he's at work.
Now when I crave a little something crispy that only a bath in hot oil will achieve, I use fresh oil, a clean, deep pot and dispose of the nasty oil immediately afterwards.
I'm not really into novelty items like deep-fried oreos or cheesecake and could easily resist if offered either, but tempt me with a perfectly crispy corn dog, chicken finger or tater tot and I can't say no.
One of my favorite places to indulge in my inner gluttonous secretly deep-fried food lovin' self are those tiny seafood dives you find dotted across beaches around the coasts. When my parents had a place in Destin Florida, one of my favorite spots to go to was a kitschy beach restaurant within walking distance of our house (Pompano Joe's). The décor resembled a bit more upscale Joe's Crab Shack, but the food and view proved it to be infinitely better. While there were a number of choices on the menu, at lunch, I only ordered one thing, the fried grouper sandwich with hushpuppies.
If I close my eyes I can still taste the perfectly crisp, greaseless coating and the tender, white flaky fish. The hushpuppies were always perfectly fried, perfectly sweet and I inhaled them like they were individual popcorn kernels.
When our trips to our favorite beach town became more and more infrequent, I thought I'd never find another seafood shack that lived up to my high standards and it's been my mission to try every single dive seafood place in every single beach town I've visited since then.
So when I married Kevin and joined his family's annual beach vacation I immediately started researching seafood joints I thought had potential.
One night we ventured out to a place rumored to have great food, but it was underwhelming and sort of expensively priced for what it was. On the second to last day of our trip we ventured over to a different joint that promised to be a disappointment at first glance; there wasn't a spectacular view of the water, it was pretty dumpy and lacking the charm I loved so dearly about my former favorite. And then…. I saw the food being delivered to the tables – fried shrimp, hushpuppies, crab legs – and knew I found my new spot.
We split a fried shrimp po boy and a small order of hushpuppies and I couldn't have been happier, I'd only wished we knew about it earlier in the week so I could have dined there twice. I've been dreaming about that meal since then, and have been meaning to tie myself over until next year by making my own fried shrimp and hushpuppies, but I have to be mentally prepared for the whole deep-frying process.
I think maybe it's the gorgeous weather, but this past week had me DYING for some good-old fashioned popcorn shrimp and hushpuppies. I was going to make a sort of upscale version, but realized I just wanted to keep things as simple and straight-forward as possible, so the recipe is pretty minimalistic and doesn't require much explaination.
For the shrimp, I went with a simple Cajun coating with panko breadcrumbs, paprika, garlic powder, onion powder, cayenne and plenty of salt. The shrimp are first dunked in some seasoned flour, followed by egg, into the Cajun breadcrumbs and then dumped into the deep-fryer. Immediately upon receding from the oil, I season them with more salt and pepper.
The hushpuppies have a slight twist on them and instead of a plain batter, I studded it with some diced jalapeño and charred corn kernels, but other than that, the recipe is basically a glorified piece of fried cornbread.
To give both of the fried dishes a little more pizzazz, I drizzled the hot shrimp and hushpuppies with a quick homemade jalapeño honey for a little bit of sweetness and kick instead of making a traditional tarter or cocktail sauce.
Word to the wise. Have some friends over if you're making either of these, two people alone should in no way, shape or form eat the entirety of this recipe.
Happy eating!
Oh, and yup, that's canned Miller Lite in the pictures. Gotta stay classy when eating fried foods with your fingers.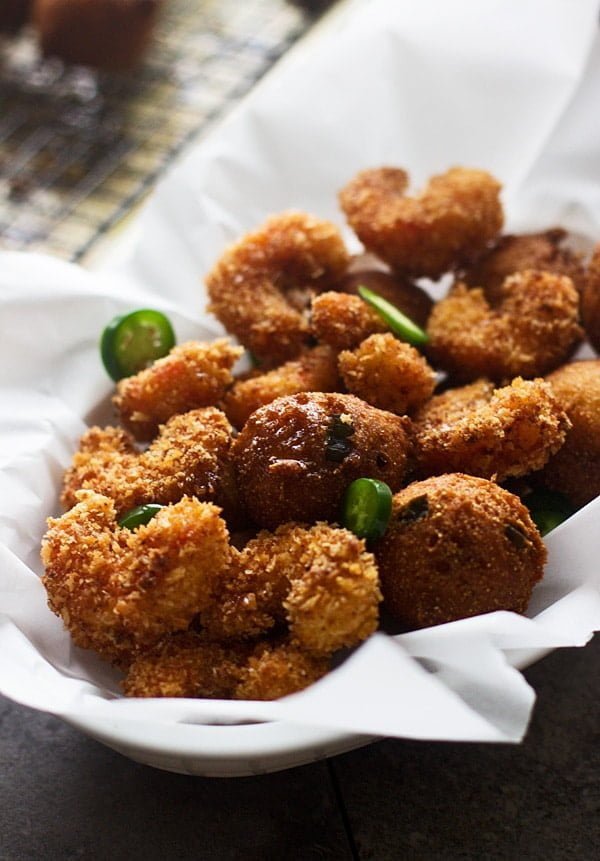 Cajun Popcorn Shrimp and Hushpuppies with Jalapeño Honey
Serves:
¾ pound shrimp and 2 dozen hushpuppies
Ingredients
Hushpuppies:
1¼ cup cornmeal
¾ cup flour
1 tablespoon baking powder
¼ teaspoon baking powder
¼ cup + 1 tablespoon sugar
1 teaspoon salt
¼ cup diced jalapeño
2 corns on the cob
2 eggs
2 tablespoons butter, melted
1 cup buttermilk
Shrimp
¾ pound small shrimp, peeled and deveined
1 cup panko breadcrumbs
2½ teaspoons paprika
2½ teaspoons garlic powder
1 teaspoon salt
2 teaspoons onion powder
½ teaspoon black pepper
½ teaspoon cayenne pepper (or more if you like spice)
½ cup flour
2 eggs + 2 tablespoons flour
Jalapeño Honey
¼ cup honey
2 teasppons sliced jalapeno
Instructions
Preheat a deep pot filled up about halfway with canola oil to 375 degrees.
For the hushpuppies:
Grill corn on an outdoor grill, inside on a grill pan or over a gas stove until slightly charred. Cut off the cob.
In a large bowl whisk together flour, cornmeal, baking powder, baking soda and sugar. Add jalapeño and corn.
In another bowl, whisk eggs, butter and buttermilk. Add to cornmeal mixture, stir just until it's combined. Do not over mix. Let the batter rest for 30 minutes.
One the batter has rested, use a tablespoon to scoop the batter into the hot oil. Fry until brown on all sides. Do not overcrowd the pan. Drain on paper towels.
For the shrimp:
Mix the panko, paprika, garlic powder, onion powder, salt, black pepper and cayenne in a bowl. Taste to see if it needs any more salt, cayenne or black pepper to suit your taste.
In another bowl add flour and season with salt and pepper.
In another bowl combine egg and water.
Coat shrimp in flour, pat excess off. Dunk in egg, make sure excess comes off. Finally coat in breadcrumbs.
Fry in oil until golden brown on both sides. Drain on paper towels and season with a little bit of salt and pepper.
For the honey:
In a very small sauce pan, combine honey and jalapeño. Set over a medium-low heat. Cook until jalapeño has infused the honey and it's very thin. Drizzle over shrimp and hushpuppies.