My favorite field trip in elementary school wasn't our excursions to science museums full of quirky things for kids to do, or jaunts to the local pumpkin patch where there were endless hay rides and hot apple cider; it wasn't even the overnight camp in the sixth grade where we were away from all of our parents for five whole days.
Nope.
My favorite field trip of all time was our visit to a park of sorts where we learned about early American history by way of actual demonstrations. Each "station" was set at a different location. One by the creek where a grizzly man demonstrated how they used to catch fish and trap beavers. One in a meadow where we all sat in a life size teepee and listened to stories about the Native American tribes indigenous to Kansas. Another by a dirt road where we were able to see a covered wagon the settlers traveled and at times lived in. And finally, a makeshift home and kitchen where we learned how to make johnny cakes from scratch and how to churn your own butter – my favorite.
Imagine that, the demonstration with the food had the most impact on my child self.
While the other students scoffed at the grainy texture of the Johnny Cake, made with only cornmeal and water, I couldn't get enough. And while others complained at how difficult and boring churning the butter was, I was in awe over the science behind what made the cream turn into butter and what made those Johnny Cakes taste so darn good.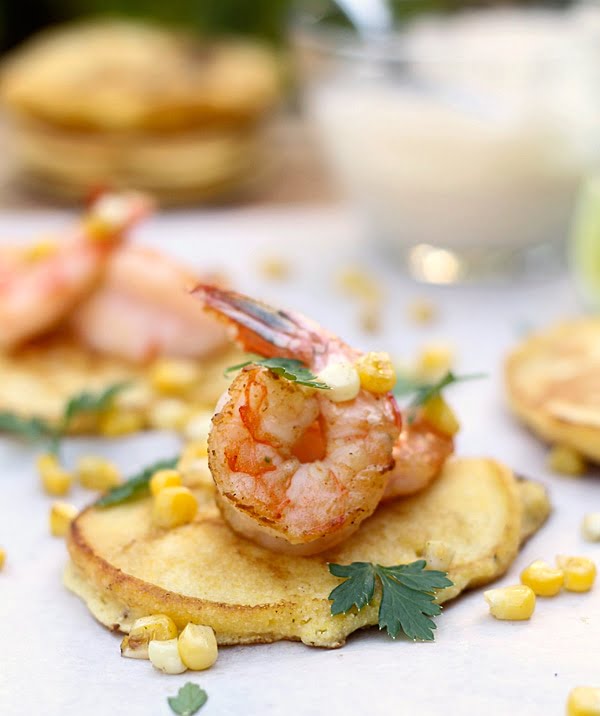 Today's dish really brings me back to that day when I was in pure heaven eating copious amounts of crispy cake with soft, salty butter. Now, of course I've updated the recipe a bit, but that coarse texture and corn taste remains the same.
The cakes are made up of cornmeal, flour, a little baking powder, baking soda, egg, milk and a tiny bit of sugar. I cook them off in a hot cast iron skillet in a little bit of butter much like I do my pancakes. While totally and utterly delicious by themselves with just a pat of salted butter (ummm I seriously ate like 10 this way) I also opted to make them a little more decadent with some plump sautéed shrimp and a creamy tequila lime sauce.
You could have two or three of these guys as your main dish or even one or two as first course to a meal, but I also think it would be adorable if you downsized the cakes to little silver-dollar sizes and served them as tiny little hors d'oeuvres at a cocktail party. So cute!
Corn Cakes with Sautéed Shrimp and Tequila Lime Cream Sauce
Author:
Nicole-Cooking for Keeps
Ingredients
Cakes
¾ cup cornmeal
½ cup flour
1 teaspoon baking powder
¼ teaspoon baking soda
½ teaspoon salt
1 teaspoon sugar
1 cup milk
½ cup sweet corn
Butter for cooking
Shrimp:
26 medium sized shrimp
¼ teaspoon garlic powder
¼ teaspoon salt
Sprinkle of cayenne
Sauce:
½ cup clear tequila
1 cup cream
Juice of 1 lime
¼ teaspoon salt
Cayenne, salt and pepper to taste
Corn and cilantro for garnish
Instructions
Whisk cornmeal, flour, baking powder, baking soda, salt and sugar together in a medium bowl.
In a liquid measuring cup, measure out 1 cup milk, crack egg in and whisk until combined. Whisk egg and milk mixture into the cornmeal mixture just until combined.
Heat a large cast iron skillet over a medium-high heat. Melt ½ tablespoon butter in skillet and cook corn cakes using about 1½ – 2 tablespoons batter per cake. Repeat until all cakes are made. Keep cakes warm in a 250 degree oven while you cook the shrimp and make the sauce.
In a medium bowl toss shrimp with ¼ teaspoon salt, ¼ teaspoon garlic powder and a generous pinch of cayenne pepper. In the same cast iron skillet you cooked the cakes, heat 1 tablespoon of olive oil over a medium high heat and cook shrimp, about one minute per side until pink and plump. Set aside.
With the heat on medium-high add tequila, simmer until reduced by half and the alcohol has cooked off, about two minutes. Add cream, lime juice and salt; reduce the heat to a simmer. Simmer until the sauce has thickened, about two to three minutes. Season to taste with salt, pepper and cayenne pepper.
Top each cake with two shrimp, then drizzle with sauce and sprinkle with sweet corn and cilantro.