All the flavors of a cobb salad, in pasta form! Super easy and perfect for summer.
Ahhh … spring (and almost summer!)…
We've said goodbye to the last of the snow, chill and heavy winter coats; now, warmer weather, sunshine and plenty of backyard barbecues are standard – and I love a good barbecue. Give me hot dogs, hamburgers, deviled eggs, salads, good friends and cold beer, and I am one happy lady – I imagine you would be too.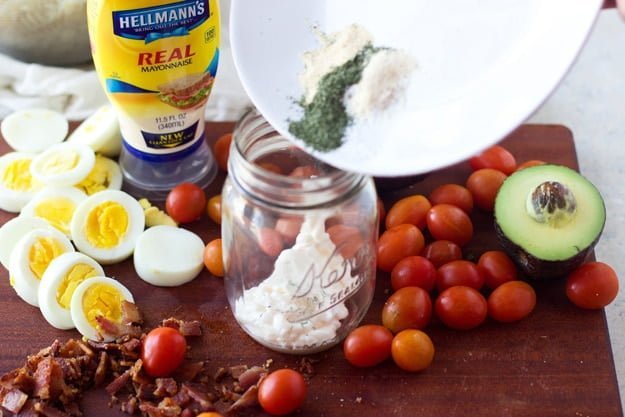 Of course, like any other red-blooded American, I've hosted and attended my fair share of backyard barbecues, and the one item that — without a doubt — I always serve or bring along is some sort of pasta salad. I don't know if it's my unwavering love for different shapes of starchy carbs or what, but I don't feel like a barbecue is complete without a pasta salad. The type of pasta doesn't usually matter to me, but I have to say I'm a total sucker for creamy-based pasta, regardless of whether it's cold or hot, and today is no exception.
One requirement I do have for all my pasta salads?? They must have lots of "stuff" in them, and by "stuff," I mean a simple bowl of noodles with dressing won't do. In this case, I basically took another classic salad –the Cobb –and transported the creamy avocado, hard-boiled eggs, tomatoes, and bacon into a vat of cooled pasta. Depending on the type of sauce I use, I'll change up the pasta shape, so here I went with a rotini, because I think it soaks up and clings to the dressing a little bit better than some other shapes. If you have strong feelings for another pasta, feel free to swap it out.
The dressing, while creamy, is surprisingly light, and it sort of mimics a ranch with plenty of dried dill, garlic and onion powder. The base starts with creamy mayo, a little bit of Greek yogurt, and some buttermilk to loosen up the dressing just a touch.
A little tip on making homemade dressings – always throw all your ingredients into a mason jar. Seal the lid shut, give it a shake, and your dressing is perfectly mixed. The jar also happens to be the perfect vessel to transport the dressing to your party without worrying about leakage.
Also, I like to toss the cooked, cooled pasta with the dressing first, then add in all the ingredients. I think it just looks a little bit prettier and helps to keep the bacon super-crisp until everyone can get their hands on a bite.
Adding in some crumbled blue cheese or grilled corn is also delicious and still represents a Cobb salad wonderfully.
Creamy Cobb Pasta Salad
Author:
Nicole ~ Cooking for Keeps
Ingredients
1 lb. rotini pasta
½ cup Hellmann's Real Mayonnaise
6 Tbsp. buttermilk
4 Tbsp. sour cream
2 tsp. dried dill
1 tsp. garlic powder
½ tsp. salt
1 tsp. onion powder
2 tsp. red wine vinegar
2 hard-boiled eggs, chopped
1 avocado, diced
1 pint cherry tomatoes, halved
6 slices cooked bacon, drained and chopped
4 oz. crumbled blue cheese (optional)
Instructions
Bring a large pot of water to a rolling boil. Season with salt and pepper. It should taste like the sea. Cook pasta until al dente. Rinse the pasta under cold water to cool.
Add mayo, buttermilk, sour cream, dill, garlic powder, salt, onion powder and red wine vinegar to a mason jar. Seal jar and shake until combined.
Toss pasta with dressing. Add in remaining ingredients. Season to taste with salt and pepper. Chill until ready to serve.
This content was created in partnership with Kroger Family Stores using free products provided by Kroger.