If you want to see an eight-month-old baby inhale vegetables faster than you can even say, "Eat your vegetables," then I highly suggest making this Creamy Pumpkin Spaghetti Squash. This also applies to toddlers, picky husbands and fervent vegetable haters.
You don't have to convince me on the deliciousness that is a spaghetti squash. I've been in love with the versatile vegetable ever since I found you can actually feel good about eating things like Alfredo and cheesy Mexican dishes if it's intertwined with the sweet faux noodle. Heck, I'll even eat it simply roasted with a little bit of olive oil, salt and pepper – it's that good.
If you're intimidated by spaghetti squash, don't be! I actually find it easier to cook than a butternut squash, since you don't have to worry about peeling the skin off. Plus, if you microwave it for a few minutes before roasting, it makes it infinitely easier to prep.
The only thing I find that you have to watch out for, is overcooking. If you cook it too long, the silky strands of spaghetti have a tendency to turn to mush. I'd recommend roasting for the minimum amount of time stated in the recipe, then check to see if the flesh easily turns into "spaghetti." If it doesn't, pop it back in for a few minutes. If it does, pull it out and watch as the magic of spaghetti squash reveals itself. Literally – magic!
How to roast spaghetti squash
Cooking the squash is easy, as aforementioned. I promise! Put the whole squash (yes, the WHOLE thing) into the microwave for three minutes. Use a very sharp, large chef's knife to cut the squash down the middle, lengthwise. Scrape out all of the seeds and muck with a spoon. Rub generously with olive oil. Season VERY generously with salt and conservatively with pepper. Remember, you can only season the surface so you want enough seasoning to carry throughout the squash after cooking.
After seasoning, place the squash, flesh-side down on a large baking sheet and pop into a 375-degree oven for 20-25 minutes. Again, you want to check on the lower end, and if the squash is already turning to spaghetti when you prick it with a fork, it's ready.
Continue to use fork to make spaghetti, and it's ready to go.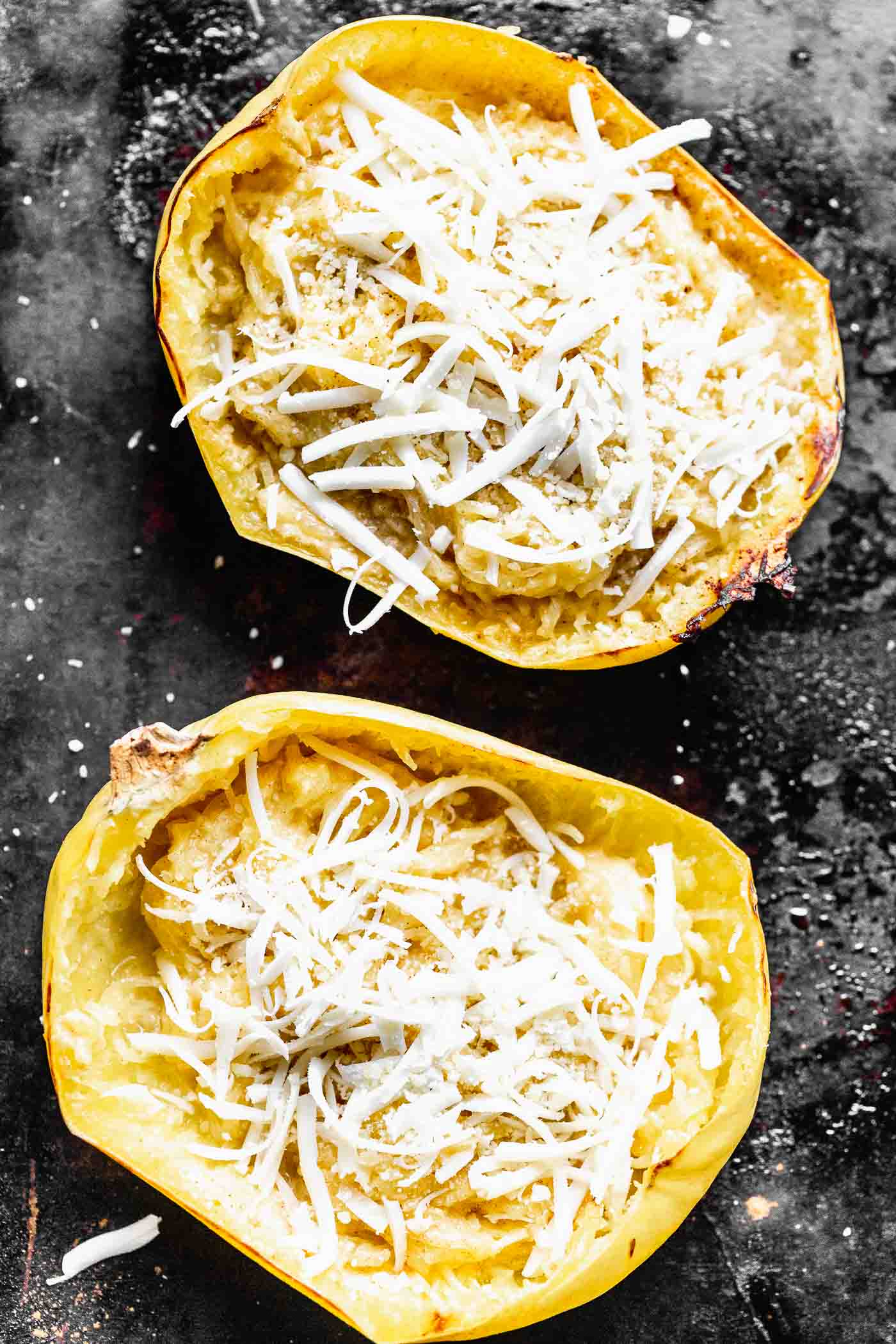 Meanwhile…
While the squash is cooking, make the sauce! The luscious, creamy perfectly fall pumpkin sauce.
I'm not big into pumpkin…When it comes to sweets. Yes, I like my once-yearly slice of pumpkin pie, and I do enjoy a pumpkin muffin every once in a while, but I enjoy the fall staple much more in savory dishes. Just a little bit of pumpkin puree adds the most wonderful fall essence to an array of savory recipes, and today, it's in the form of a alfredo-esque cream sauce.
We start with a base. A brown butter base. Because I can't make a creamy sauce in the fall without brown butter. I just can't do it. Proven here, here and here.
Once you've browned the butter, a little bit of flour is whisked in. This is called a roux. But you knew that already, right?! From there, whole milk is whisked in (you can use also you low-fat, this is just what I had), and the mixture is left to bubble away until it's thickened. After a few minutes the flour and butter will have thickened the milk and you'll want to add your cheese. Nutty parmesan is what you want, but you can also use pecorino or any other nutty, pungent cheese.
Lastly, the pumpkin puree is whisked in, along with a pinch of cinnamon and nutmeg for good measure. And because you want this to taste like fall, and cinnamon and nutmeg scream fall.
A final seasoning check happens and the sauce is ready to coat silky strands of spaghetti squash.
Assembly
You could go one of two ways here. You could leave the squash in their designated "boats" or you can transfer all of the squash to a baking dish. I go with the former, but only because I like the pretty presentation, and let's be honest, one less dish to clean.
The sauce is mixed with the squash, and each vessel (or the whole baking dish) is covered with mozzarella cheese and a little bit more parmesan and baked until hot and bubbly. I like a nice crust on my cheese, so after the squash has baked until it's got, I actually like to turn the broiler on and get the cheese golden and crusty before serving. Totally a personal preference.
Oh! And if you're feeling extra festive. You can finely chop up a few leaves of sage at the very beginning and toss them in with the brown butter before adding the flour. It was step I meant to take, but forgot, and the dish turned out so well without it, that I decided to carry on.
One "boat" was plenty for me for dinner, but larger appetites may want two. Or you could serve this as a side, alongside some grilled salmon or chicken. Or, even a hearty salad like this would be a great partner.
Other awesome spaghetti squash recipes
Roasted Mexican Spaghetti Squash
Spaghetti Squash Aglio e Olio with Rainbow Chard
Pretty things/tools used in today's post
Half Sheet Pan

Pretty Blue Plates
Creamy Pumpkin Spaghetti Squash
If you want to see an eight-month-old baby inhale vegetables faster than you can even say, "Eat your vegetables," then I highly suggest making this Creamy Pumpkin Spaghetti Squash. This also applies to toddlers, picky husbands and fervent vegetable haters.

Ingredients
2

medium

spaghetti squash

1

tbsp

olive oil

2

tbsp

unsalted butter

2

tbsp

all-purpose flour

1 1/4

cups

whole milk

you can also use 2%

1/2

cup

grated parmesan cheese, divided

1/4

cup

canned pumpkin puree

1/4

tsp

ground cinnamon

1/4

tsp

kosher salt

1

cup

shredded mozzarella cheese
Instructions
Preheat oven to 375 degrees.

Microwave each squash for 3 minutes. Cut in half lengthwise. Use a spoon to scoop out all of the seeds and excess strands. Rub with olive oil. Sprinkle GENEROUSLY with salt and a conservatively with a little bit of pepper. Place flesh-side down on a large, rimmed baking sheet. Roast for 20-25 minutes or until fork tender. I would also check about 15-18 minutes as you don't want it to overcook. If it turns to spaghetti when pricked with a fork, it's done! Use your fork to turn the squash into spaghetti, set aside.

While the squash cooks, make the sauce. Heat a medium saucepan to a medium-high heat. Add butter. Once the butter starts to turn brown, swirl the pan. Continue to swirl the pan until the butter becomes a deep brown color and smells very nutty.

Turn the heat down to low and whisk in flour. Cook 1 minute. Remove from heat and slowly whisk in milk to prevent lumps from forming. Place back on the heat back on turn the flame to medium. Bring to boil and reduce to a simmer. Simmer until thickened, about 3-4 minutes. Turn the heat down to low and whisk in 1/4 cup parmesan cheese. Whisk until cheese has melted. Turn the heat off and whisk in pumpkin, cinnamon and salt. Season to taste with salt and pepper.

Evenly divide the sauce between the four squash halves. Gently toss until evenly combined. Sprinkle the cheeses on top. Bake until hot and bubbly, about 15 minutes. If you want a golden crust, turn the broiler on in the last minute or so of cooking. Alternatively, you can scoop all of the squash out, and place in a grease squash baking dish, then toss with sauce and top with cheese. Bake the same way.
Nutrition Information
Serving:
1
serving
,
Calories:
381
kcal
(19%)
,
Carbohydrates:
42
g
(14%)
,
Protein:
12
g
(24%)
,
Fat:
21
g
(32%)
,
Saturated Fat:
10
g
(63%)
,
Cholesterol:
45
mg
(15%)
,
Sodium:
437
mg
(19%)
,
Potassium:
675
mg
(19%)
,
Fiber:
8
g
(33%)
,
Sugar:
18
g
(20%)
,
Vitamin A:
3453
IU
(69%)
,
Vitamin C:
11
mg
(13%)
,
Calcium:
343
mg
(34%)
,
Iron:
2
mg
(11%)