This Curry Beef & Pepper Stir Fry is a cinch to throw together, and tastes every bit as delicious as your neighborhood takeout joint. Plus, the leftovers are just as good the next day.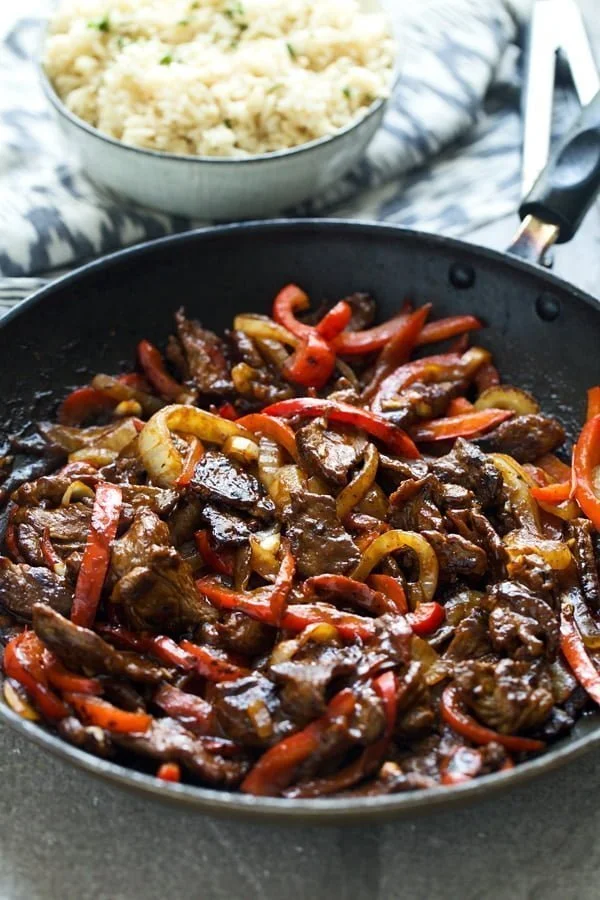 Being married to a food blogger has its perks. For one, there's always food in our fridge. Whether it's leftovers from this summery tomato pasta or snacks like this Firecracker Chex Mix, hunger is typically never an issue. Also, since I'm always to trying to created new content, there's rarely a meal I prepare twice in a short period of time, so there's also never an issue with boredom when it comes to food.
However, one of the big downside to being married to a food blogger, is my family rarely gets to put in their own requests on what they'd like for meals. Because of this I try to make a conscious effort to ask Kevin every once in a while if there's anything he's craving in particular. Usually he'll say no and let me do my thing, but on the rare occasion he does, it's usually one of two things: pasta with meat or stir-fry.
He doesn't require anything fancy when it comes to either request, but when I'm trying to double up his request while filling a slot for the blog, I'll come up with something that's hopefully worth sharing, which is exactly with this Curry Beef & Pepper Stir Fry does.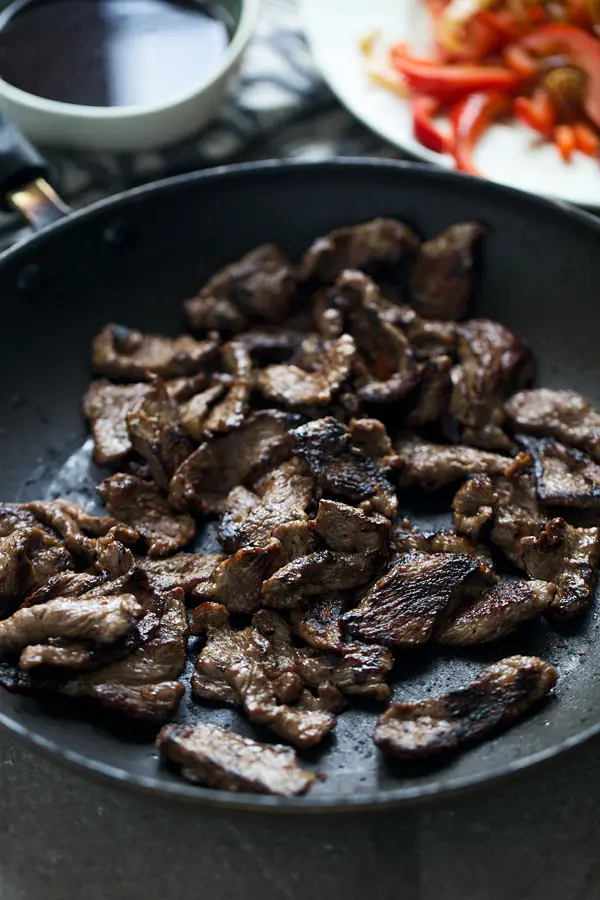 Tender beef, sweet red peppers and onions are quickly cooked with some garlic, and then tossed in a curry and soy-based sauce. The whole thing comes together in under 30 minutes, making it a cinch to pull together on a busy weeknight or lazy Sunday evening after a full weekend.
Normally when I'm doing a stir-fry, I'll stick with chicken since it's something everything in our family will eat, but since my toddler has decided to open his horizons when it comes to meat, I've been introducing lean cuts of beef more often. I get practically giddy every time I hear him ask for "More beef," "More chick-han," or "More shimp pease!" Finally my persistence has paid off!
Since the meat still has to pretty tender for him to like it, when it comes to beef the key is to buy a pretty tender cut of meat to start with such as ground sirloin or a lean sirloin steak (Filet mignon also works, but my pockets aren't that deep to justify an expensive cut for a two-year-old little boy.). For the latter cut, I like to stick the meat in the freezer until it firms up, and then slice it as thin as I can with a sharp knife.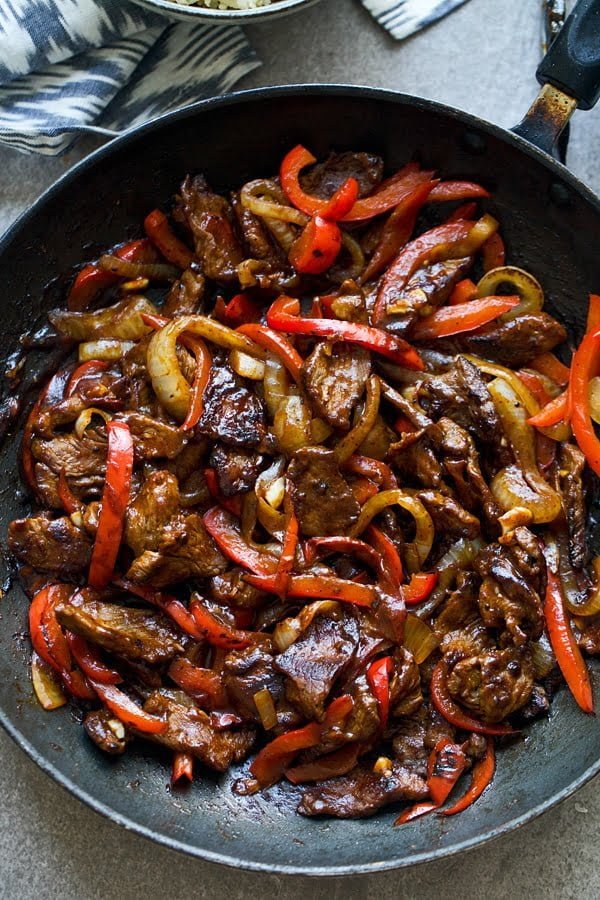 Once the meat is sliced, it's seasoned with salt and pepper and then tossed in a little bit of cornstarch to make sure it gets nice and crispy when it's cooked.
Because beef and peppers cook in varying times, I like to cook the peppers and onions first, followed by the beef. Once everything is done, it all goes back into the pan along with the sauce, it's simmered until thickened, and ready to be served.
I like to serve it on top of a big pile of brown jasmine rice, and sprinkle it with a little bit of chopped cilantro right before it hits the table.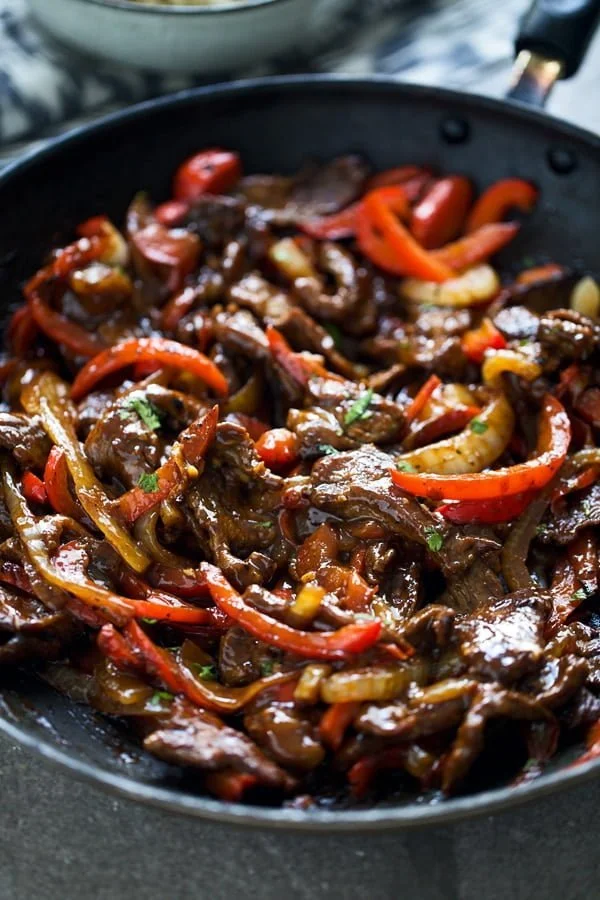 Curry Beef & Pepper Stir Fry
Red chile curry paste, soy, red peppers, and hoisin make up this easy Curry Beef & Beef Stir Fry. Serve over white rice and garnish with sliced green onion.
Ingredients
1

lb

sirloin steak

2

tbsp

tamari

3

tsp

red curry paste

2

tsp

hoisin sauce

2

tsp

rice vinegar

2

tbsp

packed brown sugar

1/4

cup

low-sodium beef broth

1

tbsp + 3 tsp.

corn starch, divided

2

large

red peppers, sliced

1/2

large

onion, sliced

5

large

garlic cloves, minced

3

cups

brown jasmine rice

1/4

cup

chopped cilantro

6

tsp

canola oil, divided
Instructions
Place sirloin steaks in the freezer to firm up.

While the steak is chilling, whisk tamari, curry paste, hoisin, vinegar, brown sugar, beef stock and 3 teaspoons cornstarch. Set aside.

Heat a large non-stick skillet to a high heat. Add peppers and onions. Stir-fry veggies until softened, about five minutes. Make sure to use tongs to toss the veggies every 30 seconds or so they don't burn. (It's ok if they get a little charred.)

While the pepper cook, , use a very sharp knife to slice the steak into very thin pieces. Season with salt and pepper. Add to a bowl and toss with remaining cornstarch.

Once the veggies are done, wipe pan clean and place over a high heat again. Add two teaspoon canola oil. Once the oil is hot, add half of the beef. Fry until brown, crispy and cooked through. Remove from the pan and repeat with other half of the beef.

Add the cooked beef, pepper and sauce to the pan. Toss, bring to a boil and then reduce to a simmer until thickened, about 1-2 minutes. Season with salt and pepper. Serve over rice and garnish with chopped cilantro.
Nutrition Information
Serving:
1
serving
,
Calories:
381
kcal
(19%)
,
Carbohydrates:
16
g
(5%)
,
Protein:
23
g
(46%)
,
Fat:
24
g
(37%)
,
Saturated Fat:
7
g
(44%)
,
Cholesterol:
77
mg
(26%)
,
Sodium:
643
mg
(28%)
,
Potassium:
557
mg
(16%)
,
Fiber:
2
g
(8%)
,
Sugar:
10
g
(11%)
,
Vitamin A:
3158
IU
(63%)
,
Vitamin C:
105
mg
(127%)
,
Calcium:
33
mg
(3%)
,
Iron:
3
mg
(17%)