I'm not going to bore you with yet another story on how I love enchiladas. You get it. I'm in love. Obsessed. Could eat them every day for the rest of eternity. Wouldn't be ashamed to eat them straight from the fridge at 9am. Lord knows my waistline reflects it.
But these…are a new favorite. They've perpetuated a new obsession – stacked enchiladas.
And guess what? They're relatively good for you too.
And guess what else?? There are only five ingredients. Yup. Five.
Annnd it took me all of 2.5 seconds to put it the whole together.
The five ingredients:
1. Hot Verde Chunky Salsa
2. Plain Greek yogurt (low-fat)
3. Mozzarella cheese (low-fat)
4. Shredded Chicken
5. Corn tortillas
What I love about using the salsa is it's basically a fat-free pre-made sauce in a jar – there are onions, garlic, tomatillos, green chilies, jalapenos and loads of other spices, making for the perfect base for a sauce – I only wish I had thought of it sooner. You could even find an organic variation at Whole Foods that doesn't have any added preservatives or weird ingredients you can't pronounce if you're into that kind of stuff.
Normally I wouldn't take the shortcut and use jarred salsa as a sauce, but I've been incredibly busy not only with my day job, but with all of the opportunities that have come from this blog, not to mention the normal chaos of everyday life. I swear, the older we get the busier our lives become – and we don't even have kids yet, lord help me.
Greek yogurt gives the salsa a more sauce-like, velvety texture, while making the enchiladas ultra creamy and insanely addictive. Case in point – I had to physically restrain myself from licking the inside of the bowl I mixed everything in, and actually, I probably would have if I wasn't expecting Kevin to walk around the corner at any second.
A girl has to keep a little mystery doesn't she?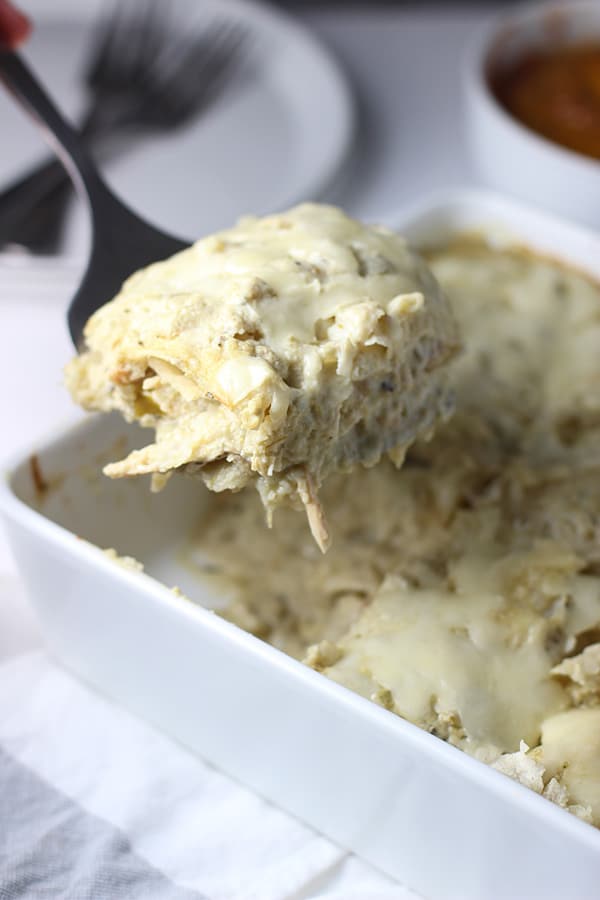 Like I previously mentioned, this takes literally about 2.5 seconds to put together. Spread some sauce on the bottom of a greased casserole dish, top with corn tortillas, then your shredded chicken (I bought a tequila lime rotisserie chicken from my local grocery store, but a traditional one is perfect as well), sprinkle with low-fat mozzarella cheese, top with more corn tortillas, chicken, sauce, cheese and finally tortillas, sauce, cheese. Bake.
Done.
Couldn't be any easier or more fool-poof.
Mexican in a pinch.
Five Ingredient Verde Chicken Enchilada Stack
Store-bought salsa makes these five ingredient verde chicken enchilada stacks a cinch!
Ingredients
16 ounce jar of hot chunky salsa verde
12 ounces low-fat plain Greek yogurt, divided (plus more for garnish)
3 1/2 cups shredded chicken (I used rotisserie)
2 cups low-fat mozzarella, shredded
12 corn tortillas
Instructions
Preheat oven to 350 degrees. Spray a square baking dish with non-stick cooking spray.
In a bowl, whisk together salsa and 1 cup Greek yogurt.
Spoon ¼ of the sauce on the bottom of the pan, top with 4 flour tortillas, overlapping if necessary. Sprinkle half of chicken over tortillas, top with ¼ of the sauce and 1/3 of the cheese. Repeat. Layer four tortillas, then ½ of chicken, followed by a ¼ of sauce and then a 1/3 of the cheese. For final layer, layer four tortillas, remaining sauce and remaining cheese.
Bake for 30-35 minutes until hot and the cheese is melted.
https://www.cookingforkeeps.com/five-ingredient-verde-chicken-enchilada-stack/