Crispy Fried Burrata with Cherry Tomato Sauce is basically the equivalent of burrata heaven. It's sure to be the star of your next party or happy hour!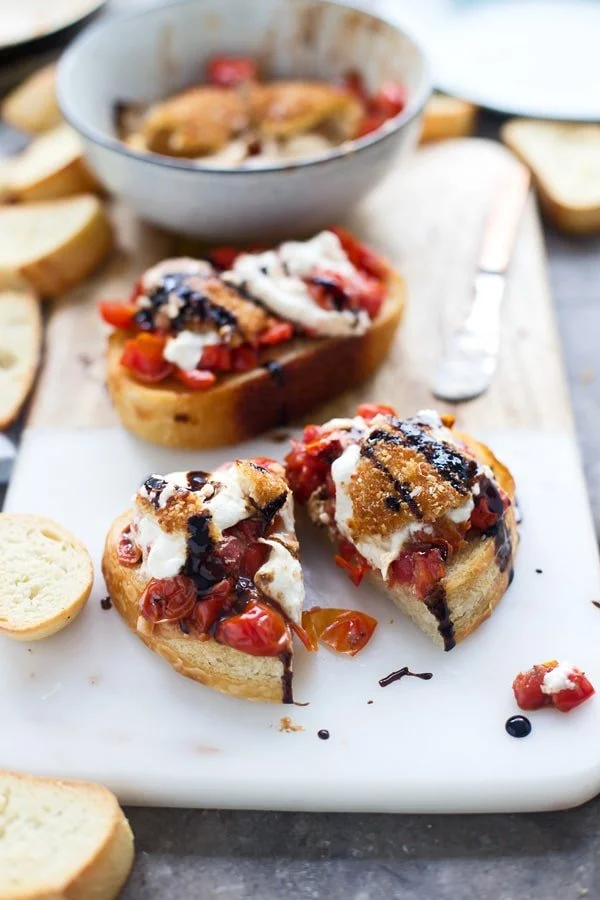 Mondays are for getting back on track.
Mondays are for salads, smoothies and exercise.
Today is not one of those Mondays.
Today is for crispy, creamy, melt-in-your-mouth fried burrata, which happens to be the opposite of light and healthy, but is also one of the most delicious recipes I've developed in some time, so I can't even fake an apology to you guys.
While I do realize this is deep-fried and surrounded in a red sauce, which is generally associated with cold winter months, the dish in its entirety is actually decently light and perfect for warm days ahead. Burrata, after all, is typically only available a short period of the year, and the red sauce is made with fresh cherry (or grape) tomatoes which are already littering tomato sections in every grocery store and farmer's market across the country. Of course, the tomatoes aren't all at their peak yet, but cooking them down with a little bit of wine and sugar helps to replicate that mid-July sweetness if you live in a place like Kansas as I do.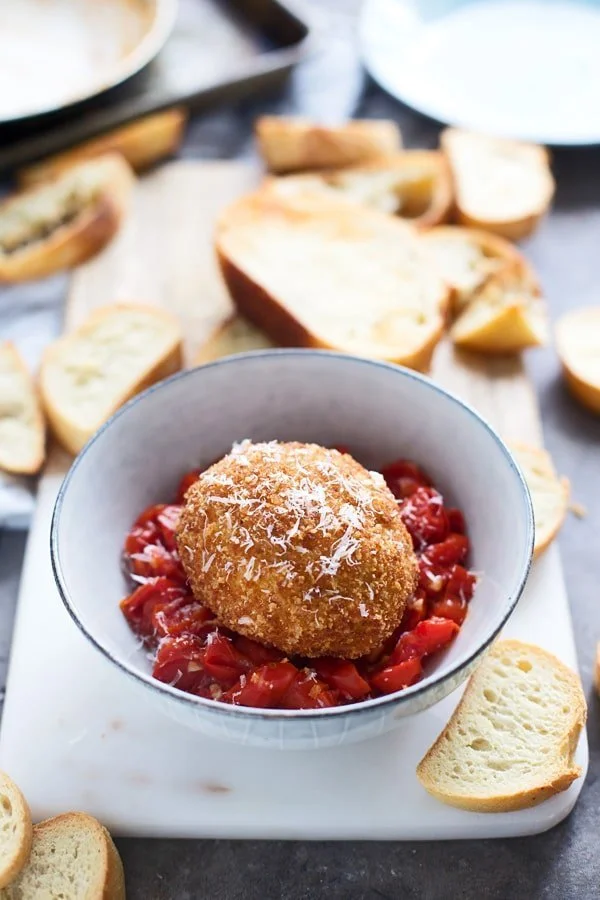 I would never have thought to deep fry burrata, because why mess with such an indulgent, wonderful thing? However, when my friend Jamie and I went to visit one of other girlfriend's a few months back, our lives were forever changed by the fried burrata highly recommended by our waiter.
Theirs was simple. Creamy, irresistibly stringy burrata, covered in a crispy coating, served with toasted bread, a little bit of balsamic glaze, and warm tomatoes. We shared one small portion between four of us, which we all inhaled at warm speed and virtually silently except for the random "OMG," or "Mmmmm." The two bites we each got weren't nearly enough, which left me incessantly thinking about it for weeks afterwards.
So I did what I do best, and replicated it at home. I don't normally deep fry things, but this is one of those instances where it's worth it. Plus, it's not like it has to be cooked from the inside out, like fried chicken, so the amount of time it sits in the fryer is minimal. Really, you just want it to be in there long enough to crisp up the three layers of breading and to warm the burrata so it immediately melts and oozes out on to the cherry tomato sauce.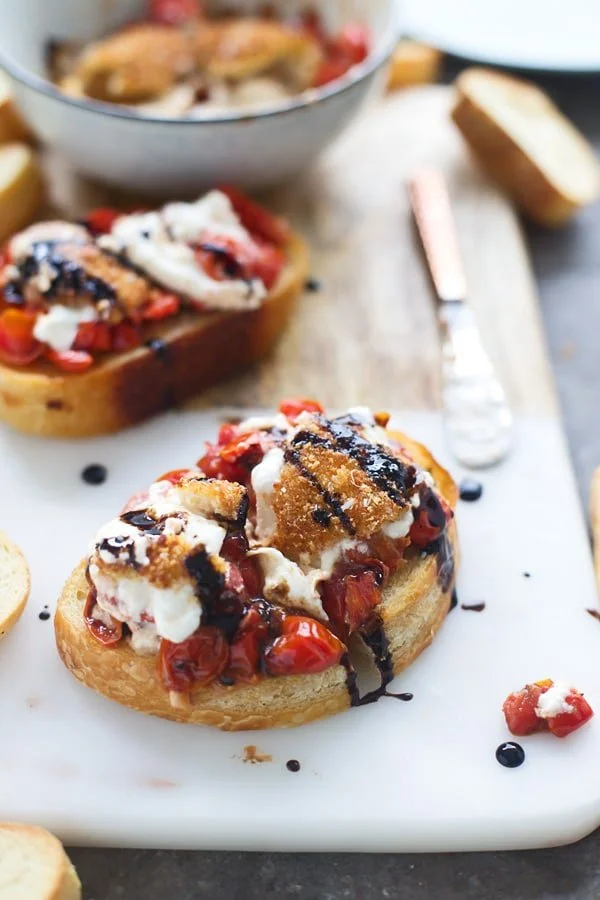 Three layers of breading may seem like a lot, but it's necessary to protect the cheese from melting into the oil when you fry it. I used a combination of panko and plain breadcrumbs as I often do, and simply seasoned it with salt, pepper and just a touch of garlic powder. Once it's coated, it's gently lowered into a vat of hot canola oil, and fried until it's golden brown and perfectly crisp.
From there, the hot burrata is drained, nestled into the sauce, served with butter-toasted ciabatta, a drizzle of balsamic glaze and ready to be inhaled.
Also, this can easily be double for two balls of burrata which often come in a package, this would be a smart thing to do, trust me.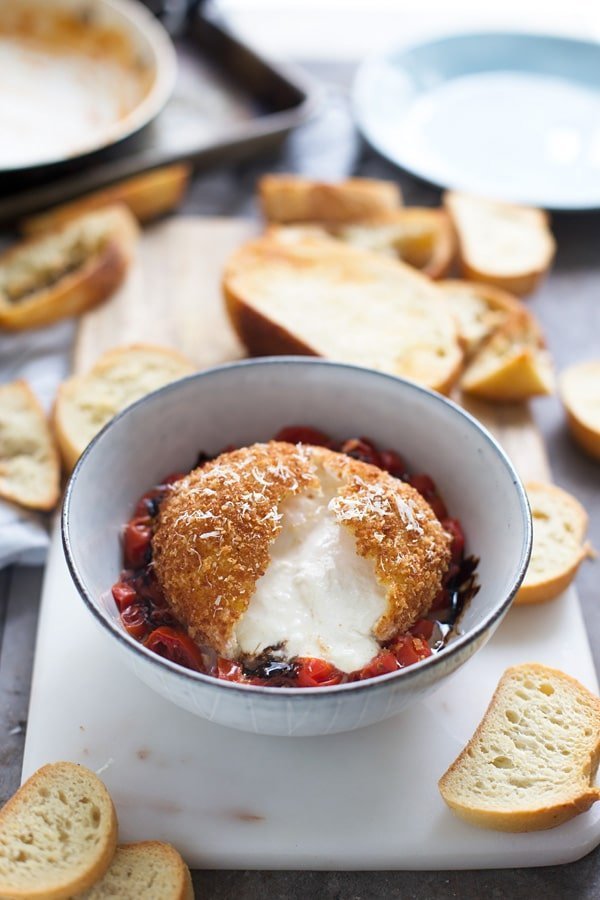 For more cheesy apps, check out these posts:
Fried Burrata with Cherry Tomato Sauce
Author:
Cooking for Keeps
Ingredients
3 Tbsp. + 1 tsp. olive oil
1 small loaf of ciabatta or good-quality Italian bread cut into 1-inch slices.
9 oz. cherry tomatoes, halved
2 large garlic cloves, minced
¼ cup dry white wine
¼ cup water
½ tsp. salt, divided
½ tsp. sugar
Canola oil for frying
⅓ cup panko bread crumbs
⅓ cup plain bread crumbs
½ tsp. garlic powder
⅛ cup AP flour
1 egg + 1 Tbsp. water
1 ball of burrata
Balsamic glaze for drizzling
Grated Parmesan cheese (Optional)
Instructions
Fill a deep medium-sized saucepan halfway full of canola oil. Bring up to 350 degrees. Preheat oven to 350 degrees.
Brush ciabatta pieces with olive oil, reserve 1 tsp for sauce. Season with salt and pepper. Place on a baking sheet and toast until golden brown, about 10 minutes.
Heat a medium sauté pan to a medium heat. Add remaining 1 tsp. of oil. Once oil is hot, add tomatoes. Sauté tomatoes until they start to wilt, about 4 minutes. Add garlic, cook 30 seconds. Add white wine, reduce by half. Add water, ¼ tsp. salt and sugar. Simmer until a sauce forms, about 3-4 minutes. Season to taste with salt and pepper. Turn the heat on low to keep warm.
Add the panko, breadcrumbs, ¼ tsp. salt, and ½ tsp. garlic powder to a small bowl. Mix together. Season to taste with salt and pepper.
Add the flour to another small bowl. Season with a pinch of salt and pepper.
Add the egg and water to a small bowl. Whisk together.
Cover the burrata in flour. Pat off excess. Dip in egg. Let excess drip off. Cover in breadcrumbs, patting off excess. Dip in egg again, followed by the breadcrumbs. Dip one more time in egg, followed by the breadcrumbs.
Use a slotted spoon to lower the cheese in to the oil. Fry until golden brown on all sides, about 5 minutes, turning occasionally. Drain on paper towel.
Transfer sauce to a shallow bowl, top with fried burrata. Drizzle with balsamic vinegar, and if using, sprinkle with parmesan cheese. Serve with ciabatta.