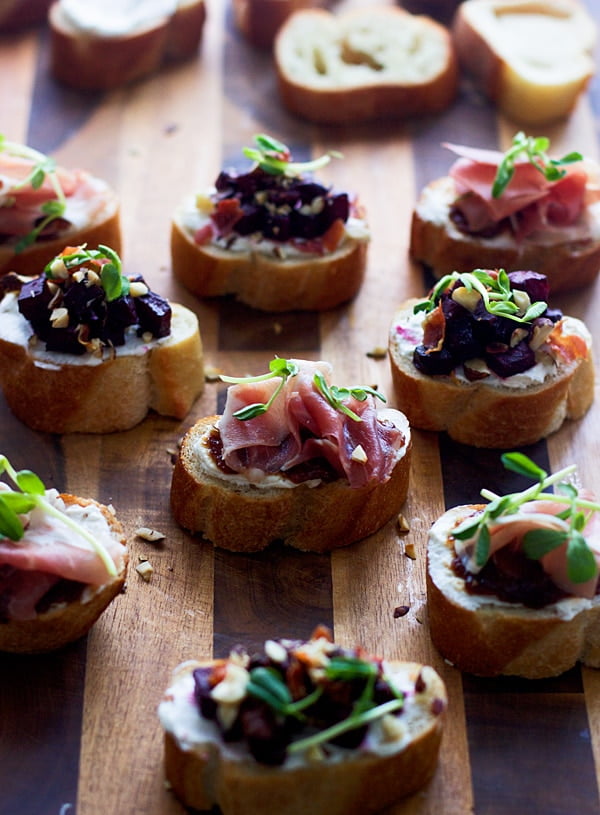 Crostini. Some call it bruschetta, but I prefer to steer far away from the whole bruschetta debate on whether or not it's phonetically pronounced bru-shet-ta (the American way), or bru-sket-ta (the Italian and technically correct way). I don't want to sound ignorant if the person I'm speaking to has a strong opinion one way or the other, and believe me there are some very opinionated people out there, so I just stick to crostini. Although if we're really being picky, I'm told bruschetta and crostini are not interchangeable, but eh, whatever.
Regardless of what you want to call it, if you set a platter of perfectly toasted bread anywhere within arm's reach of me, you better watch out, because these speedy fingers are like magnets to any kind of carb – especially carbs topped with things like fresh tomatoes, pesto or goat cheese.
I find myself making crostini at home so often that I unconsciously pick up a freshly baked baguette on practically every grocery store run. This little habit of mine has reaped some serious benefits for me, as I've filled up my little electronic punch card three different times in the last couple months, subsequently earning me three loafs of free bread – and there's nothing I love more in this world than free food.
Crostini is just something that's so easy to put together on the fly, and with the abundant amount of stray ingredients floating around in my fridge, crostini are the perfect impromptu bite for snacking.
For this batch, I used whipped truffled goat cheese for the base, and switched up the other toppings to make two completely different, but equally delicious crostini. If you can't find truffled goat cheese (I got mine at Trader Joe's), no worries, a plain goat cheese will suffice just fine. I like to throw the softened cheese into a mini food processor along with some cream cheese, just to lighten it up a bit and make it easier to spread – or to eat with a spoon…or both.
As aforementioned, both crostini are spread with goat cheese, but that's where the similarities end. Crostini number one is seriously low-maintenance, first, with a slathering of fig butter (also from Trader Joe's) and second, covered in salty prosciutto and finally, sprinkled with a few pretty pea shoots. If you don't shop at Trader Joe's, your local grocery store will probably have something similar to fig butter, probably in the form of a paste or spread. The beauty about these guys is their versatility, the topping combinations are endless, so don't freak out if you can't find the exact spread or ingredient.
The second crostini, and my personal favorite is a tad bit more high-maintenance and requires a little more elbow grease, but is totally worth the extra effort. Just as the first crostini began, the toasted baguette is slathered with whipped goat cheese as a base flavor. It's then covered in freshly roasted beets, some toasted hazelnuts and crispy prosciutto – the perfect combination of flavors and textures.
If you've never worked with beets before, fear not! Roasting them is like roasting any other veggie, except it's a little messier. What I like to do in this particular instance is cut the top and bottom off of the beet and then use a pairing knife to cut the skin off. From that point I chop them into a dice, toss them with some olive oil, salt and pepper and roast them at a high heat until they're tender, which takes about 20-25 minutes or so. The quality difference between freshly roasted beets and beets pre-packed are light-years apart, so I highly HIGHLY recommend trying your hand at roasting them yourself.
What I love about these is the same package of goat cheese and prosciutto is used for both crostini, stretching out your ingredients as far as possible while simultaneously creating two different appetizers that taste wildly different than each other.
And, I mean, how gorgeous are they?!
Goat Cheese and Prosciutto Crostini Two Ways
Serves:
approximate 15-18 crostini
Ingredients
1 baguette, cut into ½ inch pieces
1 tablespoon canola oil
5 ounces softened truffled goat cheese (or regular)
2 ounces softened cream cheese
Pea shoots for garnish (optional)
Beet Crostini
4 beets, trimmed, peeled and diced
2 teaspoons canola oill
¼ cup hazelnuts
3 thinly sliced pieces prosciutto
Fig and Prosciutto Crostini
½ cup fig butter (mine was from Trader Joe's_
3 pieces thinly sliced prosciutto, cut into thirds
Instructions
Preheat oven to 350 degrees. Place crostini on a baking sheet.
Using a pastry brush, brush tops of crostini with canola oil. Sprinkle with salt and pepper. Place in the oven and bake until slightly toasted, about 5-6 minutes. Let cool.
In a mini food processor, add goat cheese and cream cheese. Blend until fluffy and smooth. Season with salt and pepper. Blend until combined.
For beet crostini:
Increase oven temperature to 400 degrees. Toss diced beets with canola oil. Sprinkle with plenty of salt and pepper. Roast in the oven until tender, but still have a bite to them, about 20-25 minutes. Turn every once in while to prevent burning and to help them evenly cook. Let cool.
At the same time place prosciutto on a baking sheet lined with a silt pad or parchment paper. Bake until crispy, about 10 minutes. Let cool and chop into pieces.
Add hazelnut to a small, dry skillet set over a medium heat. Toast hazelnuts until they become fragrant, do NOT let them burn! Chop.
Spread goat cheese on half of the crostini, top with roasted beets, a little bit of crispy prosciutto and toasted hazelnuts.
Garnish with pea shoots.
Fig and Prosciutto Crostini:
Spread goat cheese on half of crostini.
Spread fig butter on top of goat cheese.
Top with a piece of prosciutto.
Garnish with pea shoots.