This post is sponsored by Laura's Lean Beef, thank you so much for supporting the brands that I love!

I've become the queen of the easy, yet impressive dinner.
I trick my dinner guests into thinking I spent hours slaving over the stove, when all it really took was a tiny bit of preparation and a seriously short cooking time. I've made it my personal mission in my cooking life to come up with as many dinners as these as possible since I know that, like me, people are almost too busy to even think about dinner, let alone take the time to actually make a show-stopping dinner on a crazy weeknight.
Enter: the taco. One of my very favorite, flavor-packed tex-mex obsessions, and also one that requires little preparation and cooking time.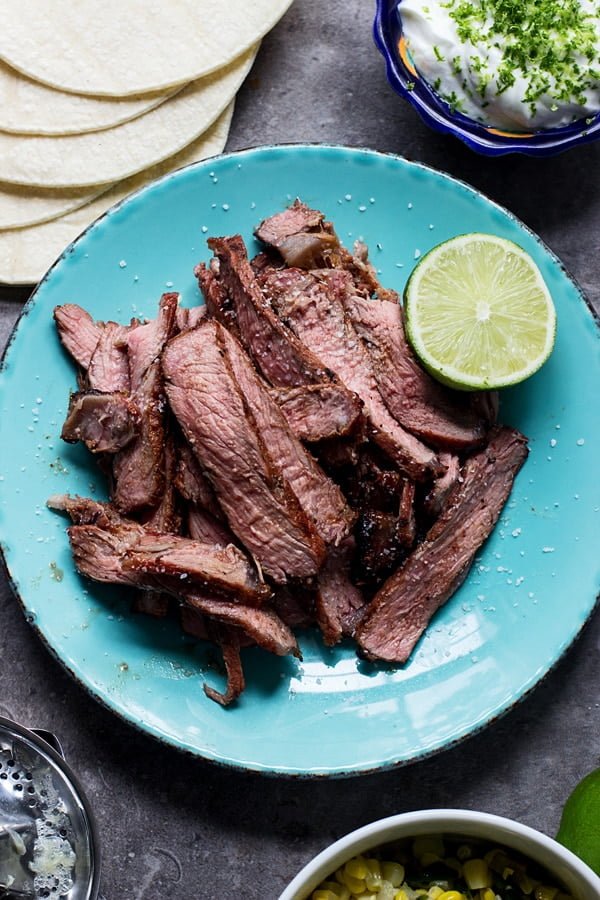 These lime and chipotle marinated steak tacos epitomize the easy, yet impressive mantra I've been preaching from the rooftops. Using a quick-cooking, but seriously flavorful strip steak (cooked to a perfect medium temperature) exudes a sort of elegance you don't see in many tacos recipes. A quick sauté of corn and poblano peppers not only provide heat, but a layer of sweetness and texture as well. Citrusy lime and cumin-scented sour cream give the taco a cool finish on the palate, tying the three components together for a perfectly harmonious taco.
Head on over to Laura's Lean Beef to get the full recipe and post!