I don't typically talk about the weather around here, but my gosh has it been wonderful in Kansas City the last couple of weeks. In what is usually the most brutal and unpleasant month of the year (full of surprise snowstorms and frigid temperatures) has turned into a little taste of summer. On Monday, it was 84 degrees, and it. was. glorious.
I'm not going to lie; I totally took it easy that day, had my girlfriend over for lunch and just kind of enjoyed the sun and feeling of freedom.
However, I do live in Kansas and it's not uncommon for it to be 80 degrees one day, and snowing three days later, so before I thank Mother Nature for gracing us with an early summer, I'm not counting on it lasting until it's actually summer. Which means, for the time being, I'm going to soak it up, try to work a little less so I can point my face towards the sun, and cook all the tropical summery foods I can crank out before I'm forced to retreat to soups and stews when the cold inevitably returns.
Last week, I showed you Cajun popcorn shrimp and hushpuppies, which are SO good, but obviously not that great for healthful eating, something I desperately need since I need to be in a bikini in exactly five weeks…in Vegas…where the girls are skinny and scantily clad.
Also, this is my first Vegas trip, can you believe that? In all honestly, I just haven't been because the staying up all night, gambling, clubbing thing isn't really my scene. I'm more of a go out to dinner, have a few cocktails, maybe have another drink at a bar where I can hear my companions and be home by midnight kind of girl. BUT I do love a good pool, and obviously love to eat, so I'm looking forward to trying to some fabulous restaurants, seeing Britney (YES!), doing more face pointing towards the sun and of course, spending quality time with some of my best girlfriends. I'm not looking forward to staying up until 4am, trying to converse with my girlfriends over the loudest music on the planet or the pounding headache come Sunday morning.
I'm scared and exhilarated all at the same time….
Any suggestions on must dos while I'm there???
So you can understand why there's going to be plenty of healthy eating around here in the subsequent weeks, although I will say, healthy eating for me probably looks a lot different than it does for the majority of the world. While most people sustain themselves on a diet of rice crackers and grilled chicken, I take a more creative approach. I don't ever starve myself, and instead try to make healthy eating taste just as good with bold flavors, and still indulge a tiny bit, but practice self restraint and moderation – I mean, I can't pass up a French fry to save my life.
While these mahi mahi sliders with grilled pineapple don't appear to be all that healthy, the only component that's questionable is the slider bun itself, but you could go the whole-wheat route or even omit the bun altogether. (But like I said – moderation!)
I really wouldn't suggest leaving anything else out, because while every individual element is seriously tasty on its own, together, it's all pretty dreamy.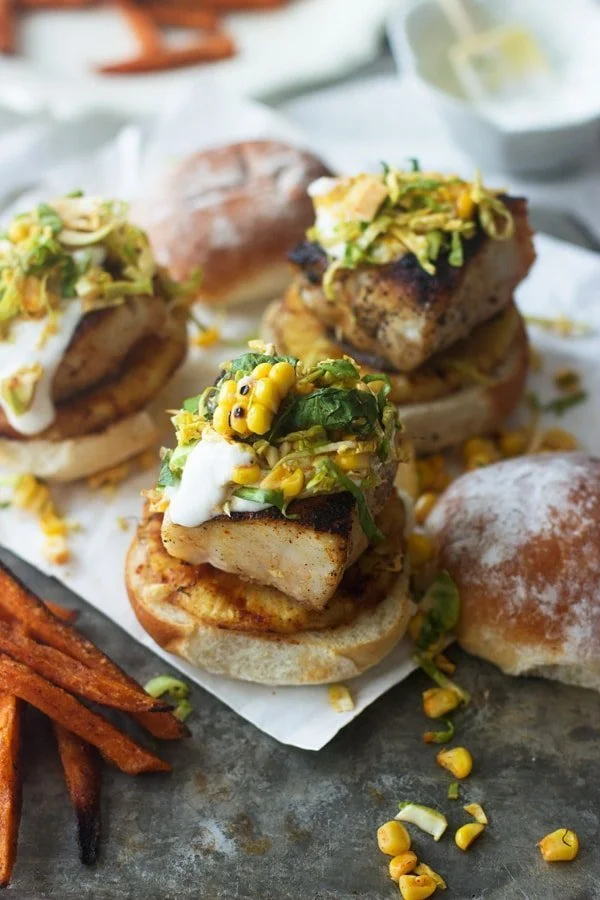 The bite-sized fish pieces are dusted with chili powder, salt and pepper, pan-seared until super crispy on both sides and then smothered in a low-fat lime sour cream and topped with a variation of this brussels sprout corn slaw I made the other day. (I told you it'd be back!)
All of it is nestled on to perfectly grilled pineapple that's first sprinkled with a little bit of chili powder and brown sugar so that when the pineapple is grilled, it gets super caramelized and even sweeter than before.
Sweet, spicy, summer perfection.
Mahi Mahi Sliders with Grilled Pineapple, Corn Brussels Sprout Slaw and Lime Sour Cream
Ingredients
1 ¼ pounds mahi mahi, red snapper or similar white fish cut into squares the size of bun
4 teaspoons chili powder, divided
1 tablespoon olive oil
½ pineapple, cut into squares or circles the size of each bun
1 tablespoon brown sugar
8 potato slider buns or your favorite slider buns
Slaw
1 cup chopped Brussels sprouts
2 ears corn
4 teaspoons lime juice
½ teaspoon sirracha
¼ teaspoon salt
Lime Sour Cream
4 ounces sour cream
1 small garlic clove
¼ teaspoon salt
1 teaspoon lime juice
1 ½ teaspoons lime zest
Instructions
Season fish with salt and pepper. Sprinkle with 2 ½ teaspoons of chili powder.
Sprinkle pineapple with remaining chili powder and brown sugar.
Heat a grill pan to a medium-high heat. Grill pineapple slices just until there are char marks on each side. Set aside.
Grill corn until slightly charred. Cut off the cob and set aside.
Mix all ingredients for the slaw together. Season with salt and pepper and set aside.
In a small bowl, whisk all the ingredients for the sour cream together.
Heat a non-stick skillet to a medium-high heat. Cook fish until golden brown on both sides and cooked through.
Place pineapple on slide buns, top with fish, followed by a dollop of sour cream and some of the slaw.