If you don't know How to Make Homemade Gnocchi, today is the day! We've given you step-by-step instructions and photos on how to make perfect gnocchi every single time. 
How to Make Homemade Gnocchi
This easy-to-make gnocchi is pillow-y soft, but also has a little bit of texture to it. It goes with pretty much everything – hearty red sauce, bolgonese, rich cream sauces, and everything in between. 
If making homemade pasta is the equivalent of a 90-minute session of stress-relieving yoga, then making homemade gnocchi is the equivalent of a 60-minute session of stress-relieving yoga – it's quicker, but the end result is still a prolonged state of pure and utter bliss.
It may sound a little strange to equate the feeling of yoga to the feeling I get while making homemade pasta, but hear me out. Both activities require focus. Both activities require some sort of strength and stamina. And both have the ability to take me from high strung to eerily calm in a flash. And while the tranquil feeling I get from doing yoga lingers on well past the class itself, the one thing it doesn't give me that homemade pasta does? Well, food of course.
When I don't have the time to make pasta from scratch, I find a yoga class I can attend, and when I don't have the time to make pasta OR do yoga, I turn to gnocchi. It requires less maintenance, is much less fastidious when it comes to achieving the perfect texture, but still relieves any pent up anxiety festering in my head.
What is gnocchi? 
If you're not familiar, or think gnocchi is simply pasta, let me explain. Gnocchi is made out of potatoes, flour, and eggs, instead of just flour and eggs as most homemade pastas are. It's more dumpling-like in texture, and if made right, is the perfect balance of light and airy mixed with a toothsome bite. There are a ton of variations on gnocchi, but here, we're sticking to the basics. 
What kind of potatoes are best for homemade gnocchi? 
To achieve the perfect gnocchi, you must begin with a perfect potato, and a perfect recipe. My potato of choice? Russet. My recipe of choice? Lidia Bastianch's classic gnocchi recipe.
For me, the russet potato has the perfect amount of starch, but doesn't get gummy when combined with flour and egg, unlike other varieties of potatoes. As far as the recipe, while normally I'd try to develop my own, Lidia's requires no adjustments, and is perfect as written – why mess with a good thing?
The one detail Lidia doesn't have in her cookbook? A step-by-step process on how to make the gnocchi, yes there are very detailed instructions, but I believe that nothing beats actually seeing it for yourself. It kind of demystifies what is often thought to be an overly-complicated process. So I'm going to do something a little different today, and take you through each step of the process.
How to make Homemade Gnocchi
Cook the potatoes. I like to do this in an extremely large pot, that way the potatoes have room to breathe.
Add the potatoes to the pot, cover with enough water to about two inches over the potatoes. Season the liquid with plenty of salt – it should taste as salty as the sea.
Bring the water to a boil. Continue to boil until the potatoes are fork-tender. Take them out, peel them and run them through a ricer. These ricers are pretty cheap, and they not only make the perfect gnocchi, but also make perfect mashed potatoes — I highly recommend having one at your disposal.
If you don't have a rice, you can also grate the potato on a box grater. 
Cool the potatoes. After you run the potatoes through the ricer, spread them out on a baking sheet to cool to room temperature. Because we're working with eggs, you don't want the eggs to scramble when they mix with the hot potatoes. I let mine set out for about an hour.
Make a well with the potatoes. I like to make my homemade gnocchi similar to how I make my homemade pasta. Pile the potatoes on a cutting board, and make a large well in the center for the eggs. 
Mix the eggs. Whisk the eggs together and then pour them into the well for the eggs. It's important that the eggs stay inside the well, so be sure to make it big enough to accommodate them. 
Tip. Make sure to have all your ingredients ready to go so you can work quickly! 
Add flour. Gently sprinkle the flour over the potatoes and egg. 
Mix the dough. Use your hands to gently form the dough. You can also use a fork to gradually whisk the flour and egg together. Continue to gently form the dough
Knead the dough a a few times…
Until it looks like this. The important thing to remember in this step is to not overwork the dough. You only want to knead it until it comes together, otherwise your gnocchi will end up really tough.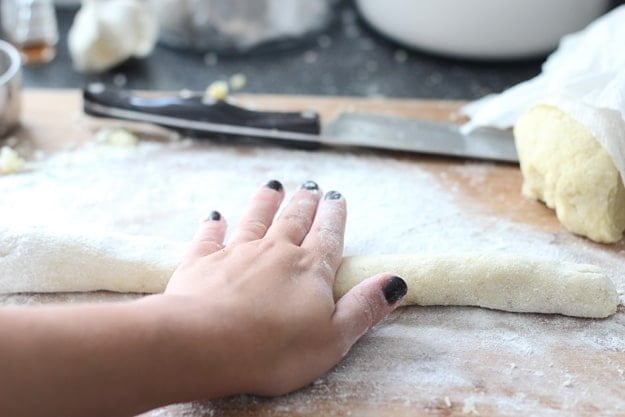 So at this point you're going to cut your dough into 4-6 sections, and start to roll each section into a rope. I like pretty small gnocchi, so I roll mine out to about a 1/2 inch thick.
Using your knife, cut into gnocchi about 1/2 inch thick. Once you press down with the knife the gnocchi will automatically turn into that rectangular shape.
Now this is usually the part that trips people up, the indentation is not a science, it doesn't have to look perfect, heck you don't even HAVE to do it, and you definitely don't need a fancy tool. Just use the tines of a fork to put a little indentation on the cut side of the gnocchi and roll the fork forward. Easy peasy.
Now you have beautiful, perfect gnocchi ready to be cooked! At this point you want to either cook them right away in a large pot of boiling water, or you can line them up on a baking sheet, pop them in the freezer until they're solidly frozen and then transport them to an airtight container.
What to do with your gnocchi:
Easy Italian Sausage Ragu with Gnocchi
Crispy Gnocchi with Brown Butter, Sage and Parmesan
Brown Butter Gnocchi with Asparagus and Prosciutto
How to: Make light as air homemade gnocchi
These gnocchi are light as air, and so easy to make!
Ingredients
1 ½ pounds russet potatoes
¾ teaspoon salt
2 eggs, scrambled
1 ¼ cup flour, plus more if necessary
Instructions
Place potatoes in a large pot. Fill with water and 1 tablespoon salt, make sure the potatoes are covered by two to three inches.
Bring to a boil and then reduce to a medium-high heat, cook until potatoes are soft and can be pierced with a fork.
Peel potatoes and half potatoes. Put each half in a ricer, and push potato through. Repeat with the rest of the potatoes.
Spread the potatoes out on a baking sheet, sprinkle with salt and cool for 1 hour.
Once the potatoes are cool, pile in rectangular mound.
Pour eggs over potatoes and sprinkle with 1 cup of flour. Using your hands slowly incorporate all the ingredients.
Once all the ingredients are incorporated, gently knead dough until smooth. DO NOT OVERKNEAD.
Divide the dough into four quarters. Using your hands, roll each quarter into a rope, about ½ inch thick. Use flour as needed.
Using a sharp knife, cut into gnocchi, they should be about ½ inch apart. The gnocchi should form a rectangular shape when cut.
Using the tines of a fork, place the middle gently on the cut side of the gnocchi and roll forward towards the ends of the tine.
To cook the gnocchi: Bring a large pot of water to a boil. Season liberally with salt. Add gnocchi in and cook for 7-8 minutes.
Serve with sauce.
Nutrition Information
Serving size:
1 dinner portion
Recipe only VERY slightly adapted from
Lidia's Italy
cookbook.