It's Sunday.
And it's cold.
Very cold.
So cold, just thinking about going outside tomorrow morning in the inevitable trek to work puts a rather large uncomfortable lump in my throat.
Do I have to go?
The weatherman tells me, if I stay outside too long I could get frostbite or suffer from hypothermia. All the local schools have been cancelled. The roads are deserted. Surely work will be cancelled as well.
Not a chance.
I'm sure the vast majority of you are with me, feeling the pain I feel, since practically the entire country is also being gobsmacked by these horrifyingly frigid temperatures. That is, of course, unless you're blessed to be living in one of the southern states that never see snow…or below zero… Remind me, why do I live in Kansas again??
This particular bout of record-low temperatures couldn't have occurred at a more inopportune time. You see, yesterday, as most of you know, I was in sunny, beautiful, 80 degree Puerto Vallarta. And when you go from sunny and 80 degrees, to snowing and negative nine degrees, it kind of puts your body into shock – mentally and physically.
More on the trip to PV later…
All I wanted from the moment I reluctantly walked off the plane yesterday was a big bowl of Campbell's tomato soup with a grilled cheese, and today as I braved the torturous wind and cold, the only thing my mind kept going back to was a juicy roast chicken for dinner.
There is something about a roast chicken that is just so comforting. It was always one of my favorite meals my Mom made growing up, even though my Dad would complain eating a whole chicken was "barbaric." Silly Dad. Much like a turkey, I had always assumed roasting a chicken would be a somewhat daunting and time consuming task, but came to realize they are actually relatively fuss-free and difficult to screw up.
Everyone has a "secret" method how to achieve the perfect roast chicken, which is a seriously crispy skin, yet, moist, flavorful meat. I have come to find these two simple steps are really all you need:
1. Roast at a very high temperature to get that crisp skin, and then reduce the temperature to ensure the meat stays moist and juicy.
2. Do not overcook. Take it out around 160-165 degrees, let it sit for a good twenty minutes, then carve.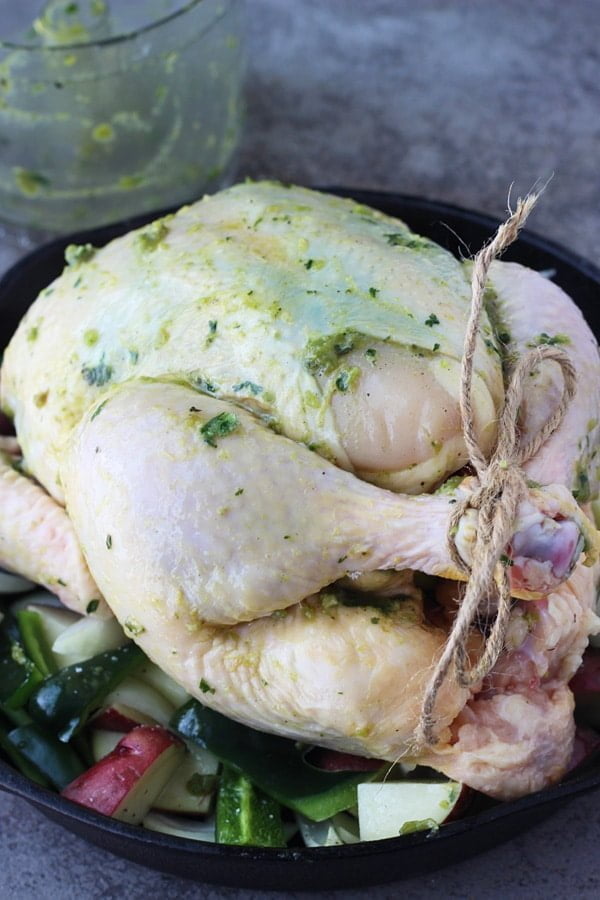 I truly love a classic roast chicken with just a little bit of butter, lemon and herbs, but every once in a while it's nice to shake it up a bit, and play with the blank canvas that is a whole chicken.
I've been kind of obsessed with poblano chilies lately, in fact, if someone were to ask me right this very second what five items I keep in my fridge at all times it would be: butter, parmesan cheese, Dijon, eggs and poblanos. They're extremely versatile, and infuse so much flavor (with virtually no fat) in everything from soups to pastas to…roast chickens.
I'm also still feeling the Mexican vibe, so a Mexicanish roast chicken fit the bill perfectly for me tonight.
I started out roasting one of the chilies, and then threw it into the food processor with a big handful of cilantro, garlic, lime juice and olive oil for a pesto/chimmichuri hybrid. I plopped the bird on top of some roughly chopped potatoes, poblanos and onions nestled in a large cast iron skillet, carefully stuffed the poblano mixture under the skin, tied up the legs and threw her in a 450 degree oven for 30 minutes, then reduced the temperature down to 350 and cooked for another 50 minutes.


The perfect roast chicken. Crazy flavorful. Crispy, salty skin. Tender, moist meat. It's all I need on a night like tonight…
Poblano, Cilantro and Lime Roast Chicken
Author:
Nicole ~ Cooking for Keeps
Ingredients
1 4-5 pound whole chicken
4 new potatoes, cut into quarters
2 poblano chilies, one roughly chopped and one roasted (see here)
1 ½ small onions, quartered
¼ cup roughly chopped cilantro, plush more for garnish
1 garlic clove, roughly chopped
1 teaspoon lime zest
1 ½ teaspoons lime juice
¼ teaspoon salt
⅛ cup olive oil + 1 tablespoon
Instructions
Preheat oven to 450 degrees.
Rinse chicken inside and out, pat dry.
In a cast iron skillet, toss onion, chopped poblano, and potatoes with one tablespoon olive oil. Season with plenty of salt and pepper.
In a small food processor, pulse together roasted chili, cilantro, garlic, zest, lime juice and salt. Slowly drizzle in ⅛ cup olive oil. Season with salt and pepper.
Place chicken on top of veggies. Stuff cavity with remaining onion and remaining lime left after it's been juiced.
Carefully separate the skin from the breast and stuff the poblano mixture evenly under the skin. Spread leftover mixture on top of chicken.
Season skin liberally with salt and pepper.
Roast for 30 minutes, and then reduce temperature to 350 degrees and roast for 50 minutes, or until a meat thermometer reads 165 degrees when stuck into the thickest part of the thigh. Let rest for 15 minutes.
Transfer chicken to a cutting board to carve.
If any grease has accumulated in pan dripping, spoon out and discard.
Using a slotting spoon, remove veggies to serve with sliced chicken. Season with salt and pepper if necessary.
Serve chicken with veggies, pan drippings, extra lime juice and cilantro.