I have only posted one mac and cheese recipe in the last year and half this blog has existed. ONE. It's criminal.
I've posted three types of soft pretzels, three different enchiladas, seven burgers, six soups and whole lot of other random things, but mac and cheese? Just one lonely recipe. Strange, considering the fact that I've claimed over and over again that mac and cheese and chicken fingers are the ultimate of ultimate comfort foods for me. Come to think of it, I don't think I've posted a chicken finger recipe at all. The truth is that I really don't let myself eat those things all that often. I'm not a health nut by any means, trust me, but I think subconsciously, I feel like it's worse for me than say, a burger or pasta with a little less cheese and a little more veg. I try really hard to practice moderation; an indulgent recipe here, and then a healthier recipe there. It's all about balance. Buutt I think I've taken "balance" a little too far, I mean it's been almost a whole year since I've made homemade mac and cheese, which is just crazy talk. Granted, it was the year of my wedding, and I was terrified of being anything but a super skinny bride. Thank goodness that's over.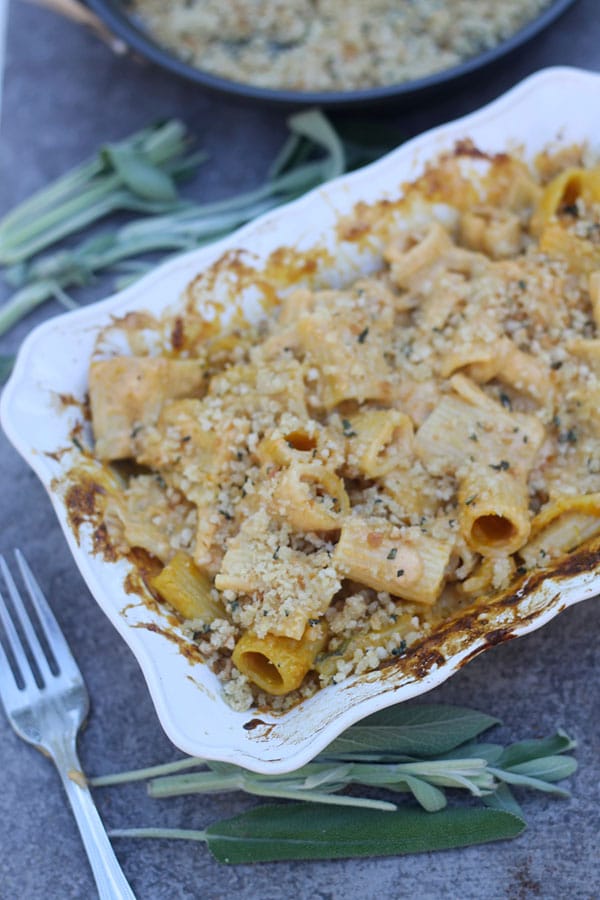 That being said…I'm bringing back the mac.
Pumpkin mac to be exact.
I did not mean to make all of that rhyme.


Typically I make a béchamel sauce for my base, but this time I decided to do a combination of heavy cream and half and half – I often find that a béchamel ends up being almost too heavy; the mixture of cream and half and half, in my opinion, makes for a more smooth, creamy texture, and since I'm going all out, I figured, why not?
The cream mixture is swirled with pumpkin puree, a decent amount of browned butter and sage, and then simmered until slightly thickened. The al dente rigatoni is coated in the sauce and then doused with gruyere and parmesan cheese – all freshly shredded/grated, of course. Before the cheese has a chance to melt completely, it's transferred to a baking dish and topped off with some crispy sage and parmesan breadcrumbs. It's baked until bubbly and brown.
Ahhh, at last…we meet…
Pumpkin Brown Butter Mac and Cheese with Sage and Parmesan Breadcrumbs
Author:
Nicole-Cooking for Keeps
Ingredients
1 pound rigatoni
6 tablespoons butter, divided
1 large onion, sliced
½ teaspoons salt
1 garlic clove, minced
2 tablespoons flour
5 tablespoons sage, minced and divided
¾ cup + ⅛ cup pumpkin puree
1 cup cream
1 ½ cups half and half
1 ½ teaspoons salt
¼ teaspoon black pepper
1 ½ cups gruyere cheese
¾ cup grated parmesan cheese + 2 tablespoons, divided
2 cups fresh breadcrumbs (Just take day-old bre
Instructions
Preheat oven to 350 degrees.
Fill a large stock pot full of water. Bring to a boil and season liberally with salt. Once the water comes to a rolling boil, add in pasta, stir. Cook pasta until just under aldente. (You will be cooking it again in the oven so you don't want the pasta overcooked.)
While the pasta is cooking make the bread crumbs and brown butter. For the crumbs: Melt two tablespoons butter in a small skillet over a medium heat. Add in bread crumbs, ¼ teaspoon salt, two tablespoons chopped sage and two tablespoons parmesan. Toast until slightly golden and crunchy.
In a small skillet, melt four tablespoons butter over a medium-high heat. Once the butter begins to brown, swirl the pan until it becomes a deep brown color and smells nutty, immediately reduce heat to medium and add in sliced onions and garlic. Once the onions begin to soften after two to three minutes, add garlic and three tablespoons sage. Continue to cook until, onions are translucent and garlic has softened, another two to three minutes. Add in flour, cook for one minute.
Once pasta is just under aldente, drain.
In the pot you cooked the pasta in, whisk together cream, half and half and pumpkin puree. Turn the heat on a medium flame and bring the cream mixture to a simmer. Once it's simmering, add in onion and garlic mixture. Add salt and black pepper. Simmer until sauce is slightly thickened. Add pasta back into mixture, along with gruyere cheese and ¾ cup parmesan cheese. Stir to combine.
Transfer mixture to a greased baking dish, top with breadcrumbs and bake for 20-25 minutes until bubbling and brown.