Olay!!! This Shrimp Guacamole with Bacon and Pineapple will become your new favorite spin on classic guac. It's packed with sweet shrimp, tangy pineapple, and lots of salty bacon. Addictive!
Sorry, totally unnecessary, but I can't stop saying it. Anytime one of my friends posts a Mexican blog post, all I want to do is shout Olay! from the rooftops while I simultaneously snap my fingers like the guy in those El Paso commercials – does he do that or am I creating a fictitious scene in my head?
Anyways. All this Mexican food is making me downright giddy. Rightfully so, because how could you not get excited about things like Tequila Lime Chicken Fajitas or Dulce De Leche Churro Donuts, or Baked Horchata Glazed Donuts, or Classic Chilli con Carne or Loaded Pulled Pork Sweet Potatoes with Mango Guacamole or or or so many other things. All I want to do is dive head-first into each post, but my computer screen kind of gets in the way.
I had all my posts planned out for this week a month or so ago, because, A. I'm a planner, and B. I get really excited for Cinco De Mayo, but my carefully thought out plans were revised Saturday night after a run-in with a rather strong tequila old fashioned and a very inventive guacamole.
Normally Kevin and I are hole-in-the-wall Mexican type of people – our favorite restaurant isn't anything fancy, in fact, it's quite the opposite, but the margaritas are strong and the salsa is spicy (and free) so more times than not our hole-in-the-wall wins out. Once in a blue moon I convince my set-in-his-ways husband to venture out, because even though I absolutely adore my hole-in-the-wall, I like a change of pace every once in a while.
So when Kevin sheepishly mentioned a trip to our Mexican "spot" Saturday night, I casually mentioned another, slightly fancier (ok a lot fancier) Mexican spot – one where the salsa and chips are not free and the margaritas aren't on tap, something that completely pisses Kevin off (the lack of free salsa, not the lack of a margarita tap). Imagine my surprise when he agreed instantaneously – que shrill squeals of excitement.
Our night started off with a hour and half wait, a Mexican beer for him, the aforementioned tequila Old Fashioned for muah and a shared order of the guacamole of the day. BUT this guac was not just any guacamole, it was chock full of crispy, salty bacon, sweet pineapple, and plump, juicy shrimp – and it was HOT. Such an odd combination, but seriously so delicious — I vowed then and there that I would recreate it, and share it here with you.
I'm not sure how they made their version, but I started out by browning the bacon up, and then used the hot pan and some of the leftover fat to get a nice sear on chili dusted pineapple and shrimp — it's amazing how a little spice and bacon grease can really take an ingredient from good to oh-my-gosh-why-have-I-not-been-eating-it-this-way-my-whole-life good. The rest is pretty simple, I mashed the avocado up, leaving it pretty chunky and gently tossed it with the caramelized pineapple, plump shrimp and crispy bacon. I seasoned it simply with a little bit of salt, cumin powder and lemon juice. I like to use lemon juice for a couple of reasons: 1. Because that's what Ina does, and I've fallen in love with it. 2.Because apparently there's a lime shortage, so consequently all limes are crazy expensive and also hard as rocks. I learned that the hard way, when I overlooked the price and decided to grab a few anyways, I think I might have gotten a teaspoon of juice out of three limes — never again.
Of course I reserved a small handful of chopped bacon, pineapple and shrimp for garnish, because as Ina says if you can, have the the ingredients on display so people know what they're eating — kind of genius, who wouldn't want to eat guacamole topped with copious amounts of bacon, shrimp and pineapple??
No one, that's who.
Stayed tuned on Friday for another Cinco De Mayo recipe that rhymes with schmilada. Shocking, I know. This one is gonna be good though, five ingredients, no rolling and SO easy!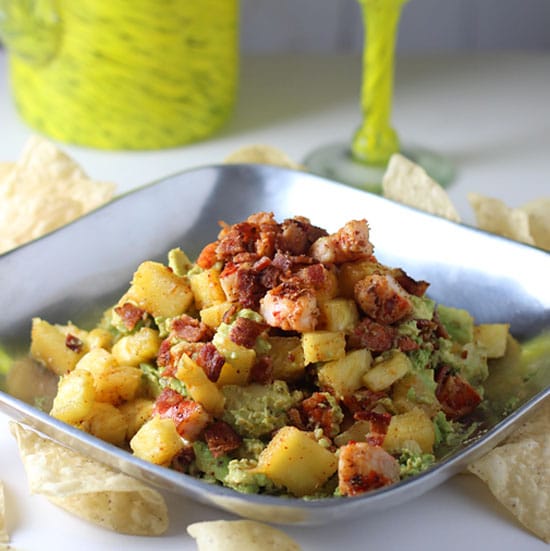 Shrimp Guacamole with Bacon and Pineapple
This Shrimp Guacamole with Bacon and Pineapple will become your new favorite spin on classic guac. It's packed with sweet shrimp, tangy pineapple, and lots of salty bacon.
Ingredients
2

large

avocado, peeled, seeded

4

slices

bacon

1/2

cup

diced pineapple

10

medium

shrimp, peeled and deveined

1

tsp

chili powder

1

jalapeno, finely diced

1/4

tsp

kosher salt

1/2

tsp

cumin

juice of 1/2 lemon
Instructions
Heat a large skillet to a meduim heat. Add bacon and cook until crisp. Cool and chop into small pieces. Reserve 1 tablespoon grease. 

Dust pineapple and shrimp on both sides with chili powder. Season with a little bit of salt. Over medium-high heat sear shrimp in remaining bacon fat until bright pink. Remove from pan, and chop into bite-size pieces. 

In a bowl, slightly mash avocado. Add ¼ teaspoon salt, cumin lemon juice and jalapeno. Gently toss in shrimp, pineapple and bacon – reserve a little bit of each for garnish. Season to taste with salt, cayenne and lemon juice if necessary.
Nutrition Information
Serving:
1
serving
,
Calories:
187
kcal
(9%)
,
Carbohydrates:
8
g
(3%)
,
Protein:
5
g
(10%)
,
Fat:
16
g
(25%)
,
Saturated Fat:
3
g
(19%)
,
Cholesterol:
35
mg
(12%)
,
Sodium:
284
mg
(12%)
,
Potassium:
386
mg
(11%)
,
Fiber:
5
g
(21%)
,
Sugar:
2
g
(2%)
,
Vitamin A:
231
IU
(5%)
,
Vitamin C:
14
mg
(17%)
,
Calcium:
24
mg
(2%)
,
Iron:
1
mg
(6%)