Tiramisu pancakes are for those Saturdays or Sundays when you want something a little bit more special, but still want easy and breezy. Coffee-flavored pancakes are stacked in threes, dolloped with a sweet vanilla mascarpone and then drowned in pure maple syrup, chocolate shavings and a sprinkling of cocoa powder.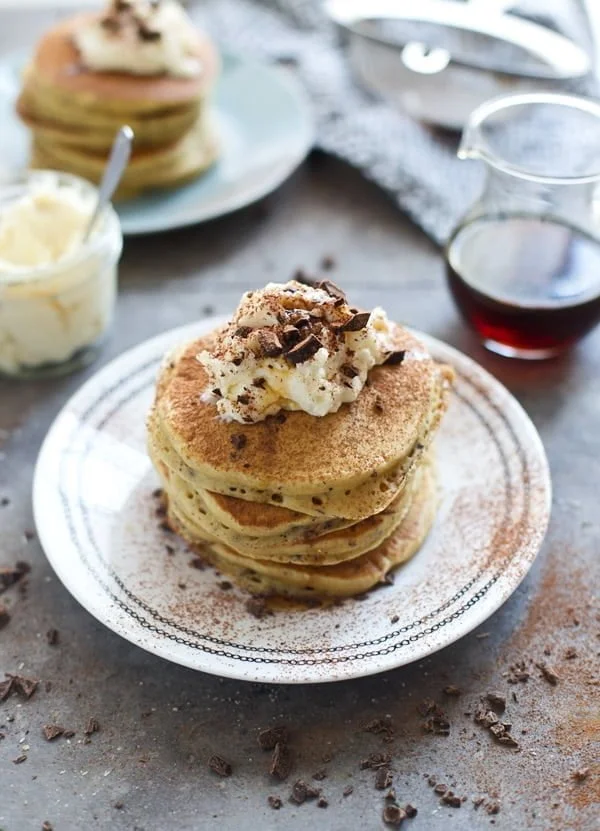 There isn't a day that goes by that I don't eat breakfast, it's just one of those things I need to get my day started, and also, I'm freaking hungry when I wake up. The people that skip it, baffle me, and the people that skip it and go straight to coffee baffle me even more, because if I did that I'd be so hyped up on caffeine on an empty stomach that my hands would be shaking uncontrollably and my brain would be going a million miles a minute –not in a helpful way.
Admittedly, my average daily breakfast doesn't typically include Tiramisu Pancakes, because if it did, I probably would have to give it up in lieu of a more trim figure, but thankfully, that's what weekends were invented for, at least that's what my weekends were invented for.
Pancakes on Saturday or Sunday have become sort of a tradition in our household. They're Kevin's favorite breakfast food and were one of the first breakfast items besides scrambled eggs that Teddy could eat, so it just made sense to repetitively serve them – and the tradition has stuck. I don't typically stray too far from a classic buttermilk pancake, because one of the boys in my life (Kevin), tends to favor the basics, but every once in a while, a little fanciness is required.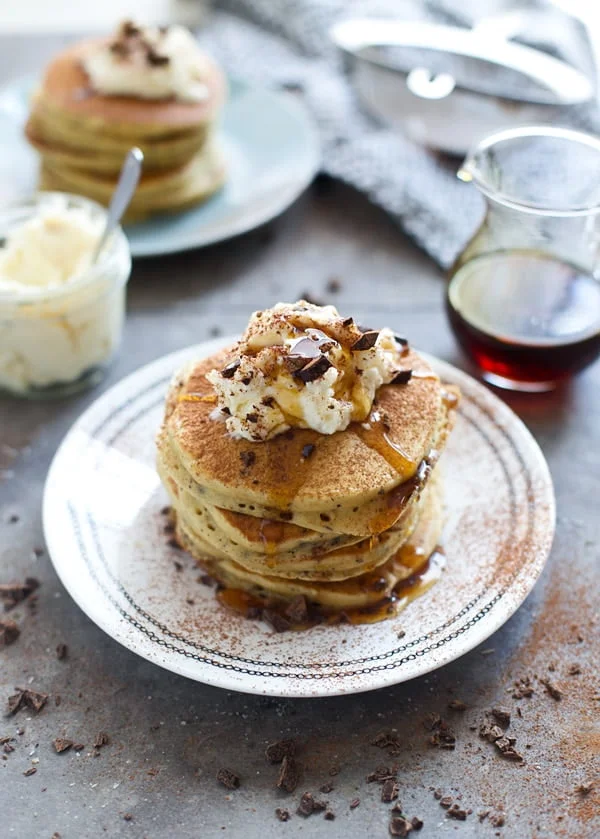 Even as a self-confessed salty fanatic, I can appreciate a good dessert, and one of my favorites because of it's perfect balance of sweetness and lightness, is tiramisu. It's one of those desserts that is rich, but not heavy, sweet, but not cloyingly so, and is just kind of flawless, in my opinion. I think the addition of coffee is a major contributing factor as to why I love it so much, and when I think coffee, I think breakfast, and when I think breakfast, I think pancakes, and so, Tiramisu Pancakes were born.
Coffee-flavored pancakes are stacked in threes, dolloped with a sweet vanilla mascarpone and then drowned in pure maple syrup, chocolate shavings and a sprinkling of cocoa powder. If you want to go even further, you could use espresso maple syrup, but I found that they tasted eerily similar to a classic tiramisu without it.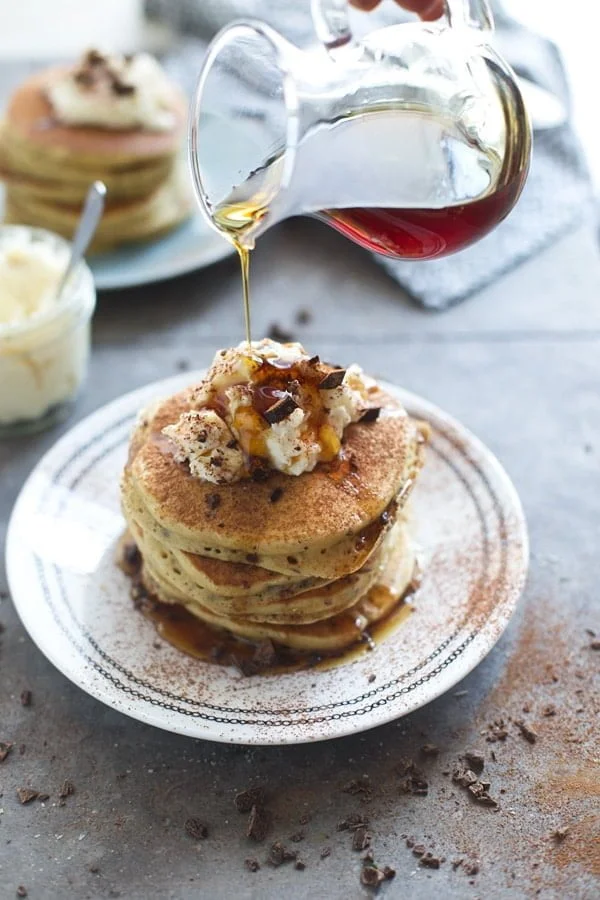 The batter is a very liberal adaptation of this buttermilk pancake recipe we use every weekend, except I cut back on the amount of buttermilk, added in some strong coffee, as well as some coffee extract (this brand
is my favorite), and some finely chopped dark chocolate.
The mascarpone "filling" or topping is simple: mascarpone, vanilla and powdered sugar. Whisk the ingredients together, and try not to eat it by the spoonful…
After I cook each batch of pancakes up, I keep them warm in a 250 degree oven, so they can all be assembled and devoured at once. Each stack of pancakes gets dolloped with a generous portion of the mascarpone, some chocolate shavings and a dusting of cocoa powder.
While this is going to be our breakfast this weekend, it could just as easily be your dessert tonight…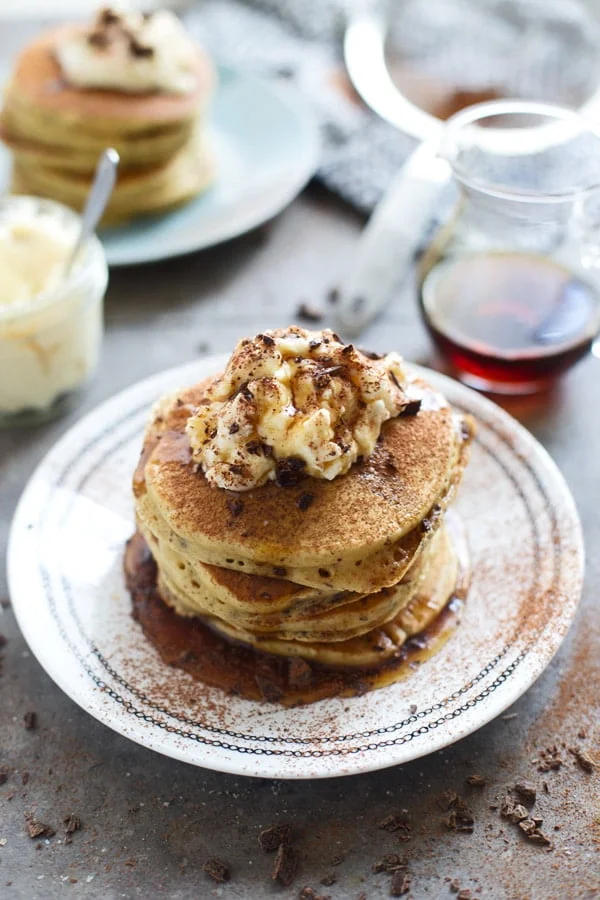 Tiramisu Pancakes
Ingredients
2 cups all-purpose flour
2½ tsp. baking powder
½ tsp. baking soda
3 Tbsp. sugar
1½ cups buttermilk
½ cup strong coffee
2 tsp. coffee extract
2 tsp. + ½ tsp. vanilla extract, divided
2 eggs
3 Tbsp. unsalted butter, melted
½ cup finely chopped dark chocolate, divided
8 oz. softened mascarpone cheese
2 Tbsp. powdered sugar
Cocoa powder for garnish
Maple syrup for drizzling
Instructions
Preheat oven to 250 degrees.
Whisk flour, baking powder, baking soda and sugar together in a large bowl.
Measure buttermilk in a large measuring cup, add coffee, coffee extract, 2 tsp. vanilla and eggs. Whisk until combined. Add to flour mixture along with melted butter and ¼ cup of chopped chocolate. Whisk just until combined. DO NOT OVER MIX! Let the batter sit for five minutes.
Add mascarpone, powdered sugar and remaining vanilla to a small bowl. Whisk until combined.
Heat a non-stick skillet or griddle pan to a medium heat. Spoon ¼ cup of batter on to griddle. Pour as many as will fit on the griddle. Cook until the edges turn golden brown and bubbles come to the top of the batter, flip and cook another 1-2 minutes. Add cooked pancakes to a baking sheet and keep warm in the oven.
Once all of the pancakes are cooked, stack three on each plate. Top with ¼ of the mascarpone. Sprinkle with chopped chocolate and dust with cocoa powder. Serve with maple syrup.