At the moment, if I could pick any "healthy" food to eat for the rest of my life it'd be a tie between avocado toast covered in chopped hard-boiled eggs, garlic and salt, these coconut-crusted mahi mahi sliders or today's ham and pineapple fried "rice". Although next week, it might be a tie between baked flautas, healthy enchiladas or skinny margaritas – all ideas floating around in my head for a certain Mexican holiday coming up in the very near future.
I can't believe it's taken me so long to make this "fried rice", as it's been sadly staring back at me from the pages of my food journal for over a year now just begging to be brought to life. I always overlooked it, thinking it wasn't "fancy" or "inventive" enough – that's the thing with blogging, I used to always (and sometimes still) second-guess myself. Will people actually like this?? Is it too simple? Too complicated? Too trendy? Not trendy enough? It can be a constant battle. After almost two years of food blogging (anniversary is in a few short weeks!), in the last year, and especially in the last six months, I've realized to heck with it! If I like it, and am passionate about it, others will be too.
Annnnddd I digress…
This not a traditional fried rice by any means, and that's for a couple of reasons.
1. Nutty farro is used to replace rice
2. There's very little oil used to "fry" the rice
3. Pineapple and ham are studded throughout
4. Instead of using only sesame oil and soy sauce to make the "rice", I actually made a sauce very reminiscent to a homemade hoisin sauce.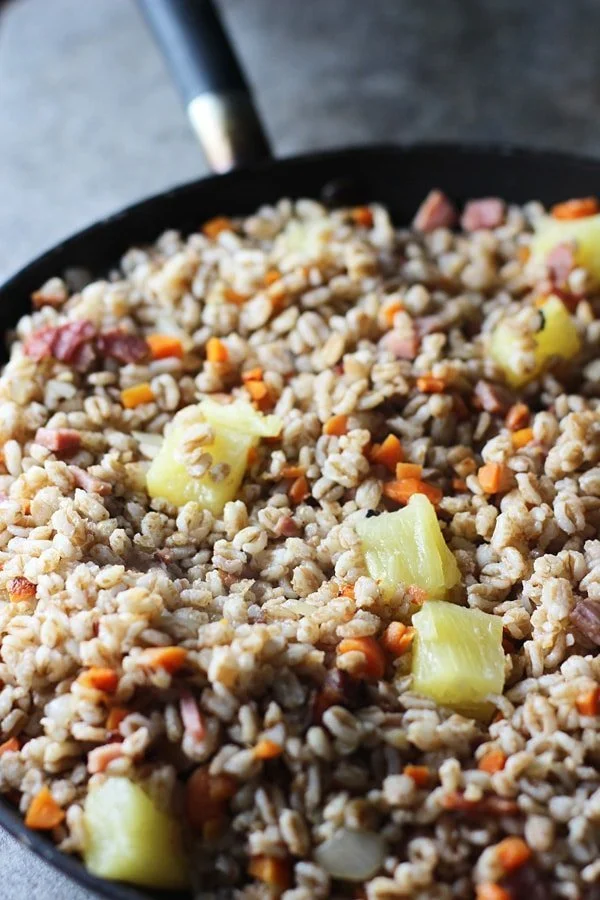 To me, farro is the new quinoa, I love the nutty taste, and toothsome texture it has, and it actually mimics rice perfectly in this recipe. I used the 10-minute farro from Trader Joe's which couldn't be any easier – literally just throw it in a pot with some water and salt, put it on a flame, bring to a boil, reduce to a simmer and viola, cooked farro. What I really love is you don't have to perfectly measure the water out like you do with rice or quinoa — something I have yet to master, and something that without fail, prompts me to yank my hair out in a perturbed, child-like manner. You know what I'm talking about, if there's too much water, the rice will be gummy; if there's not enough, the rice will never finish cooking and stick to the bottom of your pan. It's completely exhausting. I've even tried to convince Kevin that we need a rice maker – shockingly, he's not having it. Cue the child-like behavior again…

Now, the two elements that take this healthy fried rice from ordinary to where-has-this-been-my-whole-life? The pineapple, ham and sauce – which I guess if we're splitting hairs is actually three elements, but I count the ham and pineapple as sort of Siamese fraternal twins – you can't have one without the other.
The ham/pineapple combination is a riff on my very favorite fried rice that comes from a chain sushi restaurant (I know, I know, a chain, really? Sorry, just trust me.) Kona Grill. Do you have one in your area? Waaaayyy back in the day, there weren't many sushi restaurants in Kansas City, so Kona was our go-to spot, every once in a while I'd forgo the sushi and get these ah-mazing tacos with the MOST delicious fried rice I've had to this day. It was sticky, SO flavorful and was chock full of tiny pieces of chopped ham, pineapple and shrimp. There was something about the sweet pineapple, savory ham and rice combination that I couldn't get enough of – still can't.

Read more»