Healthy Chicken Spaghetti is an updated version of my favorite cheesy chicken spaghetti from childhood, and SO delicious! Instead of using canned cream of mushroom, I make an easy homemade version, and mix it with sautéed veggies, whole-wheat spaghetti, plenty of shredded chicken, and of course, lots of cheese. The perfect back-to-school meal!
I just love lightening up comfort foods, and while this has quickly become one of my favorites, I also don't want you to miss this Healthier One Pot Spaghetti and Meatballs, this quinoa fried rice, and these Turkey Meatball Burger Melts.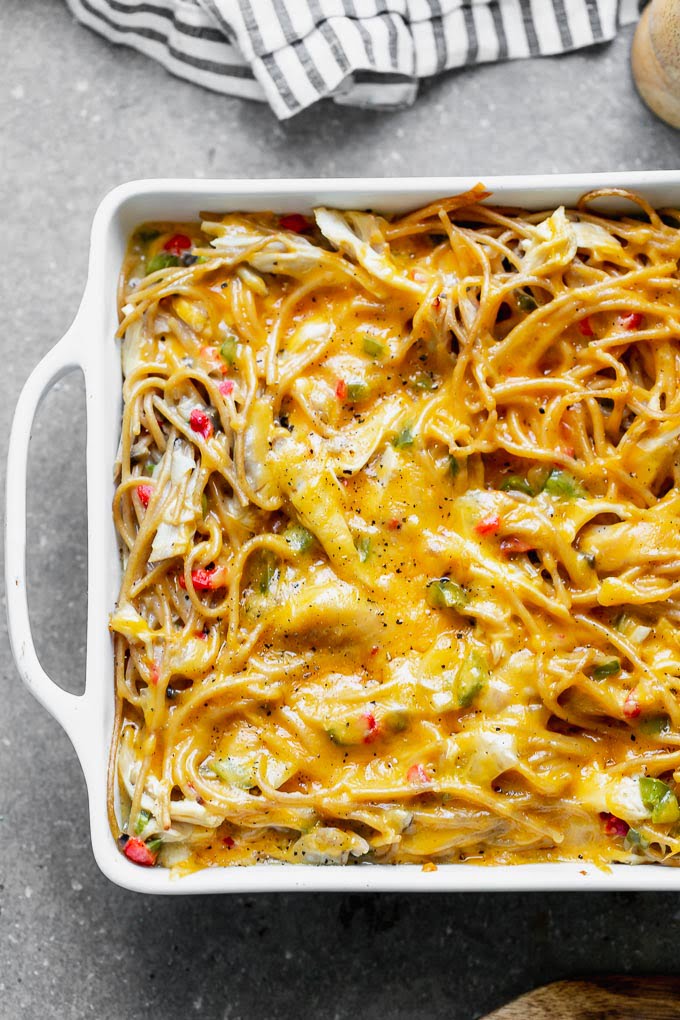 Your childhood is calling you back home with today's Healthy Chicken Spaghetti.
Well, at least it's calling me back home.
Cheesy chicken spaghetti was my FAVORITE comfort food growing up (well that and this creamy chicken noodle soup), and is still something I crave every once in a while as an adult. I think everyone had their own version, but ours was simple. Cooked spaghetti noodles were tossed with canned cream of mushroom, TONS of velveeta cheese, pimentos, chicken stock, and of course, plenty of chicken. The end result was the most delicious, cheesy, creamy baked spaghetti, that I would completely devour.
Even though my Mom was mostly a from-scratch cook, this was one of those dishes that was always made with canned cream of mushroom soup, which at the time, I loved. Now, not so much. I do my best to cook with non-processed foods these days, and making a homemade version of cream of mushroom is SO easy, there's really no excuse for reaching for the canned version anymore.

Healthy Chicken Spaghetti
In addition to ditching the canned soup mix, I also did my best to lighten up the dish, without sacrificing any of the comfort I loved so much about the original. Here's what we've got:
A super creamy HOMEMADE cream of mushroom base. This is basically a glorified béchamel, but instead of using all milk, I used a combination of milk and chicken stock, for a lighter creamy sauce.
Plenty of sautéed mushrooms, green bell pepper, and onion. This is just my preferred vegetable combo, but you could also add in chopped red bell peppers. And if you're not into mushrooms, don't worry, you can barely tell they're there. I wouldn't recommend leaving them out, because they do facilitate in a savory, almost umami flavor you can't get with anything else.
Whole-wheat spaghetti. I honestly don't miss the white flour noodles here. Whole-wheat noodles are sturdy, packed with fiber, and I adore the nutty flavor they have.
Shredded chicken. I roasted a chicken the night before, so I used a combination of white meat and dark meat. You can use whatever you prefer. Use leftover chicken, rotisserie chicken, or bake a few chicken breasts and shred later.
Jarred, chopped pimento. This is an ESSENTIAL ingredient. It adds this sweet, irreplaceable flavor I just love.
2% Milk sharp cheddar cheese. When it comes to baking with cheddar cheese, I almost always use a 2% milk variety. I honestly can't taste the difference, and it really reduces the fat, without sacrificing any flavor.
In addition to swapping out the regular noodles for whole-wheat, using 2% milk cheese, and 2% milk in the sauce, I also reduce the amount of butter used by about half. I sautéed the veggies in a little bit of olive oil as well to add in a little bit more heart-healthy fat. Everything is all-around good here!
How to make Homemade Cream of Mushroom
Start by sweating diced green bell peppers, onions, and mushrooms in a little bit of butter and olive oil. Once they're slightly soft, whisk in a few tablespoons of flour. This is what's going to help the sauce thicken and mimic the texture canned cream of mushroom has.
Once the flour has cooked out a bit, SLOWLY whisk in milk and chicken stock. I like to remove the skillet from the heat completely, so there's less chance of lumps in the final product. By adding the liquid to the flour and butter mixture (or the roux) slowly, you help create a really smooth sauce.
Next, bring the mixture to a boil and let it simmer for about seven or eight minutes until it's super thick. Season to taste and set aside.
How to make Healthy Chicken Spaghetti
So you've made your sauce, now it's time to assemble everything, which is really all this is from here out.
Add noodles back to the large pot you cooked them in.
Mix in sauce, pimentos, shredded chicken, a little bit more chicken stock, and 3/4 of the cheese. Stir until it's all combined.
Pour into a greased baking dish and then cover with more cheese.
Bake until hot and bubbly.
What kind of baking dish should I use?
I used a square 10×10 baking dish, but you could also use a 9×12 baking dish. Just keep in mind it won't stay as creamy, and there will be more surface area for crispy pasta. Some people love it this way!
Can I make this in advance?
Yes! Instead of baking it, just cover with foil and store in the fridge until you're ready to bake. I would recommend leaving the cheese off until you're ready to bake, but if you're bringing it to a friend's house, feel free to keep the cheese on.
Is this good leftover?
Oh my gosh, YES! So good. Even better, almost.
Variations on healthy chicken spaghetti
Even though my suggestions will deviate from the original flavor I was intending, they're still options if you love chicken spaghetti, but want something a little bit different.
I like to throw in a splash of dry sherry for a sort of tetrazzini-like flavor.
Double or even triple the amount of veggies and leave out the chicken altogether.
Again, double the amount of mushrooms and swap out the cheddar cheese for Swiss or gruyere.
Add in a can of rotel tomatoes and chopped pickled jalapeños for a fiery kick.
Where should I get shredded chicken?
So you can do a couple of things here. Buy a rotisserie chicken, shred it, and keep the leftovers for something else. Roast a chicken bread with a little bit of olive oil, salt and pepper. You can use leftover chicken. Or you can make a big batch of this Crockpot Shredded Chicken at the beginning of the week and use it for this recipe and whatever else you need it for later in the week.
What if my sauce doesn't thicken up enough?
If your sauce doesn't thicken up enough, whisk a few more teaspoons of flour in with cold water or chicken stock. Whisk it into the sauce and then bring it to a boil again and simmer until thickened.
I don't like mushrooms, do I have to add them?
I'm going to say yes. I PROMISE you won't really taste them, but it adds more veggies, and really flavors the cream sauce so it mimics that cream of mushroom taste. You won't regret it!
Substitutions and Tips and Tricks for Recipe Success
Use whole milk, skim milk or even half and half in place of 2% milk
If you don't care about making it lighter, you can use regular spaghetti and full-fat cheese. Again, I used to make this with velveeta and it was DELISH.
Make sure to cook your noodles just UNDER aldente. You want them to be slightly less than aldente because they will continue to cook when you toss them with the sauce and also while it's baking.
Season as you go! This is so so important. Season the veggies, the sauce, and the final product before transferring to the baking dish.
Healthy Chicken Spaghetti
Healthy Chicken Spaghetti is an updated version of my favorite cheesy chicken spaghetti from childhood, and SO delicious! Instead of using canned cream of mushroom, I make an easy homemade version, and mix it with sautéed veggies, whole-wheat spaghetti, plenty of shredded chicken, and of course, lots of cheese. The perfect back-to-school meal!
Ingredients
3/4

lb

whole-wheat spaghetti

1

tbsp

olive oil

2

tsp

unsalted butter

1

cup

diced green pepper

1

cup

diced onion

1

cup

diced mushroom (any kind)

1

tsp

salt, divided

3

tbsp

all-purpose flour

1 1/2

cups

low-sodium chicken stock

3/4

cup

2% milk

4

oz

jarred pimentos, drained

2

cups

shredded 2% milk sharp cheddar cheese, divided

1/2

tsp

garlic powder

3/4

cup

pasta water

2

cups

shredded chicken
Instructions
Preheat oven to 375 degrees. Grease a 9x9 square baking dish with non-stick cooking spray. Bring a large pot of water to a rolling boil. Season with salt. It should taste as salty as the sea.

Heat a large skillet to a medium heat. Add olive oil and butter. Add peppers, onions, mushrooms and 1/2 teaspoon salt. Sweat vegetables until slightly softened, about 3-4 minutes.

Whisk in flour, cook for 1 minute. Remove the pan from the heat and SLOWLY, whisk in chicken stock, making sure there are no lumps. Whisk in milk. Bring the mixture to a boil, and reduce to a simmer. Simmer until thickened, about 7-8 minutes. Set aside.

While the sauce thickens, cook the pasta until just under aldente. (It will continue to cook later.) Reserve 1 cup of the pasta water and drain the pasta and remaining water.

Add the spaghetti back to the pot along with the sauce, pimentos, 1 1/2 cups of cheese, remaining 1/2 tsp. salt, garlic powder, reserved pasta water, and chicken. Use tongs to toss the ingedients until combined. The cheese should be completely melted. Season to taste with salt and pepper.

Pour the pasta into the prepared baking dish. Cover with remaining 1/2 cup of cheese. Bake until cheese is melted and pasta is hot and bubbly, about 15-20 minutes. Let it set for a few minutes before serving.
Tips
Can also be made in a 9x12 baking dish if you want more crusty noodles on the outside. 
Nutrition Information
Serving:
1
serving
,
Calories:
326
kcal
(16%)
,
Carbohydrates:
40
g
(13%)
,
Protein:
25
g
(50%)
,
Fat:
9
g
(14%)
,
Saturated Fat:
3
g
(19%)
,
Cholesterol:
37
mg
(12%)
,
Sodium:
522
mg
(23%)
,
Potassium:
382
mg
(11%)
,
Fiber:
1
g
(4%)
,
Sugar:
3
g
(3%)
,
Vitamin A:
572
IU
(11%)
,
Vitamin C:
29
mg
(35%)
,
Calcium:
173
mg
(17%)
,
Iron:
3
mg
(17%)