This Healthy Chicken Piccata Recipe will quickly become your new favorite weeknight dinner! Thin chicken breasts are sautéed in butter until crusty and golden brown, then smothered in a zippy lemon and white wine butter sauce. Easy, light and so delicious!
For more easy chicken dinners, be sure to check out this Crispy Chicken Piccata, this Chicken with Roasted Fennel and Apple Brandy Sauce, or this Creamy Lemon and Mushroom Chicken.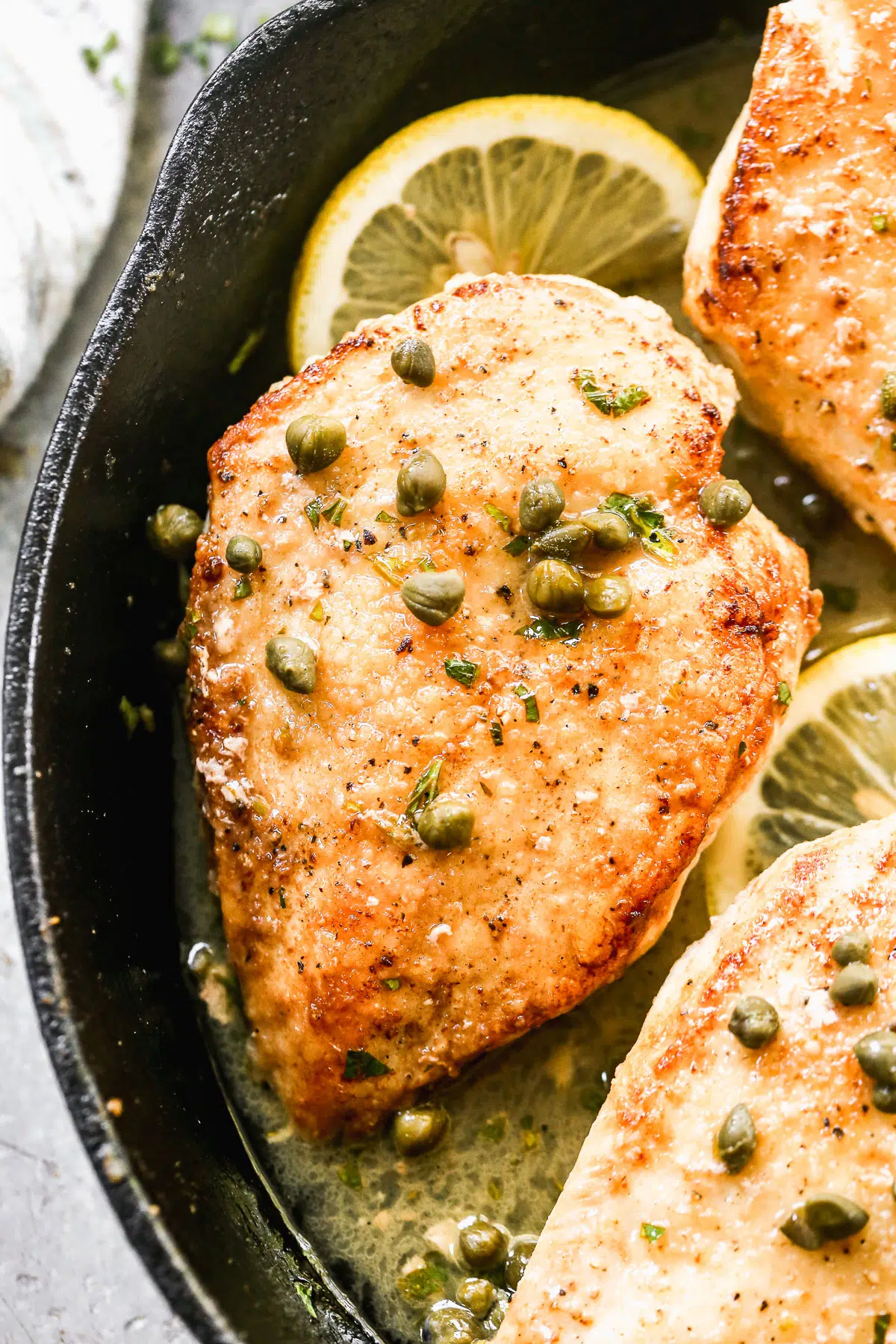 Healthy Chicken Piccata Recipe
There's something about coming home after a long day of work, pulling out my cutting board, a knife and a sauté pan that instantaneously starts to relax my million-miles-a-minute mind. Once I begin cooking, I'm completely at ease. I'm not thinking about the latest crisis at work. I'm not thinking about how I haven't had a chance to maximize social media to its full potential. And I'm definitely not thinking about the laundry piling up at an alarming rate.
Most nights I don't care if it takes an hour to get dinner on the table, because I thoroughly enjoy the process. Kevin also prefers to eat later in the evening after he's decompressed for a little while, so it works out well. On the occasion that I DO need to get dinner done in a flash, easy meals like our Healthy Chicken Piccata Recipe can be a total life saver.
Our version of chicken piccata while simple, is bursting with flavor. From the reduced buttery lemon sauce to the simply pan-seared chicken breasts, every bite packs in a punch. Adding in briny, salty capers at the end are a bright lovely flavor bomb and a sprinkle of parsley bring a bit of freshness.
While chicken piccata isn't necessarily something I'd normally think to share here since it's my I've-got-nothing-in-the-pantry dinner, I've had several requests for slightly easier, lower ingredient recipes (for more 5-ingredient recipes, check out our archives) and I'm happy to oblige.
Oftentimes when the word easy and five ingredient get thrown around, it's automatically assumed the recipe isn't worthy of a more upscale dining experience, but that doesn't have to be the case. While humble in its ingredient list and preparation, this is totally worthy of your family dinner table any day of the week. And – in my opinion – refined enough to serve at a dinner party.
Also, from start to finish, this comes together in about 25-30 painless minutes. Even better, there's only one dish to clean.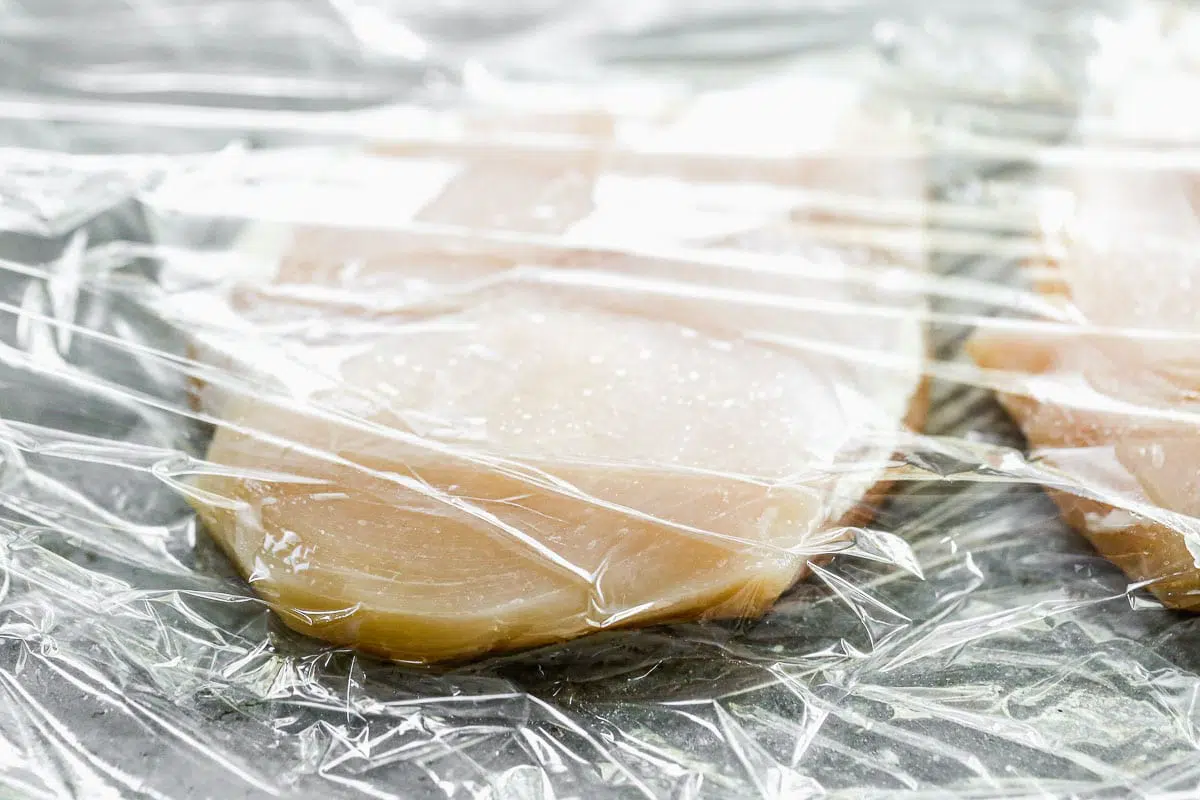 Ingredients in Chicken Piccata
Chicken. I like to use thin cut chicken breasts or chicken cutlets, but you can also buy larger chicken breasts and cut them in half lengthwise so they're thinner. If you want them really thin, place them between two pieces of plastic wrap and pound until until they're your desired thickened.
Flour. This is totally optional but I like the way the flour helps to brown the exterior of the chicken really well. Don't both dirtying up another dish to coat it, simply sprinkle the flour on both sides of the chicken and pat with your hands to evenly distribute the flour.
Butter (A little bit won't kill you). No really, it won't! Butter adds a nice luxurious touch at the end, and I think you'd be remiss to leave it out.
Dry white wine. (Can be substituted for chicken stock if you don't drink.) Really any dry white wine will do. Just don't use a Riesling or anything too sweet.
Lemon. Lemon juice is a key component in Healthy Chicken Piccata.
Capers. Another key ingredient. I LOVE capers and they really add a nice salty, briny bite to the chicken piccata but if you don't love them, you can add a little bit less.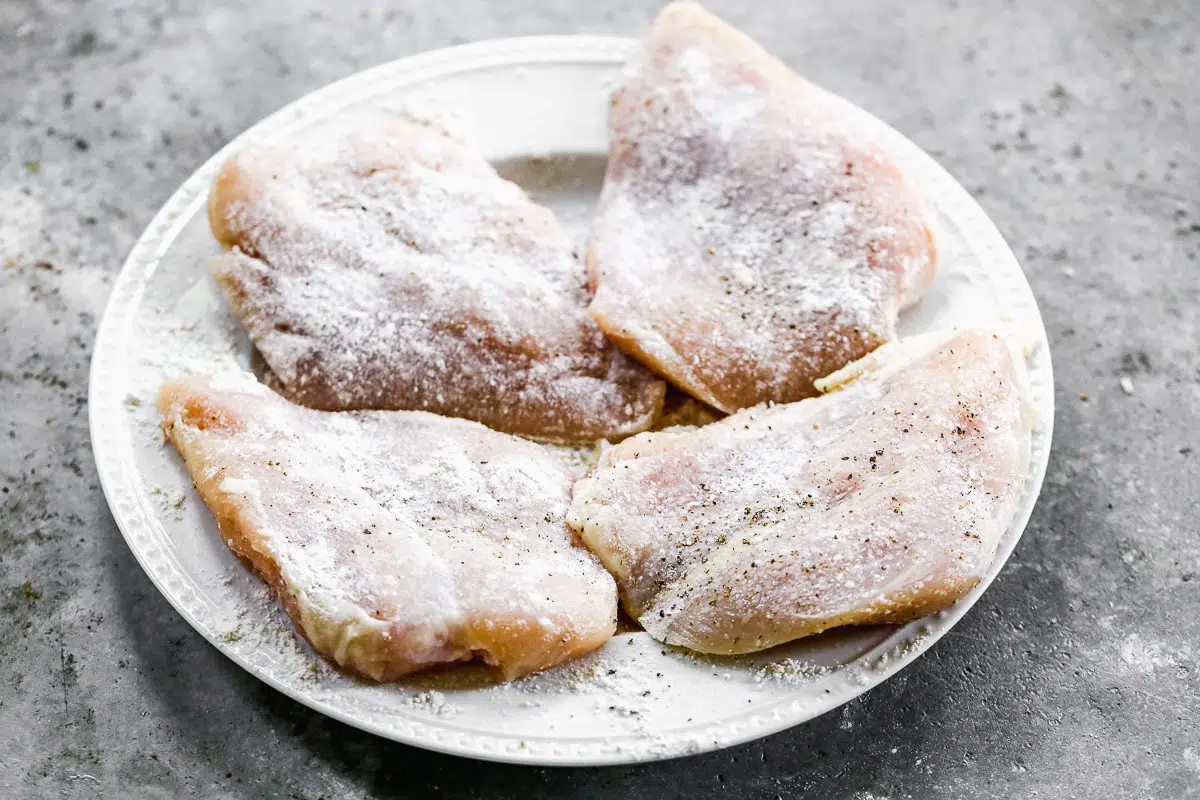 How to make Chicken Piccata
Season the chicken. This is a REALLY important step. Because there's only five (six or seven if you use flour and parsley) ingredients, each layer needs to be optimally seasoned. Season both sides liberally with salt and with a little bit of freshly cracked black pepper.
Cook the chicken. Add the butter to a pan set over a medium-high heat. Once it's melted, add the chicken and brown on both sides. Because we are using thin chicken breasts, they should cook relatively fast, about 3-4 minutes per side. But! Don't worry if the chicken isn't cooked all the way through, it will simmer in the sauce for another minute or two at the end.
Make the sauce. Remove the chicken from the pan and while the pan is still hot, add the white wine. Scrape up the brown bits at the bottom of the pan. Bring the mixture up to a boil and then reduce to a simmer, let the wine reduce.
Add the lemon juice is next! Simmer again. Turn the heat down to low and whisk in the butter for a velvety finish. Season to taste with salt and pepper.
Finish cooking the chicken. Add the chicken back to the sauce and continue to simmer until you're chicken is cooked all the way through. If you're nervous, use an instant-read thermometer, the temperature should be 165 degrees. Garnish with capers and parsley. Serve!
Substitutions and Tips and Tricks for Recipe Success
As we mentioned before, make sure you season the chicken with plenty of salt and pepper. Also be sure to taste the sauce for seasoning after you add the butter. It's really important every step be seasoned well since there are so few ingredients.
Slice a few lemons to serve with the chicken. It adds another punch of citrus, but also looks really pretty.
If you want the chicken a little bit crispy, try coating it in a little bit of flour before searing.
For an even more luxurious sauce, pour in a splash of cream.
If you want to bump up the veggie factor and make this Healthy Chicken Piccata even healthier, throw in a few handfuls of baby spinach.
What to serve with Chicken Piccata
Tools/Pretty things used in today's post
Healthy Chicken Piccata Recipe
This Healthy Chicken Piccata Recipe will quickly become your new favorite weeknight dinner! Thin chicken breasts are sautéed in butter until crusty and golden brown, then smothered in a zippy lemon and white wine butter sauce. Easy, light and so delicious! 
Ingredients
4

small

chicken breasts (about 6-8 oz each)

4

tbsp

unsalted butter

1/4

cup

all purpose flour (optional)

3/4

cup

dry white wine

2

tbsp

lemon juice

1 1/2

tbsp

capers

chopped parsley (optional)
Instructions
Slightly pound out chicken breasts so they are an even thickness and about 1/2-inch thick. Season liberally with salt and pepper.

Sprinkle the chicken with flour. Flip and sprinkle the other side with flour. Use hands to pat the flour into the chicken.

 In a large saute pan, heat 2 tablespoons butter over a medium-high heat. Once butter has melted, swirl the pan and add the chicken breasts. Cook without disturbinguntil golden brown. About 3-4 minutes. Flip over and do the same on the other side. Remove chicken from pan and transfer to a plate. Tent with foil. Don't worry if the chicken is not cooked through, it can simmer in the sauce later.

Reduce the heat to medium and add in white wine, scraping up brown bits on the bottom of the pan with a wooden spoon. Bring to a boil and reduce to a simmer. Simmer until reduced by half. Add lemon juice, simmer another 1-2 minutes. Turn the heat down to low and whisk in butter 1/2 tablespoons at a time. Add chicken back into sauce along with any accumulated juices and simmer a minute or two or until the chicken reaches 165 degrees on an instant read thermometer. Sprinkle with capers. Garnish with parsley if using.
Nutrition Facts
Healthy Chicken Piccata Recipe
Amount Per Serving (1 serving)
Calories 397
Calories from Fat 153
% Daily Value*
Fat 17g26%
Cholesterol 175mg58%
Sodium 349mg15%
Potassium 880mg25%
Carbohydrates 2g1%
Protein 48g96%
Vitamin A 422IU8%
Vitamin C 6mg7%
Calcium 20mg2%
Iron 1mg6%
* Percent Daily Values are based on a 2000 calorie diet.
(Visited 116,408 times, 71 visits today)