This Shrimp Alfredo (5 Ingredients!) is THE BEST Alfredo you'll ever taste. It's a cinch to make, takes under 30 minutes and tastes even better than anything you'll find at a restaurant. All you need is fettuccine noodles, heavy cream, good parmesan cheese, shrimp, and a little bit of butter!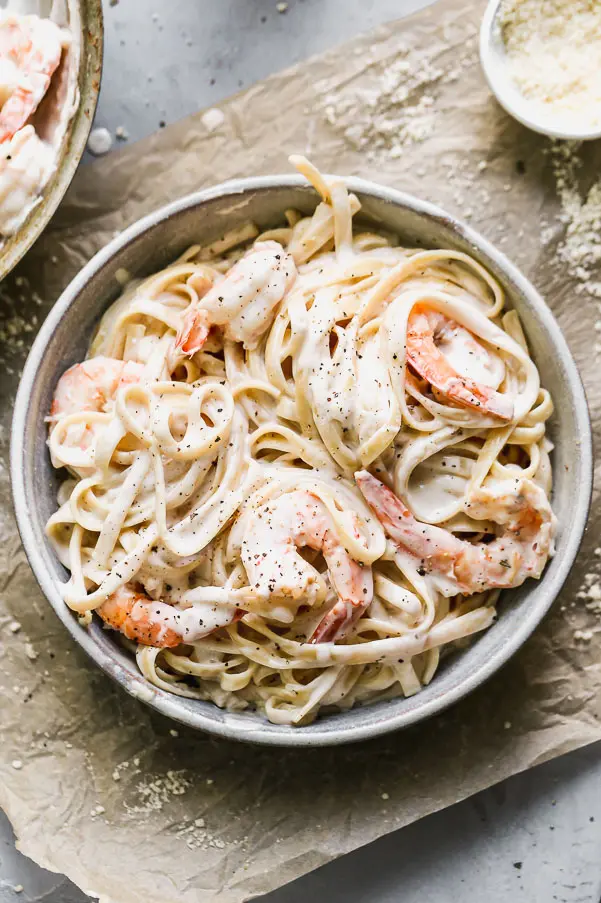 Shrimp Alfredo
As a kid, there was one dinner meal I requested more than any other – shrimp alfredo.
The infatuation began when I was seven or eight years old and I first twirled my fork around a bowl-full of long noodles drowned in creamy white sauce at the Olive Garden. I inhaled my kid-sized portion in record time, after-which I basically licked the plate clean and from then on, I begged my parents to take me back more often than I care to admit.
As I got older, I lost the love for Olive Garden's version because I tried it at a real Italian restaurant (oh my gosh, so much better), and then later had my Mom's version on a semi-regular basis. Her take on it, based off of a Martha Stewart recipe while still not waist-cinching, was much lighter than my favorite restaurant version. Instead of the noodles swimming in a puddle of sauce, the sauce actually blanketed the noodles in a perfect ratio. Also, she used half and half instead of heavy cream, and on top of that, used parmigiano reggiano, which packs a much more pungent flavor per ounce than a typical block of parmesan cheese.
I find when I'm craving alfredo sauce, but want something a bit lighter, I'll go for my Mom's version, but when I'm not counting calories in the least, like today, I'll throw caution to the wind and make a version somewhere in the middle of hers and the restaurant version swimming in sauce.
Guys. This is the BEST shrimp Alfredo you will ever make. Promise. It's creamy and rich, but not overly so. It's cheesy, packed with flavor and only FIVE ingredients. Skimp the shrimp and serve plain. Grilled up some chicken to serve with it. Anything goes.
Ingredients in 5-Ingredient Shrimp Alfredo
Butter. I use an unsalted butter to cook the the shrimp and then use a little bit in the Alfredo sauce.
Shrimp. Of course you can't have Shrimp Alfredo without shrimp, and I like to buy shrimp that's already peeled and deveined. You can buy whatever size you want, but I'm partial to a large or jumbo-sized shrimp since they curl up smaller when they cook. Also, it's totally up to you if you want to leave the tail on take them off. I think it's prettier to leave them on, but it's obviously more practical to take them off.
Fettuccine. Any brand of fettuccine will work!
Heavy cream. While I still keep the sauce to pasta ratio in check in this version, I don't hold back on the heavy cream. You really need heavy cream to make the sauce feel luxurious, plus it thickens up beautifully when tossed with parmesan cheese.
Parmesan cheese. I find that parmigiano reggiano doesn't mimic the subtle, yet cheesy flavor restaurant Alfredo sauce has, so I go with the cheaper stuff. And I can't believe I'm saying this, but good-quality pre-shredded parmesan cheese is fine, just don't get the grated kind in the green can.
How to make Shrimp Alfredo
Cook the shrimp. You could simply make fettuccine alfredo, but why would you, when you can make shrimp Alfredo? For something a little more special, I like to roast a good amount of shrimp while the sauce comes together and the pasta cooks. I just take about a pound of peeled deveined shrimp, toss them in a touch of melted butter, season them with salt and pepper and then quickly roast them in the oven until they're pink and cooked through.
Be sure to use large or jumbo shrimp. I also like to buy easy peel shrimp that are already deveined. All you have to do is peel off the skin and season.
Make the sauce. Once the shrimp are cooked, remove them from the pan. Melt a few tablespoons of butter in the same saucepan, add in heavy cream. Use a wooden spoon to scrape up any brown bits that accumulated during the cooking process of the shrimp. Bring to a boil and reduce to a simmer until the cream has thickened and reduced just a touch.
Cook the pasta. While the cream and butter thicken, drop the fettuccine into a large pot of boiling, salted water. Cook until aldente.
Add in the cheese. Turn the heat down to low on the cream and butter and add the cheese slowly while whisking until the sauce is creamy and thick. Season to taste with salt and pepper and you're well on your way to dinner.
Toss them with the finished pasta at the last minute, and dinner is ready to go.
The whole process of making shrimp Alfredo from start to finish takes about 20 minutes, so it's the perfect meal to whip up on a whim.
Substitutions and Tips and Tricks for Recipe Success
Cook the pasta until it's just under aldente. Because the pasta will cook a little bit more in the Alfredo sauce, you want to make sure it's a little underdone so it's perfectly aldente when you serve it.
Swap out the fettuccine for your favorite noodle. Linguine, spaghetti, or penne would be great substitutes. Also, if you want too bump up the fiber a little bit, try swapping out the regular fettuccine for whole-wheat.
Do NOT overcook the shrimp! They will only need a few minutes to cook, as they will continue to cook when you toss everything together.
If you only want to use one pan, cook the shrimp in a little bit of butter before you make the sauce. Remove from the pan and toss everything together at the end.
For more Easy Pasta Recipes, don't miss these!
5-Ingredient Shrimp Alfredo
5-Ingredient Shrimp Alfredo - Yep only five ingredient! Shrimp, fettuccine, butter, cream, and parmesan is all you need to make this creamy, easy pasta dish!
Ingredients
2

tbsp + 2 tsp

unsalted butter, divided

1

lb

25-28 ct. shrimp, peeled and deveined

1/4

tsp

kosher salt

1 1/2

cups

heavy cream

1

cup

shredded parmesan cheese

3/4

lb

fettuccine
Instructions
Bring a large pot of water to a rolling boil. Season with salt, it should taste as salty as sea water. 

Melt 2 teaspoons of butter in a large skillet over a medium heat. Pat shrimp dry and season with salt and pepper.  Add shrimp to the butter. Sear until shrimp are bright pink and curled into a c, it should take about 2-3 minutes.Remove from pan until you are ready to assemble.

Once you remove the shrimp from the pan, add remaining 2 tbsp butter to a large saute pan. Melt over a medium heat. Whisk in heavy cream and salt. Use a wooden spoon to scrape up any bits of brown at the bottom of the pan. Bring to a boil and reduce to a simmer, cook for 3-4 minutes minutes until thickened. 

Add pasta to the boiling water. Cook until aldente. 

Turn the heat on low and slowly whisk in cheese until it's completely melted and the sauce is creamy. Season to taste with salt and pepper.

Once the pasta is done cooking, use tongs to transfer the fettuccine to the sauce. Reserve cooking liquid. Toss the pasta with the sauce until coated. If needed, add a little bit of cooking liquid to get sauce to desired consistency. Don't add too much! Only add about a tablespoon or so at a time, to prevent the sauce from becoming too thin. Season again to taste with salt and pepper. Add shrimp. Toss and serve. 

Garnish with extra parmesan cheese.
Nutrition Information
Serving:
1
serving
,
Calories:
606
kcal
(30%)
,
Carbohydrates:
43
g
(14%)
,
Protein:
31
g
(62%)
,
Fat:
34
g
(52%)
,
Saturated Fat:
20
g
(125%)
,
Cholesterol:
345
mg
(115%)
,
Sodium:
974
mg
(42%)
,
Potassium:
264
mg
(8%)
,
Fiber:
2
g
(8%)
,
Sugar:
1
g
(1%)
,
Vitamin A:
1177
IU
(24%)
,
Vitamin C:
3
mg
(4%)
,
Calcium:
353
mg
(35%)
,
Iron:
3
mg
(17%)