Healthy meets indulgent in this Cheesy Chicken Enchilada Quinoa Bake. Easy to throw together, can be made ahead and a surefire win for family dinners.
Can't stop, won't stop.
Making riffs on classic chicken enchiladas that is.
It's become an insatiable appetite that I can no longer control. How many dishes do you think I can turn into a chicken enchilada?? It started with these Chicken Enchilada Empanadas, next, I went classic with these traditional enchiladas, and then I went way off the beaten path with this Chicken Enchilada Pizza with a Cauliflower Crust. All full of classic chicken enchilada flavors, but all radically different – and today is no exception.
I've wanted to do an enchilada pasta bake for a while to combine my two favorite foods – pasta and enchiladas, but when I spotted tri-color quinoa at Trader Joe's, I decided to abort plan A, and move on to plan B – healthy…ish.
Going that route is always a little dicey because Kevin is not exactly a happy camper when I plop a big plate of quinoa down in front of him, expecting him to not only eat it, but eat every single morsel with a giant smile on his face. I can immediately tell if he's secretly wishing he had just stayed at work later to get room temperature pizza, which probably sounds infinitely better than what his wife has given him – he doesn't hide his distaste for foods very well, contrary to what he thinks.
But…this was different. He actually ate it all. With a smile on his face. And enthusiasm. AND I could tell he wasn't lying through his teeth.
Cheesy Chicken Enchilada Quinoa Bake for the win!
The key here is equal parts quinoa to chicken – because no one, not even myself wants to take a big bite of chicken enchilada to only get a mouthful of quinoa and no chicken or enchilada flavor whatsoever. I think that may have been the problem with some of my previous quinoa dishes I've served to Kev – heavy on the quinoa, light on the "stuff", because more "stuff" is always better.
The rest is pretty self explanatory – shredded chicken is tossed with the quinoa, some sautéed onion, garlic, enchilada sauce (recipe here, but store-bought is totally fine), black beans and low-fat Mexican cheese. It's then transferred to a baking dish, topped with more cheese and popped into the oven long enough for everything to heat through and for the cheese to melt.
I scoop everything into bowls, top with light sour cream, avocado and lots of fresh cilantro.
The ease and deliciousness have made this quinoa bake one of my favorite quick and healthy dinners to date – MAKE IT!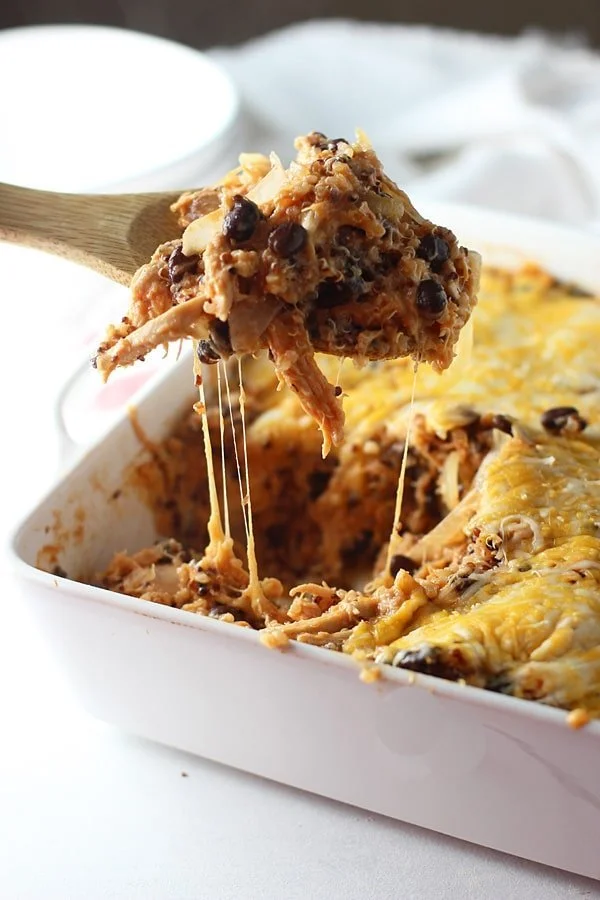 Just a little FYI….Because Cinco De Mayo, one of my very favorite fun holidays, is just a mere seven days away, I've obligated myself to share a Mexican or Tex-Mex recipe every blog post until then. SO that means you lucky peeps have four different super delicious Mexican recipes comin' at you in the next week, buuuuut because I'm also in the midst of trying to starve myself until my trip (Just kidding! Sort of.), I'm going to try and keep most of the recipes around here relatively healthy.
Get excited! Hope you have a happy Monday!
For more quinoa bakes, check out these posts:
BBQ Chicken Quinoa Casserole: Gimme Some Oven
Leftover Baked Quinoa and Chili Eggs: Bacon + Egg + Cheesecake
Quinoa Stuffed Peppers: Pickled Plum
Cheesy Chicken Enchilada Quinoa Bake
This chessy chicken enchilada quinoa bake incorporates all the classic chicken enchilada flavors, but is actually healthy for you!
Ingredients
3 cups shredded chicken
3 cups cooked quinoa
1 small onion, sliced
3 garlic cloves, mined
1 teaspoon olive oil
¼ teaspoon salt
¼ teaspoon chili powder
¼ teaspoon cumin
1 can black beans, drained and rinsed
12 ounces enchilada sauce
1 1/4 cup low-fat Mexican cheese, shredded (or ½ low-fat mozz & ½ low-fat cheddar)
Instructions
Preheat oven to 350 degrees. Spray a square baking dish with non-stick cooking spray.
In a small sauté pan, add oil, onion, garlic, salt, chili powder and cumin. Turn the heat on medium and cook until onions are softened, about five minutes.
In a large bowl, toss together chicken, quinoa, veggies, black beans, enchilada sauce and 3/4 cup shredded cheese.
Transfer to baking dish and top with remaining cheese. Bake until hot and cheese is melted, about 30-35 minutes.
http://www.cookingforkeeps.com/cheesy-chicken-enchilada-quinoa-bake/
SaveSave
(Visited 4,280 times, 1 visits today)