Cheese. Chorizo. Eggs. Hawaiian buns.
I never knew those four humble ingredients could yield the most melt-in-your-mouth, ridiculously delicious breakfast concoction I've had in months.
But they did, and now I'm in some serious trouble, since I have a half dozen left just staring at me every time I open the fridge…
These guys are kind of like a breakfast burrito meets chopped cheeseburger sliders meets grilled cheese, which is a good thing, a very good thing. A very good thing that also happens to be a very bad thing, as I'm sure you can imagine by the ingredient list. They're not exactly low in fat and calories, but what they lack in nutritional benefits, they make up for in flavor ten fold. Plus, we had these on the weekend, and calories don't count Friday through Sunday, right?
RIGHT?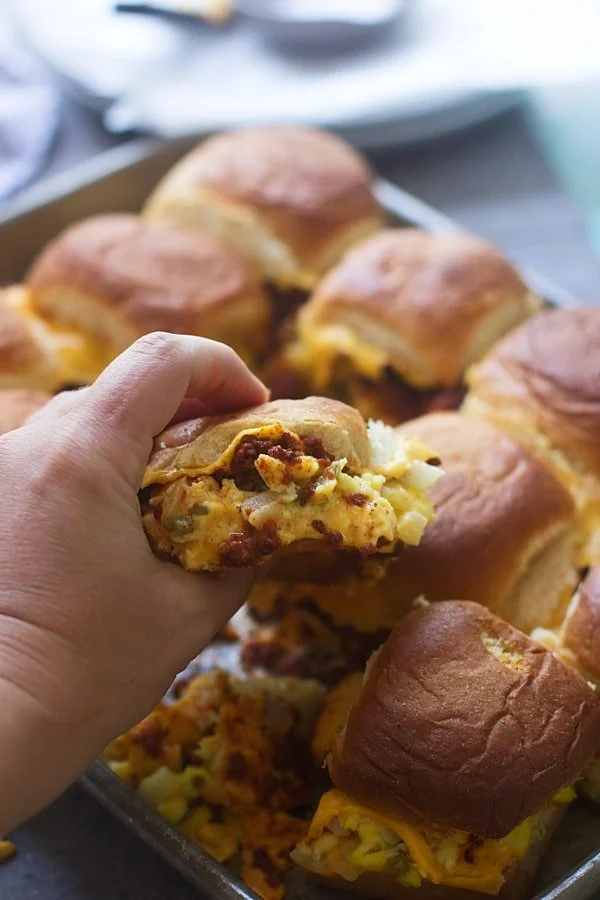 The inspiration for these actually came from Kevin's good buddy, Andy, who hosts the guys' annual fantasy football draft, or is it the baseball draft? Or baseball draft prep? I can't keep track of all these fake sport preparations…Whatever the event is, Andy's Mom usually makes biscuits and gravy, but for some reason his Mom had prior obligations and couldn't fulfill her B&G duties, so Andy threw together some breakfast sandwiches for the dudes with eggs, sausage (I think??), cheese and Haiwaiin buns. I thought the idea was brilliant, and stole it immediately, thank you Andy!
So for my version, I layered American cheese with super soft spicy scrambled eggs, Mexican chorizo (not to be confused with Spanish chorizo), another layer of American cheese, and stuffed the whole ensemble in a package of whole-wheat hawaiian buns. The sammies get popped into a 350 degree oven until the cheese is melted, and they're ready to be devoured.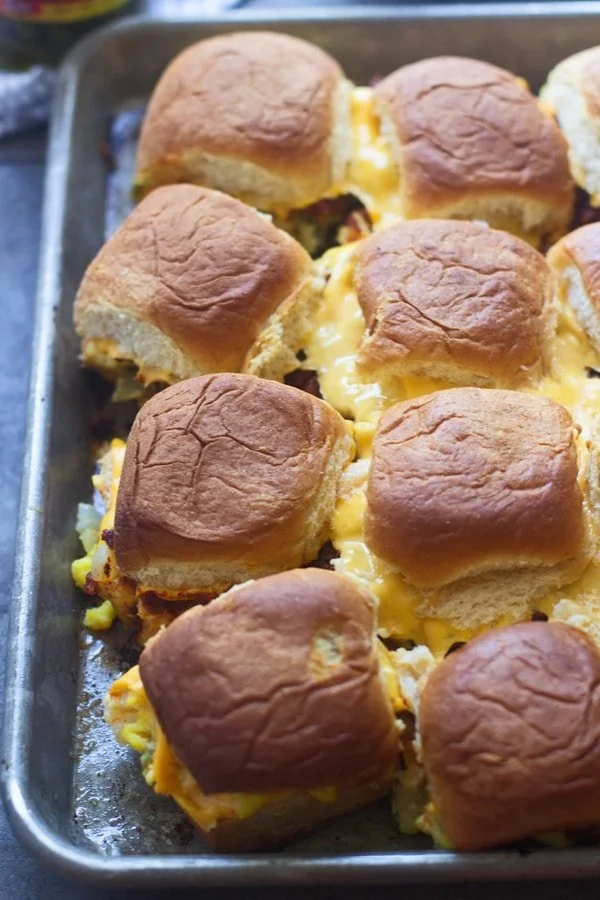 Cheesy Mexican Breakfast Sliders
Soft scrambled eggs, spicy chorizo and gooey American cheese are layered between Hawaiian buns for the perfect crowd-pleasing breakfast!
Author:
Nicole ~ Cooking for Keeps
Ingredients
1 package Hawaiian whole-wheat rolls
6 eggs
½ c. milk
¼ tsp. salt
1 Tlbs. unsalted butter
¾ c. chopped onion
¼ c. chopped pickled jalapeño
10 oz. Mexican chorizo
12 slices American cheese
Instructions
Preheat oven to 350 degrees. Grease a small baking sheet,
Cut rolls, lengthwise in the middle, remove the top from the bottom and place on the prepared baking sheet.
In a bowl, whisk together eggs, milk, and salt. Set aside.
Heat medium non-stick skillet to a medium. Add butter. When butter melts, add onion, cook until softened, about 3-4 minutes. When onions are translucent, reduce the heat to low. Add eggs, using a spatula, continuously stir eggs until they are just underdone, remove from heat and add in chopped jalapeños, Toss to combine and transfer to a plate. Clean pan.
Place pan on a medium-high heat. Add chorizo, use spatula to break up the meat, cook until brown and completely cooked through.
Layer 6 slices of cheese on bottom of buns. Spread eggs on top, followed by chorizo. Layer remaining 6 slices of cheese on top. Cover with top buns, and press down. Bake for 12-15 minutes or until cheese has melted.