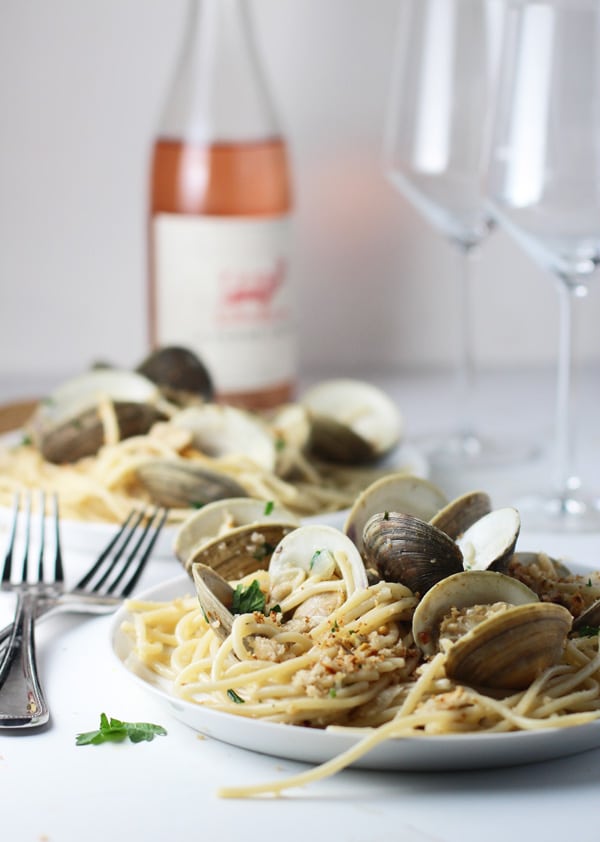 I know yesterday I was talking about how summer is still here for another month, but today, today it actually feels as if summer is winding down. It's cool. The leaves are falling. I don't suffocate when I close the door of my car. The high for the day isn't hovering around triple digits. And for a split second, it's kind of nice.
But just for a split second.
Of course, I still refuse to succumb to the ever-so-increasingly twinges of fall lust I have from time to time… present day included. I also know these cool temperatures are just a fluke for the month of August. Typically in our area, we see highs in the 90s well into September and sometimes, even October. It's one of the few things I love about the volatile and unpredictable Kansas weather.
During the summer months, I feel like we get so bogged down on the typical protein items and preparations – grilled chicken, hot dogs, burgers – and tend to forget that summer is also a perfect time to utilize all the great seafood available. To me, there's nothing that screams summer more than a pile of steamed crabs, grilled swordfish, classic lobster boil (Have you ever seen anything prettier?) or giant bowl of steamed littleneck clams.
Seeing as I've tackled the crab and lobster game pretty solidly this summer, I wanted to try my hand at clams, an ingredient I've had minimal interaction with. In fact, I think the only other time I've cooked with clams was once when I was about twelve or thirteen years old and I decided I wanted to make steamed clams for the family. For a teenager at that time, I had a pretty well versed knowledge of food, but lacked the expertise to know that cherrystone clams aren't exactly suitable for steaming. They came out rubbery and completely unappetizing, nothing like what I'd see in Bon Appetit. So word to the wise, if the seafood department is out of littlenecks, steamers or cockles, do not assume another variety will suffice. I'd hate to have you come back and yell at me when your clams come out anything but perfect.
As long as you stick to the proper variety of clam, steaming is virtually fool proof. Sauté up a bit of onion and garlic, add in your clams, throw in a liquid and just wait for those little guys to pop open, one briny clam after the next.
Initially, I flirted around with the idea of sprinkling in some charred kernels of corn and blistered cherry tomatoes, but opted to go the more traditional route instead, being my first encounter with clams since the cherrystone disaster and all. Again, I went with a pretty simple preparation. Chopped onion, garlic and a liberal amount of crushed red pepper flakes are sweated out in a little bit of butter. The clams are tossed in and then a good quality dry rose wine is poured in. The lid is shut. The clams steam.
Simultaneously, I cook up about a pound of pasta until just under al dente, the pasta will finish cooking later in the sauce, so undercooking it is essential. Butter is browned, a little garlic is added and then fresh (homemade) breadcrumbs are thrown in, tossed around until they're golden brown and crisp.
Once the clams open up, they're removed from the pot and the spaghetti is transferred from the starchy cooking liquid to the garlicky broth, simmered and tossed around until pasta is al dente and the sauce is reduced. The clams are poured back into the pot, along with any other juices that have seeped out and everything is tossed together.
The pile of spaghetti and clams are piled high onto a platter, sprinkled with the nutty brown butter and garlic bread crumbs, and then scattered with a little bit more chopped parsley.
So simple. So delicious. So summer.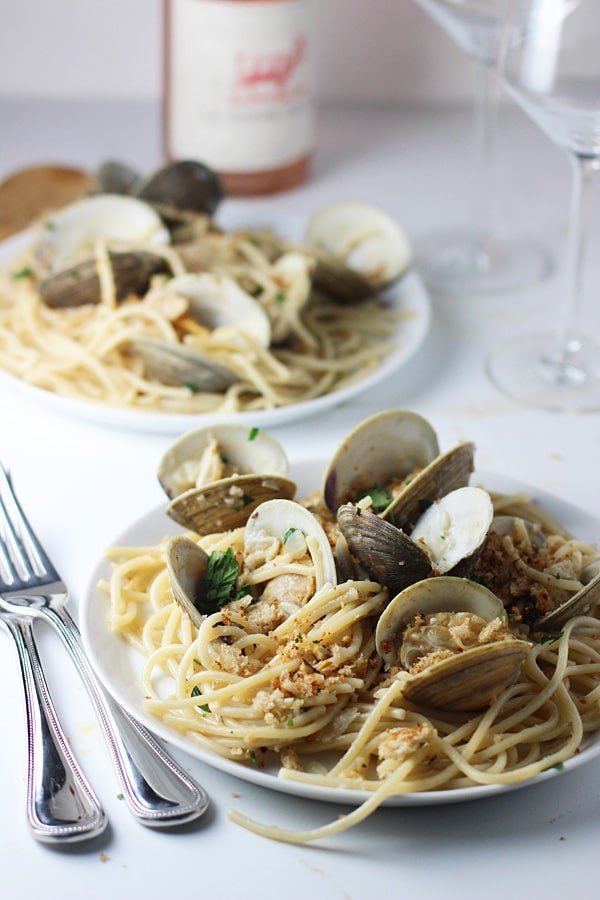 Spaghetti and Clams with Brown Butter and Garlic Breadcrumbs
Spaghetti with Clams is the ultimate summer meal that takes less than 30 minutes from start to finish!
Ingredients
1 small onion, chopped
6 garlic cloves, sliced and divided
2 tablespoons, butter divided
1 teaspoon crushed red pepper flakes
3 pounds littleneck clams, cleaned
½ cup dry rose wine
1 pound spaghetti
1 cup fresh breadcrumbs
½ cup chopped parsley.
Instructions
Bring a large pasta pot of water to a boil. Season heavily with salt. It should taste as salty as the sea. Cook pasta until just under aldente.
In a large pot, heat butter over a medium heat. Add chopped onion, 5 cloves garlic and red pepper flake. Season with salt. Cook just until softened, about 5 minutes. Add clams. Toss with onion mixture. Add in wine, toss and put the lid on. Cook until all clams are all open, about 15 minutes.
While clams are steaming, make the breadcrumbs. Melt one tablespoon butter in a small skillet. Add garlic, cook 1-2 minutes until soft. Add breadcrumbs and cook until toasted and golden brown. Season with salt and pepper.
Remove clams from pot, set aside. Add undercooked pasta to the remaining liquid. Cook over a medium heat until the pasta is aldente and the sauce is reduced. If necessary, add in the pasta cooking liquid to create a looser sauce. If the sauce is too loose, mix one tablespoon flour with 1 tablespoon of cold water. Stir into the sauce, cook until
thickened.
Stir in remaining butter.
Season to taste with salt and pepper.
Add clams back to the pot and toss with spaghetti. Sprinkle with bread crumbs and chopped parsley.
Notes
Notes: Pick through clams and make sure all are still alive. Any clams that are open, try closing, if they stay closed, keep them, if they stay open, throw away. Soak clams for 10 minutes in a bowl of water filled with a tablespoon or two of flour. This will help to get all the remaining sand and sediment out. If after all the clams are open, and there are still a few that haven't opened, try shaking the pot, if they still don't open, toss them out.
https://www.cookingforkeeps.com/30-minute-spaghetti-clams-brown-butter-garlic-breadcrumbs/