These buttery Almond Toffee Shortbread Cookies are packed with brown sugar, sweet toffee bits and fragrant almond extract for the perfect twist on a classic shortbread cookie.
Despite the unconscious tradition to forgo tangible gifts on Valentine's Day (not including the arrangement of flowers and dinner out I've come to expect), it's without a doubt one of my favorite holidays.
The pink, the flowers, the sweets…what's not to love??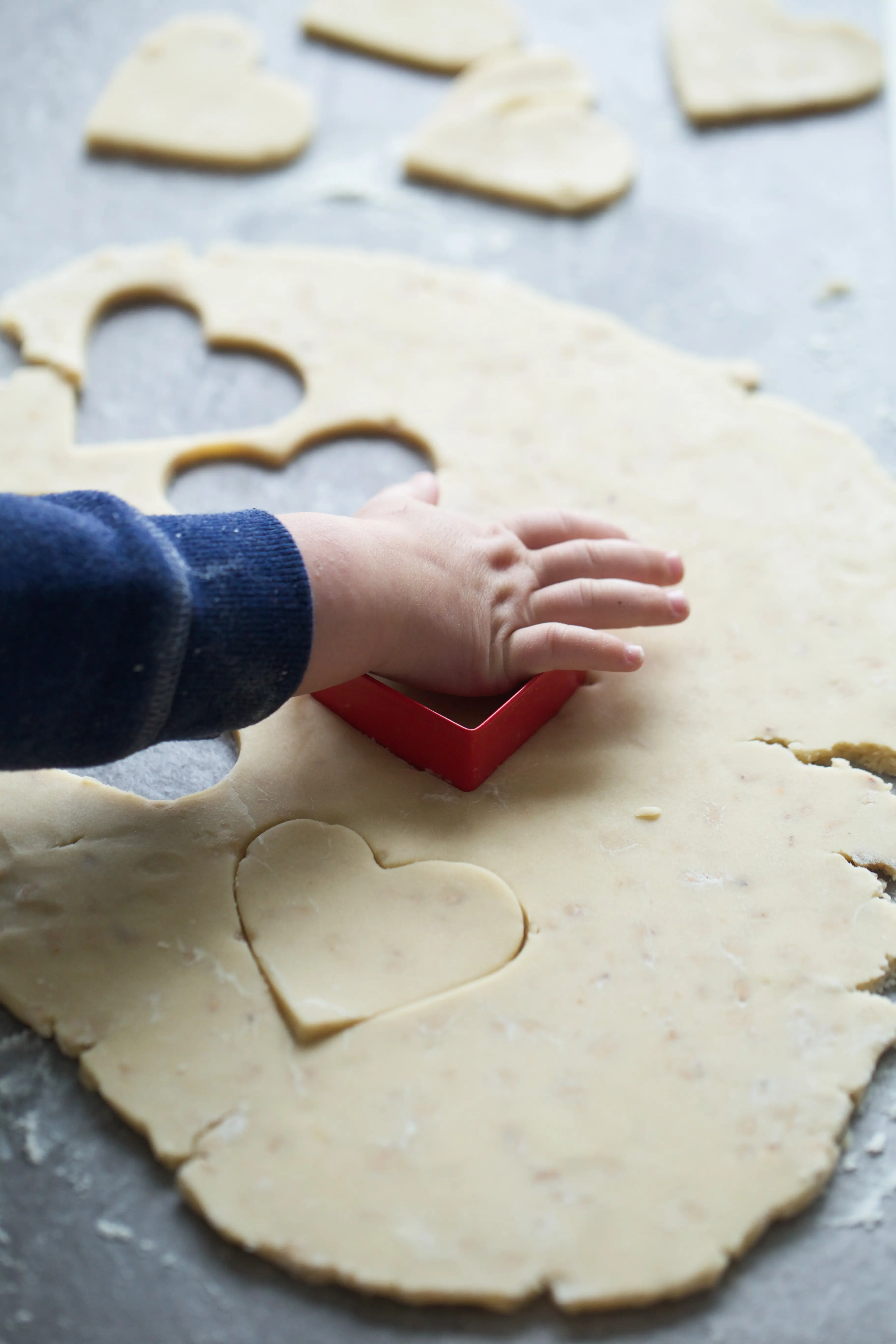 On the day of, we actually opt to stay home and cook a fancy dinner, which I always look forward to. Typically it consists of filet mignon, lobster, some sort of decadent potato and roasted asparagus with hollandaise. It's nothing too terribly gourmet, but it's definitely a step up from what our normal weekday dinner looks like.
Also, instead of racking my brain coming up with the perfect unnecessary gift for Kevin, I give him what he loves most in this world – cookies.
I'll usually make three or four different kids of cookie dough, bake off about four of each and then give him the rest to keep in the freezer to pull out as he sees fit. I'll change the variety I make every once in a while, but for the most part, I'll do these M&M cookies, these peanut butter balls, a classic shortbread cookie with royal icing and then round everything off with traditional chocolate chip cookies, since they're his favorite.
Now that Teddy is old enough to help out, it makes the cookie baking process all the more special and fun. Even though the traditional shortbread cookies are typically cutouts, the royal frosting, which is notoriously tricky to work with isn't the best option for Teddy, so instead I thought we'd go with a shortbread cookie that has tons of flavor inside the actual cookie.
Instead of granulated sugar, I went with light brown sugar to add a little bit more flavor without adding a ton of sugar, staying in line with the subtle sweetness a classic shortbread cookie has. And because I'm mildly obsessed with anything almond flavored, I added in plenty of almond extract instead of vanilla, which drastically changes the way they taste, in the best way possible.
For a little bit of texture, I threw in a handful of toffee bits, which almost melt into the dough while baking, just enough to permeate the dough, and then later harden again to retain that irresistible crunch factor.
I think the most important thing to remember when baking shortbread cookies, is you want to make sure to not over bake them. I pull them out as soon as they look a VERY pale golden brown, let them cool for a minute on the cookie sheet and then very quickly transfer them to a cooling rack to they don't cook any longer.
Once they're completely cool, I like to dust them with a little bit of powdered sugar, but that's a totally optional step. Either way, these guys are totally decadent and delicious as is, no icing, topping or extras required.
Almond Toffee Shortbread Cookies
These buttery Almond Toffee Shortbread Cookies are packed with brown sugar, sweet toffee bits and fragrant almond extract for the perfect twist on a classic shortbread cookie.
Ingredients
2

sticks

unsalted butter, softened

1/4

cup + 1 Tablespoon

packed brown sugar

2

tsp

almond extract

1 3/4

cup

all-purpose flour

1/4

cup + 1/8 cup

toffee bits

1

tsp

maldon flaked salt
Instructions
Preheat oven to 350 degrees.

Add butter and brown sugar to the bottom of a stand mixer. Turn the mixer on a medium speed and cream butter and sugar until fluffy. Add almond extract. Cream another minute.

Turn the mixer on low and add flour, toffee bits and salt. Mix just until combined.

Transfer dough to a lightly floured surface and form into a disc. Wrap in plastic wrap and chill for 30 minutes to 1 hour.

Pull the dough out and let it sit for 10 minutes. Unwrap dough and place on a lightly floured surface. Lightly flour a rolling pin and roll dough out to a 1/4-inch thickness. Use a cookie cutter to cut into desired shape. Re-roll out excess dough to make more cookies.

Place on a baking sheet covered in parchment or a silpat. The cookies should be at least 1/2 inch apart since they will spread a bit. Bake for 10 minutes or until pale golden brown. Let the cookies cool for one minute on the baking sheet and then use a spatula to transfer to a cooling rack. Cool completely and then dust with powdered sugar.

Nutrition Information
Serving:
1
cookie
,
Calories:
170
kcal
(9%)
,
Carbohydrates:
15
g
(5%)
,
Protein:
1
g
(2%)
,
Fat:
11
g
(17%)
,
Saturated Fat:
7
g
(44%)
,
Cholesterol:
30
mg
(10%)
,
Sodium:
136
mg
(6%)
,
Potassium:
21
mg
(1%)
,
Fiber:
1
g
(4%)
,
Sugar:
6
g
(7%)
,
Vitamin A:
352
IU
(7%)
,
Calcium:
9
mg
(1%)
,
Iron:
1
mg
(6%)