Chicken parmesan was one of the very first meals I made my junior year of college when I took the big leap and got an apartment off-campus instead of living in my sorority house – against my mother's advice. While I dabbled in a little bit of cooking the previous summer, my main priorities were getting the perfect sun-kissed glow, a minimum-wage part-time job at Beauty Brands and going to the lake as often as possible.
The year before, I lived in the sorority house, so virtually all of my meals were prepared on a daily basis; the only cooking I managed to sneak in was when I was home for break. Suffice it to say, my cooking skills had become a little bit rusty when I branched out on my own.
I was pretty confident I could crank out something similar to the chicken parmesan I was picturing in my head, but quickly looked up a recipe from my Cooking Light cookbook for a little bit of backup. I ended up going with my gut and not following the recipe in the slightest, which marked the very first day I felt confident enough to start creating practically all my own recipes. I'd adapted recipes before, since I've never been one to follow direction explicitly, but I'd never truly come up with my very own recipe from start to finish.
Since then I've come up with thousands of my own recipes, but chicken parmesan is one that's become a sort of go-to in my cooking arsenal, not only because it's an easy meal to throw together, but also because foodies and picky eaters alike universally love it. I've had fun coming up with different variations on the classic preparation in the past, but I think these Chicken Parmesan Poppers might be my favorite adaptation yet.
And lucky for you, they're the perfect addition to your game day menu.
These guys are crispy, cheesy and have all of the flavors of chicken Parmesan in a tiny little package. And the best part?? They're pretty darn healthy to boot. The only "unhealthy" portion comes the teensiest piece of fresh mozzarella that's tucked into each bite, but the meatball itself is baked, eliminating a significant amount of fat and calories you would have had if you were to deep-fry each popper.
Ground chicken is mixed with a little bit of grated garlic, onion, salt, breadcrumbs and one egg yolk to bind everything together. The ground meat is formed into meatballs and then a small piece of fresh mozzarella is nestled into the middle of the meat.
They're tossed in a mixture of Italian breadcrumbs and grated pecorino romano cheese (parmesan will also work), and then popped into the oven until they're golden brown, crispy and the mozzarella cheese is starting to ooze out of the nooks and crannies of the meatball.
While these are delicious straight out of the oven, to me, chicken parmesan isn't complete without a slathering, or in this case, a dunking of marinara sauce. I just threw a quick one together while the parmesan poppers were baking by sautéing some grated onion and garlic with a little bit of olive oil. I threw in some tomato paste I had in the pantry along with a sprinkle of Italian seasoning, salt, water and just a tiny touch of sugar to balance out the acidity in the paste.
I made these specifically with the big game on Sunday in mind, but these would also fit in perfectly at a cocktail party – fancy or casual.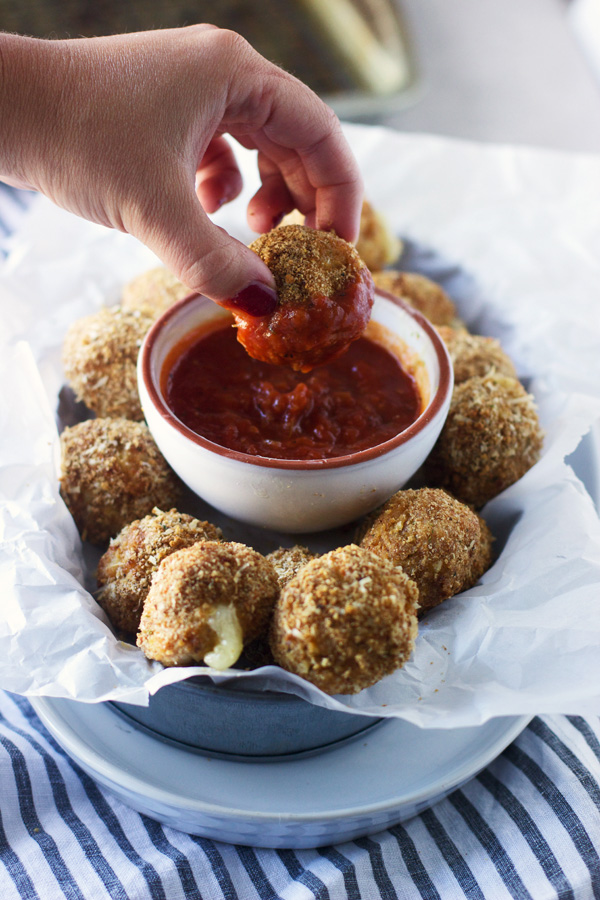 Chicken Parmesan Poppers
Ingredients
1 pound ground chicken breast
1 small onion, grated
1 large garlic clove, grated
1 teaspoon salt
¾ cup whole-wheat italian seasoned breadcrumbs, divided
4 ounces fresh mozzarella, cut into 16 small pieces
1 egg yolk
¼ cup grated pecorino romano or parmesan cheese
Quick Marinara
1 teaspoon olive oil
¼ small onion
1 small garlic clove, grated
2 tablespoons tomato paste
7 tablespoons water
1 teaspoon sugar
¼ teaspoon italian seasoning
Pinch of salt
Instructions
Preheat oven to 375 degrees.
In a bowl combine chicken, grated onion, garlic, salt, ¼ cup breadcrumbs, salt and egg yolk. Do not over mix. Combine remaining breadcrumbs and parmesan cheese in a bowl.Roll into meatballs about a heaping tablespoon in size. Place a piece of cheese in the middle of the meat and close around it. Roll into a ball. Coat poppers in breadcrumb and cheese mixture.
Place on a cookie cooling rack sprayed with non-stick cooking spray, set on top of a baking sheet. Spray poppers with olive oil spray. Pop into the oven and bake until golden brown and cooked though, about 25 minutes.
While the poppers are baking, make the marinara. In a small sauce pan, heat olive oil over a medium heat. Add onion and garlic, cook until soft, about 2-3 minutes. Add remaining ingredients and simmer for 8-10 minutes. If needed add more water to get to desired consistency.
Serve poppers with marinara.