This Crispy Sheet Pan Chicken Parmesan is a no-mess way to make a classic Italian dish! Plus, it's significantly lightened up and super easy to throw together.
Long before sheet pan dinners were all the rage, and flooding novice and seasoned cooks Pinterest and Instagam feeds, heck, long before Pinterest even existed, my Mom was making this Sheet Pan Chicken Parmesan, while we were none the wiser that a burgeoning trend was going to emerge more than a decade later.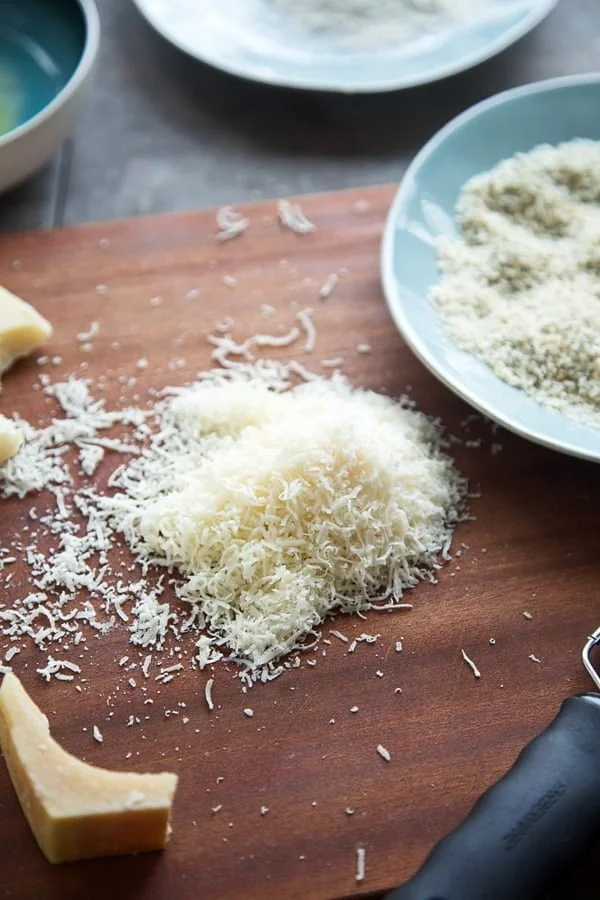 I can see why sheet pan dinners are trendy though, instead of dirtying up an entire stovetop and lord knows how many pans, you get to cook everything tidily on one single pan, which can typically go in the dishwasher, unlike most skillets. While the notion of a little bit less mess is enough to usher me on board with the one pan movement, in the case of chicken parmesan, or really, chicken in general, another point comes to fruition – even cooking.
A perfectly heated oven takes the guesswork out of the cooking process, and ensures evenly cooked protein every time. The oven is also a hands-off method, which can be essential at times, especially given the fact that I have a one year old who has a serious case of separation anxiety and wants to be entertained at all times of the day.
While most versions of chicken parmesan are covered in heaps of melted cheese and served over a bed of red sauce-laced linguini, this version is exactly as the name implies – chicken in parmesan. The chicken is coated in a super crispy breadcrumb and parmesan cheese mixture, is nestled on to a screaming hot sheet pan covered in melted butter, and baked until golden brown and crispy.
If you want to make it a complete dinner, throw on some trimmed asparagus, sliced zucchini, or even chopped cauliflower. I served it with some whole wheat penne in marinara sauce, but a leafy green salad, a batch of risotto or even a bowl of nutty farro would be the perfect accompaniment as well.
For more easy chicken dishes, check out these posts:
Five Ingredient Chicken Piccata: Cooking for Keeps
Creamy Mushroom Chicken: : Plated Cravings
Grilled Chicken with Peach Jalapeño Salsa: The View From Great Island
Crispy Sheet Pan Chicken Parmesan
This Crispy Sheet Pan Chicken Parmesan is a no-mess way to make a classic Italian dish! Plus, it's significantly lightened up and super easy to throw together.
Ingredients
8

chicken tenders

about 1 1/4 lbs

1/4

cup

panko

1/4

cup

plain breadcrumbs

1/4

cup

grated parmesan

3/4

tsp.

italian seasoning

1/2

tsp.

garlic powder

1/2

tsp.

salt

black peppeper

1/4

cup

all-purpose flour

1

egg

4

Tbsp.

unsalted butter
Instructions
Preheat oven to 425 degrees. Season chicken tenders on both sides with salt and pepper.

On a small plate, whisk together panko, breadcrumbs, parmesan, italian seasoning, garlic powder, 1/4 tsp. salt and a pinch of black pepper.

Add flour to another small plate, along with remaining salt. Whisk together.

Add egg to a bowl, and whisk with 1 tablespoon of water.

While you bread the tenders, place a medium sheet pan in the oven to heat up.

Dip each chicken tender in flour, pat off excess. Dip in egg, let excess drip off. Coat in bread crumb mixture. Repeat until all chicken tenders are coated.

Remove the pan from the oven and add butter. Let butter melt on the pan, if necessary, place back in to the oven until the butter has melted. Line chicken tenders up on pan, making sure they aren't touching. Place back in the oven and cook until golden brown on bottom, about 12 minutes, flip and cook another 6-7 minutes until the other side is golden brown as well. Remove from oven and drain on paper towels.

Serve with grated parmesan cheese, and pasta with marinara or a side salad.