Impress friends with this easy Balsamic Chicken with Mozzarella and Burst Cherry Tomatoes. It takes almost no effort to throw together, but is packed with flavor.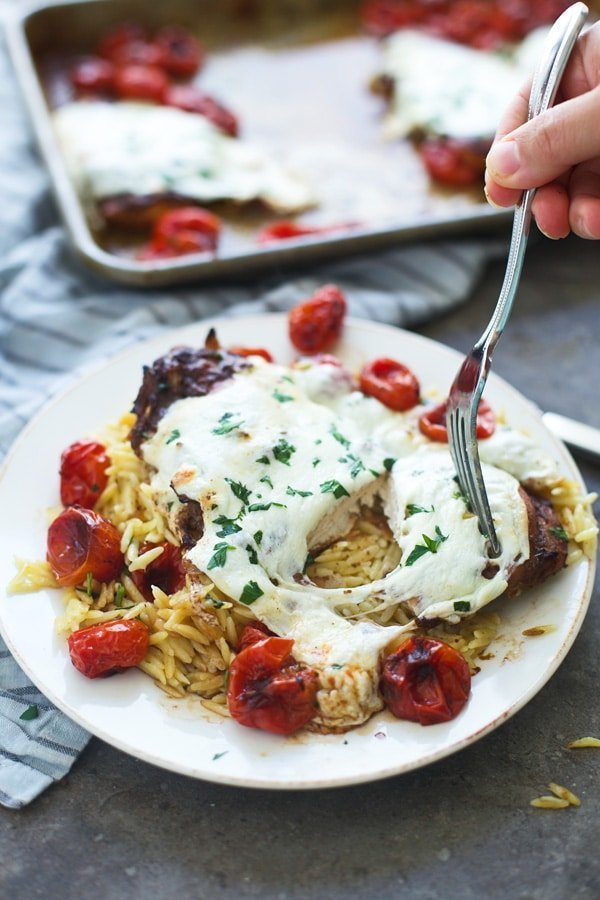 Easy dinners are the name of my game as of late, and this Balsamic Chicken with Mozzarella and Burst Cherry Tomatoes just shot straight up to the top of my ever-growing list of favorites.
In the game of easy dinners, it really doesn't get much simpler than this: throw a marinade of balsamic vinegar, Dijon, garlic and onion together in the morning, let your chicken breasts soak while you cart your kids around/work/point your face to the sun, pull them out of the marinade, plop them on a baking sheet, surround them with seasoned cherry tomatoes and pop her in the oven. Once the chicken is almost done baking, thick slices of fresh mozzarella are nestled on top, the whole pan goes pan goes back in to the oven until the cheese is melted and gooey, and dinner is done.
Except if you're like my family you need a starch of some sort, so I threw together a super easy creamy orzo – one of my favorite, but often forgotten pasta side dishes. To keep things super simple and to infuse maximum flavor in to the tiny particles of pasta, I actually cooked the orzo in chicken stock and when it was just shy of aldente, I threw in a splash of cream, plenty of parmesan cheese and a few tablespoons of chopped parsley. I was thinking about re-shooting this recipe altogether to include the orzo, both because the orzo really took this to the next level and I'm not super in love with the lighting in these photos (I was kind of in a hurry when shooting), so would you guys be interested in the recipe??
Anyways, not only is this a great weeknight dinner, but it's also transports beautifully. I actually made two batches, one for us, and one for our friends who just had their second baby. Although instead of melting the mozzarella prior, I pulled the chicken out, let everything cool and then put the cold mozzarella slices on top, and the had them reheat in the oven just until the cheese was melted.
It actually inspired me to come up with a roundup of meals to take new mommas that don't include casseroles, because surprisingly the Internet is seriously lacking in that department. I searched high and low for the perfect recipe, but all I could find were recipes for lasagna, chicken tetrazzini and about a million other casseroles, which I love, obviously, but I didn't want to be the sixth person in a row who brought them a heavy casserole of some sort. So, this is what I came up with, and I'm pretty smitten with it.
Happy Friday all!
Balsamic Chicken with Mozzarella and Burst Cherry Tomatoes
Author:
Cooking for Keeps
Ingredients
4 small chicken breasts (about 1¼ lb.)
¼ cup balsamic vinegar
1 Tbsp. dijon mustad
1 Tbsp.+ 2tsp. olive oil, divided
2 garlic cloves, grated
¼ small onion, grated
¾ tsp. salt, divided
¼ tsp. black pepper
9 oz. cherry tomatoes
4 oz. fresh mozzarella, cut in slices
Instructions
Preheat oven to 425 degrees.
Add balsamic vinegar, mustard, 1 tablespoon olive oil, garlic and onion to a large zip lock bag. Add chicken. Massage marinade in to chicken. Marinate in the fridge for at least two hours.
Toss cherry tomatoes with remaining olive oil and ¼ tsp. salt.
Take chicken out of marinade and let excess drip off. Place on baking sheet. Sprinkle evenly with remaining salt and black pepper. Spread tomatoes around chicken.
Bake for 15 minutes. Pull chicken out and top each piece of chicken with mozzarella. Place back in the oven and bake another 5-10 minutes until cheese has melted and chicken is cooked through.
Garnish with chopped parsley.