Ever since I made these croque madame rolls a few months back, I've been sort of obsessed with reinventing the slider in similar ways, first with meatballs, and now with a game day-worthy spin on buffalo chicken.
The slider was a wonderful invention – bite-sized versions of favorite sandwiches, what's not to love?? And when it comes to a classic burger or fish slider, for me, the original way still reigns supreme, because like they say, if it ain't broke, don't fix it. However, that sentiment only rings true for certain items, because a traditional slider bun is not the appropriate vessel when it comes to meatballs.
I adore a messy meatball slider or (upscale) sloppy joe, however, I do not adore when the vital part of the slider, literally slides out the side as I'm about to take a bite. Which is why I've been re-thinking the bun completely. Instead of slicing them vertically, I've been hollowing out the inside, and then nestling the meatball neatly in the hole – something I should have thought of a lifetime ago.
I have about a million variations jotted down, but with the big game a few short days away, I felt obligated to make my annual buffalo chicken contribution to the world.
It's no secret I am a huge fan of a chicken burger, but I'm equally as infatuated with a chicken meatball. In this buffalo chicken version, I mixed (homemade) ground chicken with chopped carrot, green onion, red onion, a little bit of garlic, salt, and a few tablespoons of my favorite hot sauce. The mixture is evenly divided into 15 meatballs, and then each one is stuffed with a little piece of mozzarella.
The meatballs go in to the oven to bake, and once they're finished cooking they get tossed in more buffalo sauce, nestled into their cozy little homes, and the covered in cheese. They go back in to the oven just until the cheese melts and then they're sprinkled liberally with crumbled blue cheese and chopped green onion.
I know it would be a lot easier to just bake the meatball directly in the roll, but I did test it that way, and the bun just got too crispy for my liking. While baking the meatball separately and then in the bun is an extra step, for me, it makes enough of difference to justify it. Plus it only takes about five minutes longer.
I promise, if you make these this weekend, they will be the star of the show!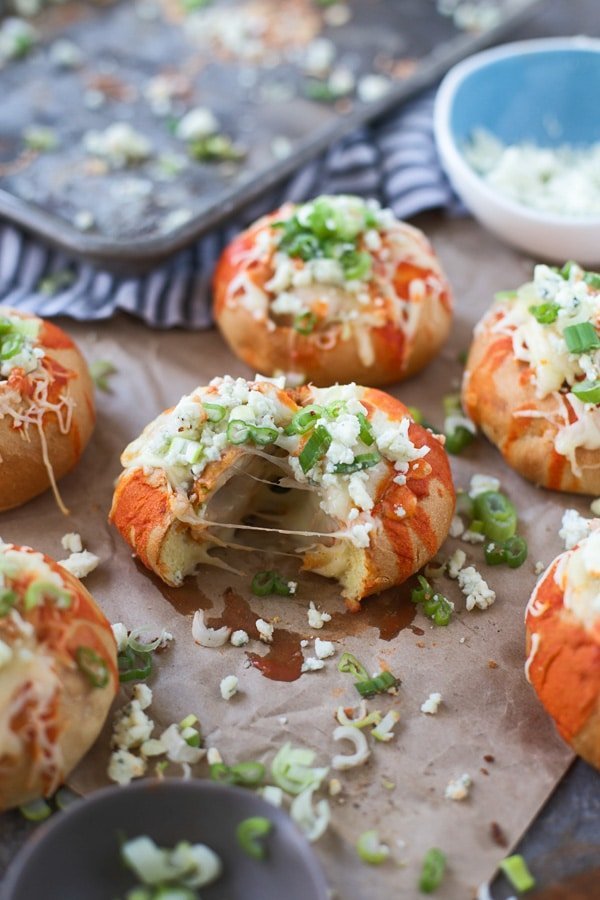 Also, check out these other awesome game day recipes!
Mozzarella-Stuffed Buffalo Chicken Sliders
Author:
Nicole ~ Cooking for Keeps
Ingredients
*1 lb ground chicken breast
¼ cup finely chopped shredded carrot
¼ cup finely chopped red onion
¼ cup sliced green onion, plus more for garnish
2 garlic cloves, minced
1 tsp. salt
8 ounces mozzarella, 3 oz. cut into 15 cubes, 5 oz., shredded
½ cup + 2 Tlbs. Frank's Red Hot Sauce
15 dinner rolls
¾ cup crumbled blue cheese
Instructions
Preheat oven to 350 degrees. Line a baking sheet with a silpat.
Add ground chicken, carrot, red onion, ¼ cup green onion, garlic, salt and 2 Tlbs. of hot sauce. Mix until combined. Form in to 15 meatballs. Add one piece of mozzarella in the middle and enclose the meat over. Form into meatballs again. Line up on a prepared baking sheet. Bake for 12-15 minutes or until cooked through.
While meatballs cook, use a tablespoon to trace a circle on each roll. Use a sharp knife to cut the tops off each rolls. Hollow out. Save bread for homemade croutons or breadcrumbs.
Add remaining hot sauce to a medium bowl. Add meatballs. Toss in sauce. Nestle in to rolls.
Evenly pour remaining hot sauce over each roll. Top meatballs and rolls with cheese. Place back in the oven until cheese is melted.
Sprinkle with blue cheese and green onions.
Notes
*I like to grind my own chicken breast. Buy 1 lb. of chicken, cut into 1-inch pieces, and place on a baking sheet. Freeze for 15 minutes or until very cold and firm, but not frozen. Place in the food processor, and blend until finely ground.