You may knock the socks off of your next dinner guests with your beautifully decorated home, hospitable gestures and well-behaved children, but I guarantee, this Baked Cajun Salmon with Spicy Corn is what they'll remember for months to come. And they'll never know how easy it was to throw together – unless of course, they ask for the recipe (they will).
For more easy salmon recipes, don't miss this Roasted Tomato Butter Salmon (serve with a side salad and call it a day), and this Baked BBQ Salmon with Brussels sprout Slaw (perfect for tacos!).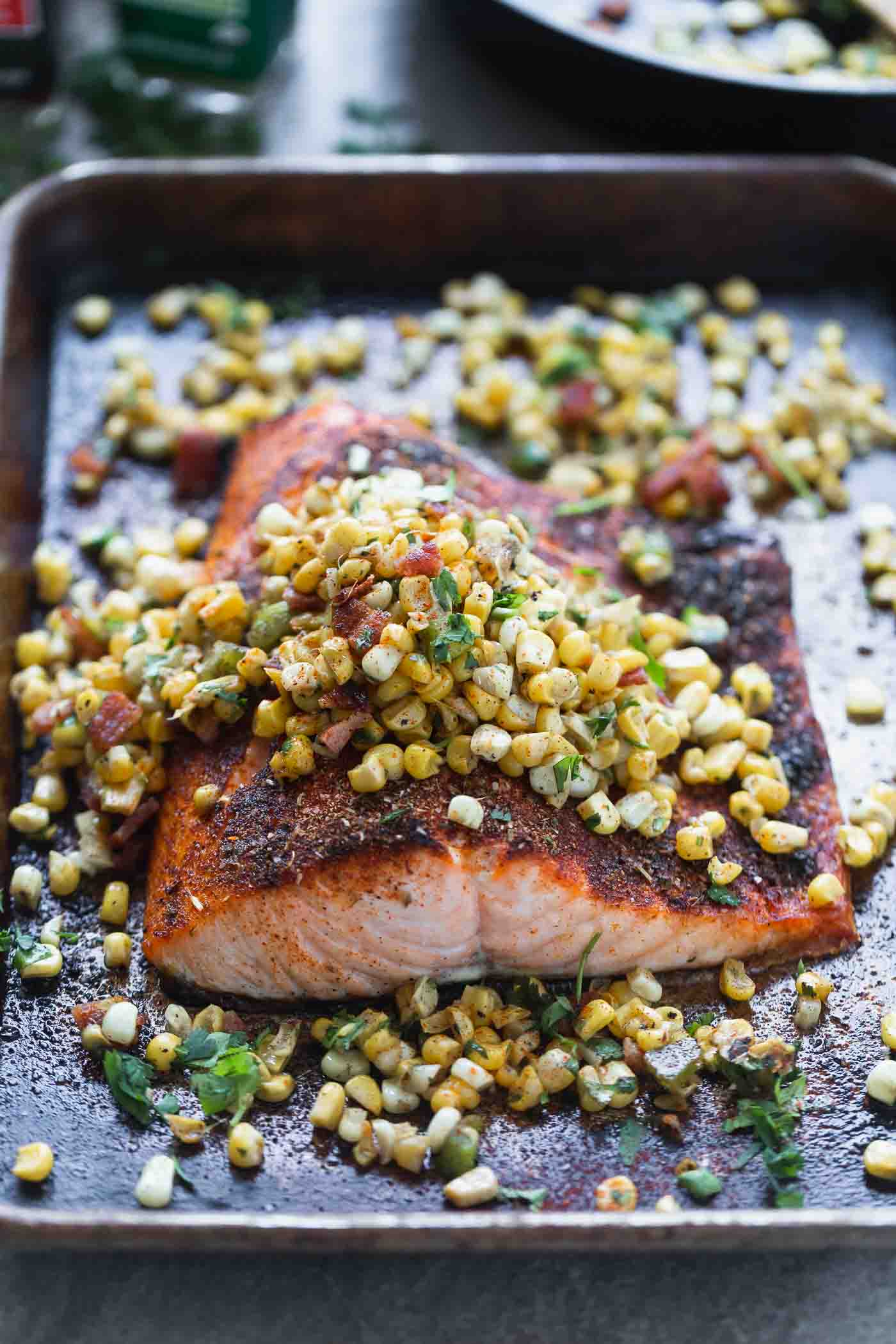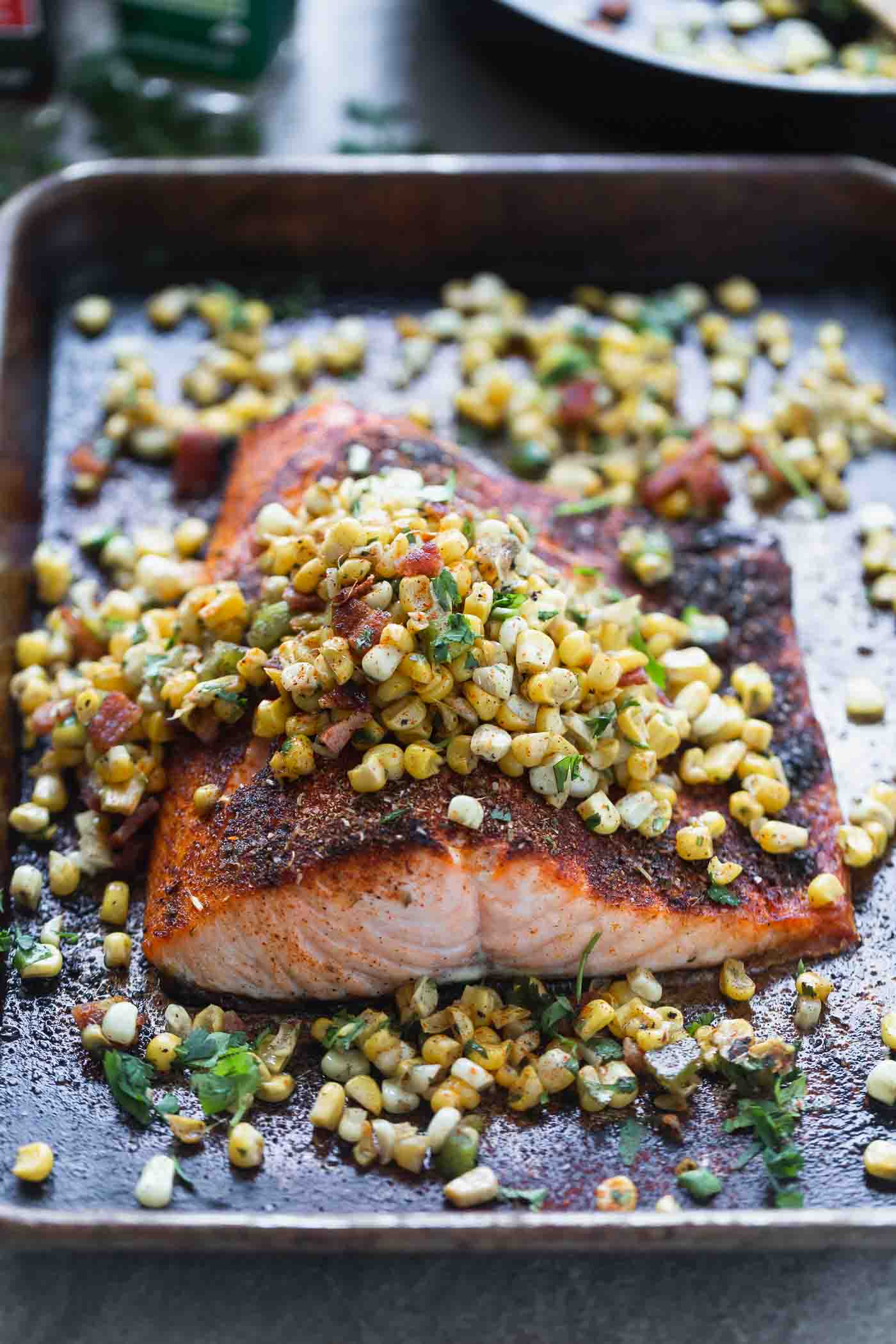 Baked Cajun Salmon with Spicy Corn
In our house, salmon is to us, what chicken is to most of America — a healthy protein we serve over and over and over. While chicken is notoriously thought of as our most versatile protein out there, I'd argue salmon is on a pretty equal playing field.
Both are blank canvases to let your creativity run wild, both are quick-cooking, and both leave little room for error in cooking. The only glaring difference between the two? Salmon has infinitely more flavor.
Because of that, unlike chicken, I adore salmon in a dressed-down, no-fuss state, so seasoning it simply with salt and pepper and searing it in a skillet until it's super crisp is how I make it a lot of the time. But just because I don't NEED a fancy salmon preparation, doesn't mean I don't want it, when I'm, well, feeling fancy (as I often am).
When I want something a little fancier, without much extra effort, I look to Baked Cajun Salmon.
Here's lowdown:
spicy, heavily seasoned salmon broiled in the oven
irresistibly crispy bacon
sweet-as-candy corn
spicy Jalapeño
LOTS of cilantro
Oh! And zippiness from fresh lime juice

Blackened seasoning for salmon
Luckily, the ingredient are most likely items you'll find in your spice cabinet already. You'll need:
paprika
garlic powder
onion powder
oregano
freshly ground black pepper
salt
cayenne pepper
Admittedly, there are kind of a lot of steps when you first glance at the recipe below, but everything is methodically thought out, so just trust me that you will still get dinner on the table in a VERY reasonable amount of time.
How to make Baked Cajun Salmon
While the oven is coming to temperature, the bacon cooks in a cast iron skillet on one burner, and a jalapeño is charson another burner. See, we're already multitasking!
Once the bacon has cooked, the salmon goes in the oven and the jalapeño steams in a zip-lock baggie.
Meanwhile, the corn goes into the same skillet the bacon was cooked in (with the bacon grease – duh), along with some garlic and plenty of salt and pepper for seasoning. During this time, you also chop up the roasted jalapeño and the bacon.
Right before the salmon finishes cooking, the lime juice, cilantro, jalapeño and bacon (that you've chopped) are tossed in, it's seasoned one more time to taste with salt and pepper and it's ready to go on top (or under) of the salmon.
Substitutions and Tips and Tricks for Recipe Success
If you want to add a little bit more richness, I suggest adding a little pat of butter to the corn at the end, just a tablespoon will do, but it will give the final produce a wonderful, luxurious taste at the end. I highly encourage it.
Add in diced red pepper or edamame with the corn
The recipe calls for a large portion of salmon, but you can also use four pieces of pre-portioned salmon filets for easier divvying up at the end.
What to serve with Baked Cajun Salmon
If you don't mind some carbs, try these insane Bacon Roasted Fingerlings with Mustard and Tarragon. They're basically roasted potatoes, and once they come out of the oven all crispy and delicious, they're tossed with grainy mustard and fresh tarragon.
Also, this Feta Caesar Pasta Salad is a favorite of ours. It's light, creamy, and delicious.
If strawberries are plentiful, try out this Strawberry and Feta Couscous Salad. Super easy to throw together, and really beautiful as well.
blackened salmon with corn, bacon, and jalapeño
You may knock the socks of your next dinner guests with your beautifully decorated home, hospitable gestures and well-behaved children, but I guarantee, this Blackened Salmon with Corn, Bacon and Jalapeño is what they'll remember for months to come.
Ingredients
1

jalapeno

1

tsp

paprika

1

tsp

garlic powder

1 1/2

tsp

onion powder

1/4

tsp

black pepper

1/4

tsp

cayenne pepper

1

tsp

dried oregano

1 3/4

tsp

salt, divided

1

20 oz

filet of salmon or 4-5oz portions of salmon

3

slices

thick-cut bacon

2

cups

corn kernels (about 3 ears)

3

large

garlic cloves, minced

3

tbsp

chopped cilantro

3

tsp

lime juice

1

tbsp

butter
Instructions
Preheat the oven to broil.

While the oven preheats, roast jalapeño over a gas flame until charred on all sides. If you don't have a gas stove, you can wait for the oven to preheat and broil the jalapeño until charred. Once charred, place the jalapeño in a ziplock baggie to steam. Peel the skin off, remove seeds and chop. (I do this while the bacon cooks.)

While the jalapeño roasts, cook bacon in a cast-iron skillet until crisp.

Add salmon to a baking sheet. Mix paprika, garlic powder, onion powder, black pepper, cayenne, oregano and 1 1/4 teaspoons of salt in a small bowl. Cover with blackening seasoning. Broil on the middle oven rack until top is blackened and fish is cooked through, about 12-15 minutes. 

Once the bacon cooks, remove the bacon and drain on paper towels, drain all but a tablespoon of the bacon fat. Chop into small pieces. Reduce the heat to medium and add corn. Saute for 1-2 minutes until bright yellow. Add garlic, continue to cook until garlic is soft, another 2 minutes. Add remaining salt, 2 tbsp of cilantro, chopped jalapeño and lime juice. Turn the heat down to low to keep warm. 

Once the salmon has cooked, add butter and chopped bacon to the corn mixture. Toss until butter has melted. Season to taste with salt and pepper. You can either spoon the corn mixture on top of the salmon or serve the salmon on top of the corn. Pour remaining 1 tablespoon of lime juice over the salmon and garnish with remaining cilantro.
Tips
My jalapeños were not super spicy, so I used the whole thing, make sure to taste your pepper before and add the amount you want to suite your own spice tolerance! 
Nutrition Information
Serving:
1
5 oz serving, plus corn medley
,
Calories:
178
kcal
(9%)
,
Carbohydrates:
19
g
(6%)
,
Protein:
5
g
(10%)
,
Fat:
11
g
(17%)
,
Saturated Fat:
4
g
(25%)
,
Cholesterol:
19
mg
(6%)
,
Sodium:
1155
mg
(50%)
,
Potassium:
232
mg
(7%)
,
Fiber:
2
g
(8%)
,
Sugar:
4
g
(4%)
,
Vitamin A:
659
IU
(13%)
,
Vitamin C:
10
mg
(12%)
,
Calcium:
3
mg
,
Iron:
1
mg
(6%)