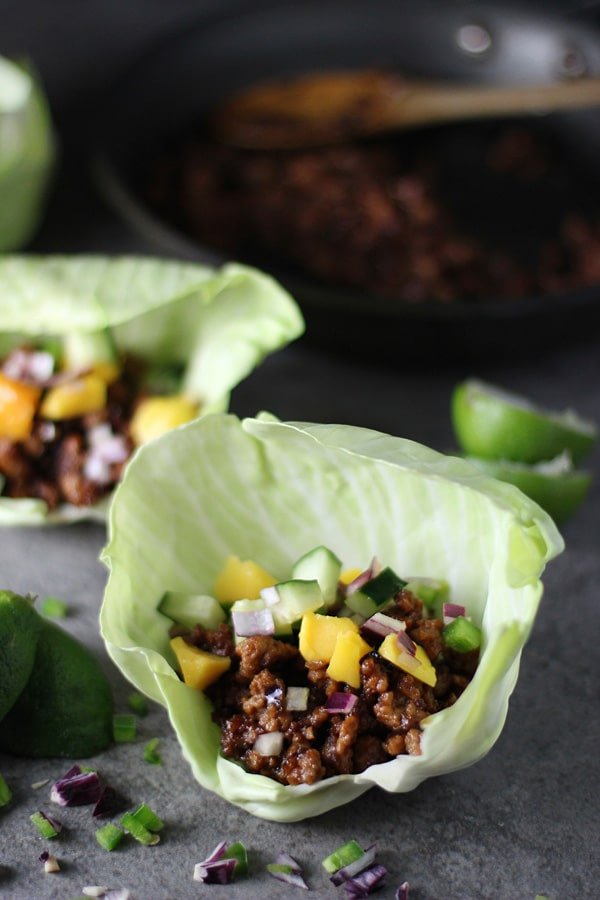 Ok. These lettuce wraps. So so amazing. Like knock-you-off your-feet-never-want-to-eat-another-restaurant-lettuce-wrap for-the-rest-of-your-life amazing.
But before we dive into how I stuffed my face over and over with these little guys, let's get a little background, shall we?
As I'm sure you've read in the title these lettuce wraps are part of my series, Blogger Friday, where I make recipes from all my blogger friends' websites I've been drooling over in the last couple of weeks – I currently have 1,213 recipes I still have to get to.
Lord help me.

When my friend Alaina posted these hoisin lime pork lettuce wraps last week, I knew I needed to make them immediately. Lettuce wraps are my thing, a thing I've always been too intimidated to make myself, because there's a strong chance for failure – I mean, I never, in a million years thought anything made at home could rival the restaurant versions, but these do – and…they're better. Yup, I said it. They're even better than anything I've had at a restaurant.
Sweet and Spicy. Saucy and Crunchy. So many flavors and textures happening; yet everything compliments each other perfectly.
But my favorite part?
The sauce.
Ohmygosh, the sauce. I was literally licking the leftovers from the bowl, the spoon, drippings that fell onto the countertop – there was not one drop wasted. I'm just glad only Ravioli was home to witness my ladylike actions.

For those of you that don't know, Alaina is the talented blogger, photographer and writer behind Fabtastic Eats. I first "met" Alaina a year or so ago, when she became one of my very first blogging friends after she posted a sweet comment on my site – we've been blogger friends ever since. ☺ Between running around after her two little guys (who give me major baby fever whenever she talks about them or shares precious pictures of them), and her recent move, I have no idea how she finds time to dedicate herself to the blog and produce killer recipes week after week, but she does it, and she does it well – and I'm so glad she does, because my world just got a whole lot better with these lettuce wraps in it, and yours will too.
Drop what you're doing and check out the recipe here, you can thank me later.
Happy Friday all! Hope you have a heat wave coming your way like we do!