Hope everyone had a wonderful Labor Day weekend; mine was spent relaxing, eating, sunning and drinking – all things I adore and will miss about summer. Hope you didn't mind me taking a day off from the blog to enjoy the holiday.
On top of all that relaxation and eating and drinking and sunning, I also found some time to cook and photograph up a storm. Saturday, I spent the whole day cranking out recipes for this here blog and for some other projects I'm working on. (I'm pretty sure my neighbors are wondering why the weirdo that lives behind them photographs all her food.)
My baby of the weekend?
This blueberry lemon pull-apart bread.
I'm pretty proud of this little creation. It's like a hybrid between blueberry muffins, cinnamon rolls, blueberry pancakes, and blueberry jam – but incorporates the best parts of each. Lemon sugar is smothered across an adaptation of my favorite sweet bread dough, then studded with blueberries and layered snugly into a buttered loaf pan and baked. Straight out the oven, the warm bread is smothered with lemon scented icing and served with sweet blueberry compote.
Now I won't lie to you, this bread is a labor of love for sure. It's not difficult by any means, but it does require quite a bit of devotion and patience on the baker's end. The dough must rise…twice…the dough must be kneaded…the dough must be rolled out…the dough must be layered in semi equivalent strips…the dough must rise again… You get the picture, it requires a time commitment. But the good thing is that you can go about your business while the dough is doing its thing. In the time my dough was rising, I made enchiladas (post to come later this week), finished my post for a site I am a contributor on (details on that Friday) and picked up the house a bit.
The idea for this bread came from a couple of sources.
One: Pinterest has been blowing up in the last year with different pull-apart breads, some savory, and some sweet. For some reason they intrigued me; they looked so difficult, but appeared to be so flawlessly put together, and they were just so darn beautiful. Surely if all those people could do it, I probably could too right?
Two: Kevin love love loves having sticky buns for breakfast, but I don't make them often since they require quite a bit of time; time that lately, I just don't have. But with my commitment to tackle something rather intensive just once a week and with pull-apart bread on my radar, I decided to go for it and do a breakfast version to satisfy his sticky bun craving and to alleviate my curiosity on the pull-apart bread craze. Win for me, win for him.
Win for you.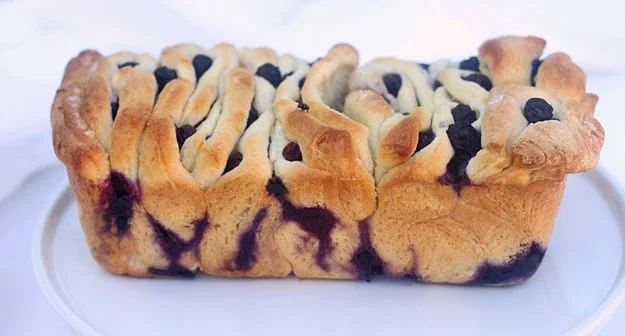 Perfect for a crisp end-of-summer morning, with a piping hot cup of coffee. Or if you're my husband, perfect for a midnight snack, right before bed.
Blueberry Lemon Pull-Apart Bread with Blueberry Compote and Lemon Scented Icing
Author:
Nicole-Cooking for Keeps
Ingredients
Sweet Bread:
1 cup warm milk
¼ cup sugar
1 package yeast
2 eggs, lightly beaten
3 tablespoons butter, melted
3 ½ - 4 cups flour
½ cup sugar
zest of two lemons
2 tablespoons butter
1 cup blueberries
Icing:
1 ½ cups powdered sugar
1 tablespoon milk
2 teaspoons lemon juice
Blueberry Compote: (Optional)
2 cups blueberries
¼ cup water
¼ cup sugar
1 teaspoons cornstarch
Instructions
In the bottom of a stand mixer, combine warm milk, sugar and yeast. Let set for five minutes until yeast is bubbling and foamy. With the mixer on low, add in eggs and melted butter, mix until combined. Slowly add in flour, if dough is too sticky, add in another ¼ cup flour. Turn dough out onto a lightly floured surface and knead until smooth and elastic, about five minutes. Dough should still be slightly tacky. Form into a ball.
Clean bowl out and grease with oil. Place dough in the bottom of the bowl and turn to coat with oil. Cover with a kitchen towel and place in a warm dry place to rise for 45 minutes.
After first 45 minutes, punch dough down and turn over, let rise for another 45 minutes. Punch dough down again and let rest for five minutes.
While the dough rises, combine lemon zest and sugar in a small bowl. Rub the sugar between your fingers until the lemon zest has infused into the sugar, it should be slightly moist.
Preheat oven to 350 degrees:
When dough has risen, roll out in a 12x15 rectangle. Brush with two tablespoons of melted butter. Scatter berries evenly across dough and push into the dough. Sprinkle evenly with lemon sugar.
Using a pizza wheel, cut into six equal strips (lengthwise), stack strips on top of each other, then cut into six squares.
Grease a loaf pan. Take each set of squares and turn them on their side so the cut side is up. Repeat with remaining squares.
Bake for 30-35 minutes until golden brown and cooked through.
While the bread is baking, make the compote and icing.
For the icing: Whisk powdered sugar, milk and lemon juice in a medium bowl. Set aside.
For the compote. In a small saucepan, whisk water, sugar and cornstarch. Add blueberries. Bring to a boil and then reduce to a simmer, until thickened and blueberries and cooked through, about five minutes.
When the bread is done baking, let rest for a minute or two. Remove from pan. Ice bread while still hot.
Serve with blueberry compote.
Sweet bread recipe is adapted from
here.