Move over mayo-heavy broccoli salads, there's a new guy in town, and it's this Broccoli Ramen Salad with Peanut Sauce. Full of veggies, crisp ramen noodles and the easiest peanut sauce.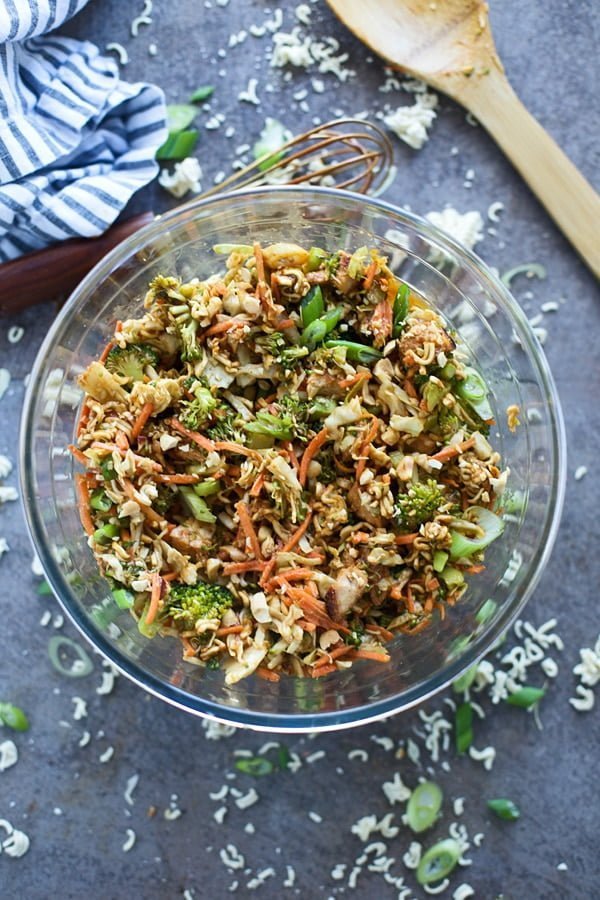 Contrary to what the archives of this blog look like, I am a salad girl. Whether it's a hearty kale Caesar with salmon served as a main course, or greens dressed ever-so delicately with vinaigrette served as a precursor to my meal, I'm all about it.
I used to be really good about serving a salad with almost every single dinner we had, and would almost always throw together an everything-but-the-kitchen-sink salad for lunch one or two days a week, but I've really been slacking in the last year or so. I don't know if it's because I have a little one now, so I focus on the main course for dinner, and then basically just eat whatever blog leftovers I have on hand for lunch, but one thing's for sure, I need to up my salad game again.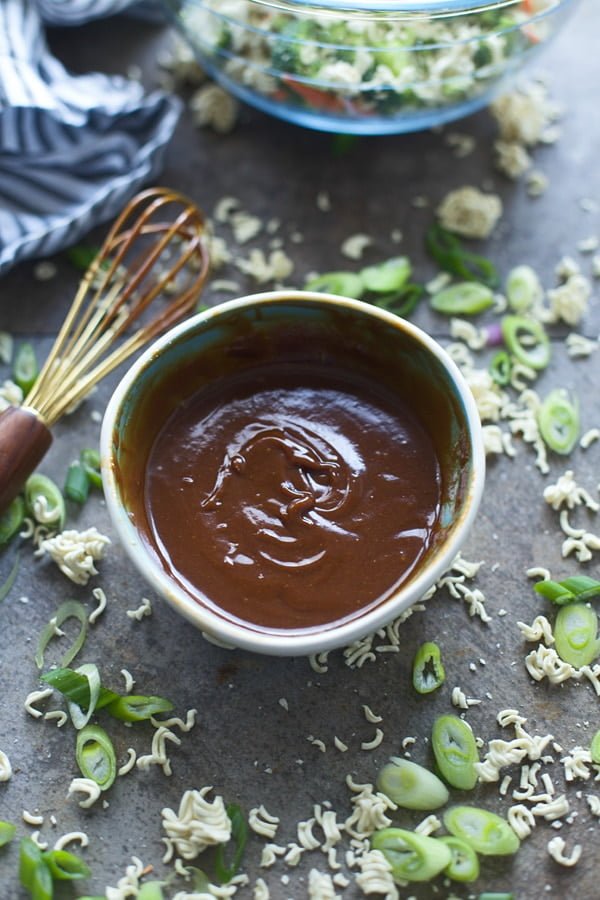 For me, if a salad is going to be the main course, it needs lots of stuff in it – veggies, cheese, seeds, grains, whatever. A protein is also a must, it doesn't matter where it comes from – chicken, shrimp, egg, or beans – but it needs to be there. Also on the list, lots of flavor, which is kind of a given, because why would anyone eat anything that doesn't have ample flavor??
Broccoli and Ramen Peanut Salad, checks all of those boxes, and then some.
This recipe is similar to a classic Asian ramen noodle salad, except instead of an oil-based dressing, I've used an easy peanut sauce – my ultimate weakness – to toss with the ingredients of the salad. I also added in plenty of diced chicken for heartiness, and chopped broccoli, because it's healthy, and I happen to adore it.
I used to think that those pictures bloggers posts with tiny little hands coming at the food had to have been posed, but now that I'm a mom with a curious toddler, I know that's not the case. Typically I'll try to cook and photograph while Teddy is napping, but today, he had other plans for me. After a quick 30-minute nap, he was rearing to go, so I was left with no choice but to let him play at my feet, which turned in to him playing with my food – whatever keeps him happy…
While he was a huge fan of the crunchy ramen noodles that were within his arm's reach, the jury is still out on whether or not he'll tolerate the plethora of veggies that reside in that bowl. Because like most ramen salads begin, the base of this starts out with plenty of shredded cabbage (I used a store-bought coleslaw mix), shredded carrots, and plenty of sliced green onion. I also tossed in some chopped peanuts and broccoli (as aforementioned), along with a half a package of crushed ramen noodles.
The peanut sauce only requires five ingredients – soy sauce, sesame oil, honey, peanut butter, and rice vinegar – and comes together with just a few brisk strokes of a whisk. If you're looking for a little spice, I'd suggest throwing everything in a blender along with a ¼ teaspoon or so of crushed red pepper flakes, but since I'm trying to serve the baby, I decided to leave them out.
The chicken is seasoned simply with salt, pepper, and garlic powder, and then quickly seared in coconut oil until it's cooked through. Once it's cooled, it's chopped, thrown on top of the veggies and then everything is tossed with the sauce.
I like to garnish it with plenty of sliced green onion and chopped peanuts before I dig in, but then all bets are off. As an entrée, this serves two, but as a side, it should easily feed four or more.
Broccoli Ramen Salad with Peanut Sauce
Author:
Nicole ~ Cooking for Keeps
Serves:
2 large servings, 4 side servings
Ingredients
1 large chicken breast
¼ tsp. garlic powder
¼. tsp. paprika
1 tsp. coconut oil
2 cups shredded cabbage
1 shredded carrots
½ package ramen noodles, crushed
2 cups chopped broccoli
2 Tlbs. soy sauce
1 Tlbs. sesame oil
2 Tlbs. honey
¼ cup smooth peanut butter
1 Tlbs. rice vinegar
2 tsp. water
¼ cup sliced green onion
¼ cup salted, roasted peanut, chopped
Instructions
Sprinkle chicken with garlic powder and paprika on both sides of chicken. Season with salt and pepper.
Heat a small non-stick skillet to a medium heat. Add coconut oil. Once it's hot, add chicken. Cook until seared on both sides and cooked through, about 3-4 minutes per side. Set aside and cool. Once the chicken has cooled, cut into bite-size pieces.
Add chicken, cabbage, carrots, ramen and broccoli to a large bowl. Toss to combine.
Add soy sauce, sesame oil, honey, peanut butter, rice vinegar and water to a small bowl. Whisk to combine. Toss sauce with chicken, veggies and noodles.
Add green onion. Toss. Season with salt and pepper. Top with chopped peanuts