Confession.
I made these scones back in December. I wasn't going to share them, since they are clearly geared towards the holidays and winter, but since we had two straight days of 40-degree weather and flurries, I deemed them appropriate to make an appearance.
Although, when are scones made with brown butter not appropriate?? Probably never.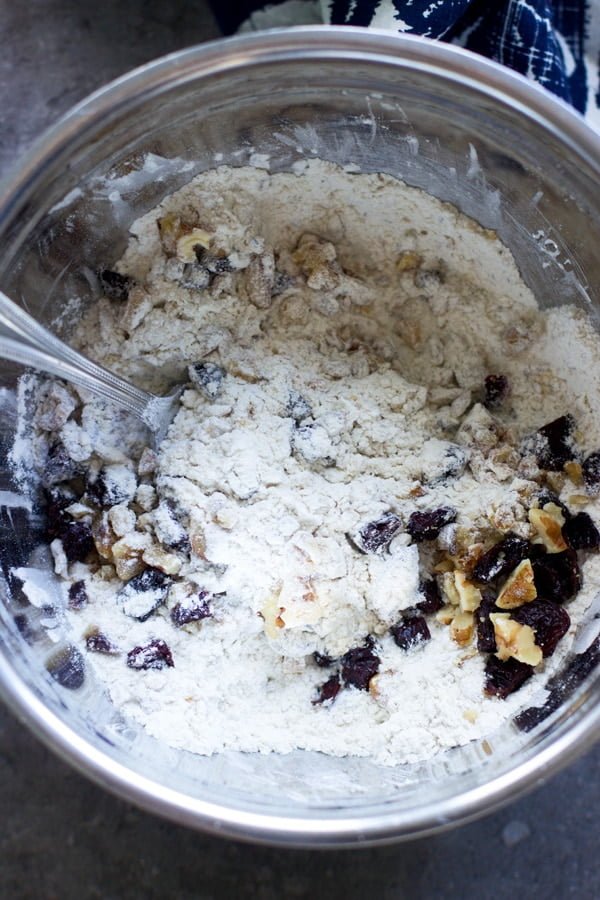 Usually, I can pinpoint the time and day I fell in love with a certain food item, but scones are one of the few foods where I can't recollect the exact moment I first took a bite. Weird because they have become one of my very favorite baked goods over the years. I do, however remember the very first time I made them from scratch. The recipe was a simple blueberry scone from a Tyler Florence cookbook, and I remember being pleasantly surprised just how easy they were to throw together.
Butter is cut into a mixture of flour, sugar, salt and baking soda in the same fashion a biscuit or pie dough is made. The pea-like mixture is then parted, drenched in heavy cream, and then lightly tossed until everything is combined. The entire process takes maybe fifteen minutes, and then they're ready to be baked off.
Like any cookie or biscuit, I love scones for their versatility – as long as you have the right fundamental ingredients, your creativity can run wild with different variations. In this version, I browned up some butter, then stuck it back into the freezer to solidify before cutting it into a mixture of flour, baking soda, granulated sugar, brown sugar, and baking soda.
Instead of blueberries, I threw in chopped walnuts for crunch, and tart dried cherries for a sweet bite and chewy texture. I didn't have heavy cream on hand, but half and half worked just fine.
The dough gets gently patted out onto a floured surface, cut into wedges, brushed with egg wash, and then is baked off until they're slightly brown and crisp on the edges. Once they come out of the oven, they're cooled, dusted with powdered sugar, and ready to be served.

Brown Butter, Dried Cherry and Walnut Scones
Author:
Nicole ~ Cooking for Keeps
Ingredients
6 tablespoons unsalted butter
2 cups all-purpose flour
1 tablespoon baking powder
½ teaspoon salt
3 tablespoons granulated sugar
1 tablespoon packed brown sugar
¾ cup walnuts, chopped
½ cup dried cherries
1 cup half and half, plus for for brushing on top
Instructions
Preheat oven to 400 degrees. Line a large baking sheet with parchment paper.
Add butter to a small skillet. Turn the heat on medium-high and let the butter melt. Once the butter starts to turn brown, swirl the pan until it becomes a deep brown and smells nutty. Pour butter into a small bowl and place in the freezer. After about 10 minutes, check the butter, if it has solidified again, scoop onto a piece of plastic wrap and wrap up, jelly-roll style so that the butter is in a log. Place back into the freezer until chilled, about 10 more minutes. Once chilled cut into a small dice.
In a medium bowl, whisk together flour, baking powder, salt and both sugars.
Add chopped butter to the flour mixture and use a fork to cut the butter into the flour. Once the mixture resembled course meal, toss in the walnuts and the cherries.
Make a well in the center of the dry ingredients and add half and half. Use your fork to stir just until all the ingredients are combined. Pour on to a lightly floured surface and pat into a 12x3 rectangle. Cut into 8 triangles and place on prepared baking sheet. Brush with half and half and bake for 15-20 minutes or until golden brown on the edges and cooked through.
Let cool completely and sprinkle with powdered sugar right before serving.