So. I haven't talked about it a lot here, but I'm pregnant. In this pregnancy journey (less than five weeks left until my due date!), I've done my best to watch what I eat and stay active to avoid blowing up like a balloon – something my 5-foot frame desperately needs, otherwise I might topple over. I was doing well, really well, up until about a month ago when I saw the end nearing and all sensibility went out the window.
I've been eating pasta every chance I get at restaurants and at home. I've had fast food more times in the last two months than I've had in the last two years prior to pregnancy. Dessert has become a nightly occurrence. I went through an entire box of chocolates in a week – something I've never ever done before. I've ordered mac and cheese no less than four times…for lunch. My prior healthy breakfast of one egg, one egg white and a piece of whole-wheat toast has been swapped out for eggs with cream cheese, topped with more cheese on a bagel. Oy.
On one hand, I'm telling myself to enjoy it, I'm still within the recommended weight gain (although teetering on the edge of that), but on the other hand, I'm just picturing these extra five pounds I've put on that have nothing to do with the baby taking an eternity to get off come December. So! I've come to the conclusion that I just need a happy medium. Instead of indulging form breakfast to my midnight snack, I'm going to go back to the way I've been eating my whole life, well post-collage life. Making smart, healthy choices, but allowing myself to indulge when appropriate.
And it begins with this salad. A little bit of healthiness coupled with a little bit of indulgence – my new mantra.
Unlike most salads where I could take or leave a couple of ingredients, I'm in love with every single component I've thrown in here, but I'm not going to lie, my favorite, hands-down, is the candied bacon.
Have you ever tried/made candied bacon before?? If not, you're missing out, because if there's anything better than crispy, salty, bacon, it's crispy, salty, candied bacon. Even if you don't make the actual salad itself, make the bacon.
Serve it with French toast.
Sprinkle it on ice cream.
Eat a few pieces for a snack.
Just don't miss out.
I cook it the same way I cook my bacon normally, in the oven. Each strip of bacon is rubbed down with a mixture of brown sugar and cinnamon, and then popped into the oven until it starts to crisp up. About halfway through baking, I flip each piece over, rub it with more brown sugar and cinnamon and pull it out right when I see it's super crispy. You might want to make extra to ensure at least a few pieces make it to the salad.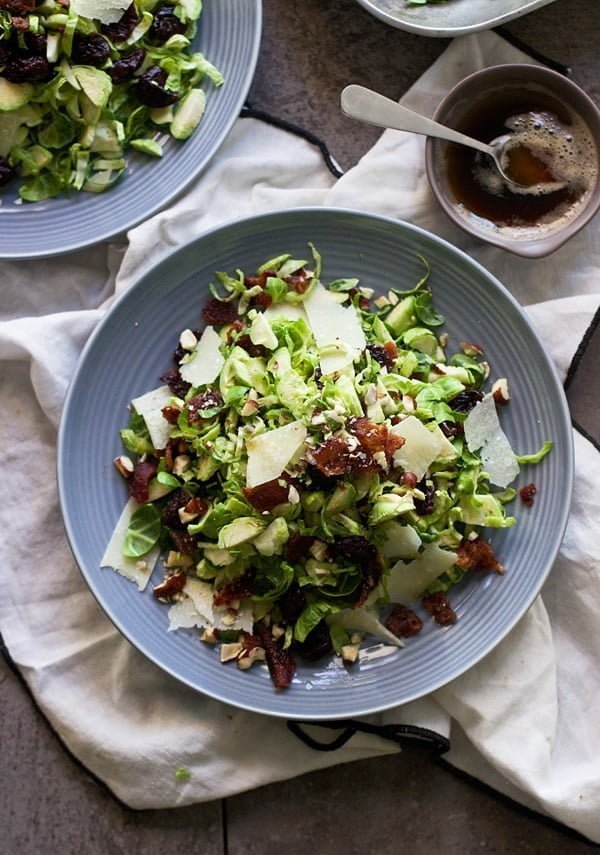 My favorite way to consume salads these days, especially now that it's fall is to forgo the lettuce leaves altogether and use shredded Brussels sprouts instead. To me, it's just a little bit heartier, and has infinitely more flavor and texture, but if raw Brussels sprouts aren't your thing (try it first!), you could use kale as well.
So the Brussels sprouts, candied bacon, some dried cherries (you can use cranberries if that's all you have), toasted hazelnuts and a copious amount of parmesan cheese are all tossed together.
You could stop here, and just serve it with a simple balsamic vinaigrette, but because we're getting into the thick of Thanksgiving, this needs to be a show-stopper. And what better way to achieve that, than with a brown butter vinaigrette?
I just browned the butter, added a touch of olive oil, slowly drizzled in some balsamic vinegar and then seasoned it with salt and pepper. Easy. You do sort of have to work quickly though, since butter solidifies if it stands at room temperature for too long. If that happens, no big deal, just pop it in the microwave for a few seconds until it melts up again.
Toss the vinaigrette with salt, season with a little bit of salt and pepper and you're ready to serve. Like I said before, a little bit of healthiness mixed with a a little bit of indulgence…
Brussels Sprout, Candied Bacon and Cherry Salad with Brown Butter Vinaigrette
Author:
Nicole ~ Cooking for Keeps
Serves:
Serves 4 small salad portions
Ingredients
¾ pound brussels sprouts, finely chopped
4 slices bacon
1 tablespoon brown sugar
½ teaspoon cinnamon
1 cup dried cherries
½ cup hazelnuts, chopped
¾ cup shaved parmesan
2 tablespoons butter
½ teaspoon olive oil
2 teaspoons balsamic vinegar
Instructions
Preheat oven to 400 degrees.
Rub bacon with half of brown sugar and cinnamon. Place on a baking sheet and bake for 5 minutes, flip and rub with remaining brown sugar and cinnamon. Bake another 5-7 minutes or until crispy. Cool and chop.
In a salad bowl, combine brussels sprouts, bacon, cherries, hazelnuts and parmesan.
In a small non-stick pan, add butter. Turn the heat on medium-high, once the butter begins to brown, swirl the pan until the butter turns a deep brown and smells nutty. Transfer to a small bowl and let cool slightly.
Whisk in olive oil and balsamic vinegar. Season with salt and pepper.
Toss vinaigrette with salad.