Did you go crazy over those little English muffin pizzas as a kid?
Who am I kidding, of course you did! I loved em, still do. It was one of my favorite snacks/meals growing up; my Mom almost always had pizza sauce in the fridge and a bazillion choices of cheese, so I could throw a pizza together in mere minutes. Most of the time I'd just throw on a little mozzarella cheese and call it a day, but occasionally I'd get a bit fancy and top them off with goat cheese and veggies we had in the fridge.
I also may or may not have squeezed the pizza sauce directly from the bottle into my mouth for a pre-pizza snack once…or twice…
These days, I don't just stick to the pizza sauce and cheese, I use whatever ingredients I've got in the fridge, and you know what? Sometimes they come out pretty flippin' fancy.
I don't know that I've ever served English muffin pizza to the hubs, not sure why, because I'm sure he'd be all over it, maybe it's because it makes me feel like a little bit less of a cook when I do. Maybe it's because it makes me feel like a kid, when I'm clearly a grownup. Or maybe it's because I'm just saving all the good English muffin pizza stuff for myself. I dunno.
The other night when I was home alone for some reason or another, and was craving pizza like a mad woman, I grabbed an English muffin, some leftover butternut squash puree, pancetta, goat cheese and kale, and made a fancified personal pizza.
It was divine.


As I sat on the couch, devouring my humble (but fancy) pizza while trying keep Ravi from snatching it right out of my hand, I thought you all would probably love the flavors just as much and maybe I should share, but… I can't seriously put English muffin pizza on the blog. Can I???
Can I???
No, I can't.
So I did the next best thing and turned it into a Naan pizza, because Naan pizza is so much more acceptable as an actual meal for an adult than English muffin pizza – or at least that's what I'm telling myself.
Looks fancier too, doesn't it?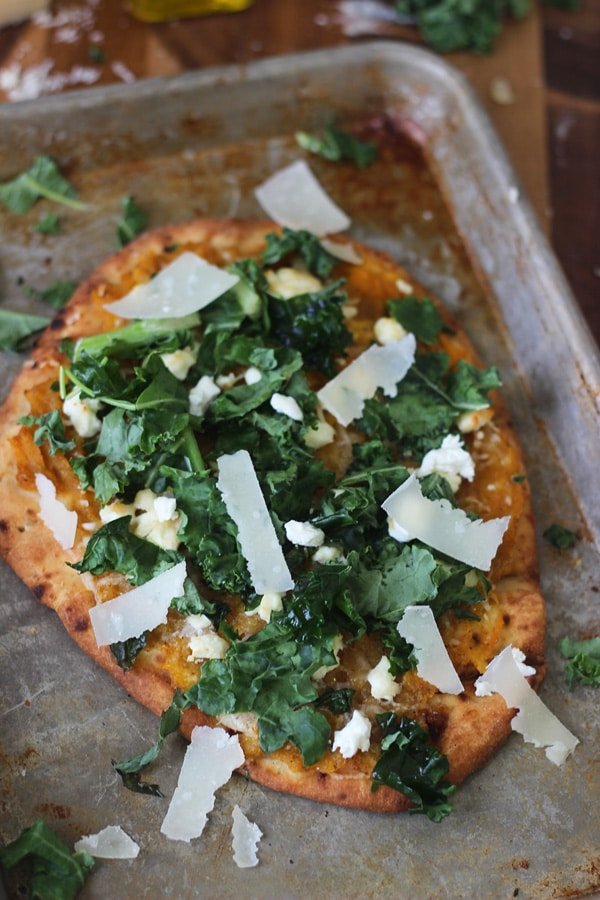 Butternut Squash and Kale Naan Pizzas with Pancetta and Goat Cheese
Author:
Nicole~Cooking for Keeps
Ingredients
2 naan flatbreads
1 cup butternut squash puree
⅛ teaspoon cinnamon
¼ teaspoon salt
4-5 ounces goat cheese (I like it on the heavier side, you may not)
4 ounces diced pancetta, cooked
½ cup grated parmesan cheese (plus more for garnish)
2 cups chopped kale
Olive oil
Instructions
Preheat oven to 400 degrees.
Mix butternut squash puree, cinnamon and ¼ teaspoon salt together in a small bowl. Spread half on each naan. Spinkle with goat cheese, pancetta and ½ cup parmesan cheese.
Place on a baking sheet and place in the oven until crispy and parmesan cheese is melted, about 10-15 minutes.
While the pizza is baking, toss chopped kale with a little drizzle of olive oil, season with tiny bit of salt and pepper.
Once the pizza comes out of the oven, top with kale and if desired, parmesan cheese shreds.